This summer The Raven Book Store, located in Lawrence, used its platform online and locally to push for racial justice amid global protests against racial inequality.
After the death of George Floyd during an arrest by Minneapolis police officers on May 25, protests erupted nationally and around the world calling for an end to systemic racial violence.
Discussions about racial inequality and injustice in all aspects of life in the United States flooded social and mass media. The interest in further education on these topics led to a dramatic increase in the sales of books related to racism and Black history from book retailers. The Raven was no exception.
"Bookstores across the country have been having a really hard time keeping all those books in stock, and we're finally just now catching up," said Danny Caine, the owner of The Raven.
So far, the best-selling books for The Raven this year are Robin DiAngelo's "White Fragility" and Ibram X. Kendi's "How to Be an Antiracist." Caine said The Raven has sold over 200 copies of "How to be an Antiracist" since May.
"I've always made it a point to make sure our shelves and our event programming reflect a picture of diversity and racial justice, both in terms of the composition and who we're featuring, but also making it easy to access progressive books about racial justice," Caine said. "I think it's a natural fit for a bookstore. This is a place where people can get really good information and they can come to get informed and be educated, which is a really great first step toward a lifetime commitment for racial justice."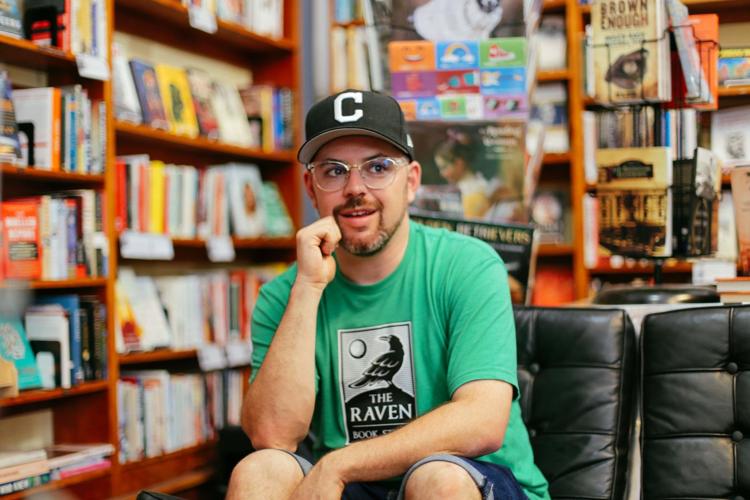 From May 30 to June 1, The Raven donated funds from an anonymous donor and 5% of its sales to nonprofit organizations dedicated to fighting racial injustice. The Raven donated a total of $1,730 to Ibram X. Kendi's Antiracism Center, the Kansas City Community Bail Fund and Black Live Matter-Louisville's Bail Fund.
"It's not going to benefit you to stay out of it," said Chris Luxem, The Raven inventory manager, about speaking out against racism. "At this point, there is no staying out of it, so you might as well pick a side. And I feel like we're picking the right side."
To highlight some of the books on racism that The Raven has in stock, Nikita Imafidon, an employee at The Raven, put together a list of books related to racism or the Black experience on the bookstore's website.
"I think it's very helpful because I think a lot of people are like, 'I don't know where to start,' and they turn to community stores and they turn to small businesses," Imafidon said. "If we don't have a strong opinion, then it's kind of like, 'What are we here to do?'"
On July 1, The Raven, along with other local businesses such as Wonder Fair and The Burger Stand, added their businesses as collateral for the bail of Rontarus Washington Jr. after his bond was set at $500,000.
Rontarus Washington Jr. left the Douglas County Jail tonight on bond after 5 years awaiting trial. Today we joined a coalition with @WonderFair, @repetitionks, and @theburgerstand to help with collateral for the cash bail. But this is not a story about The Raven.

— Raven Book Store (@ravenbookstore) July 2, 2020
Washington Jr. had been in custody in Douglas County since 2014 under first-degree murder charges. His 2019 trial ended in a hung jury and he hadn't been released until this month.
"I think the cash bail system is oppressive and is often used to keep primarily people of color in jail for much too long and basically gives a free pass to white people who have the privilege and the money to get out," Caine said. "It's a way to protest this and a way to help someone in a very real way. We were happy to contribute and team up with our friends to get it done."
In order to raise more money for nonprofits, The Raven is selling "The Sound and the Purry," a zine "written" by The Raven's cat, Dashiell, when he fell asleep on a keyboard. All proceeds from the sale of the book will go toward The National Association for the Advancement of Colored People Legal Defense Fund and the Lawrence Humane Society.