For artist and University of Kansas associate professor of visual art Norman Akers, identity and boundaries have played a leading role in his recent works. Brightly rendered images of U.S. presidents' faces inside spacey aircrafts are layered over sketched historical scenes and vintage-looking road maps.
Akers is known — in his own words — for portraying topics of "personal and cultural loss," and seeks to express the world in a light that the majority of Americans wouldn't be able to see.
"There's always a sense of loss, be it culturally or physically, through the loss of land for the Osage people and others like us," Akers said. "I never meant for my art to be political, but being a part of the Osage Nation, when I express my experiences, it's almost impossible for them to not become politicized."
Akers grew up in Oklahoma on the Osage reservations, which is part of what inspired his work.
Akers's most recent exhibit, "Contested Territories," is a series of 20 monoprints that will be displayed on Sept. 25 at the Percolator Art Space. Akers uses layers to express his experience with the difficulty of "finding one's space" in a land that uses boundaries and titles to fit individuals into his or her own "specific hole," he said.
"Even there is an issue of having multiple separate names for one place. The Osage people call it the reservation, while the state refers to it as Osage County," he said.
Bobbie Rahder, a board member for the Percolator Art Space who was inspired by Akers's conclusion on space and how it can define not only individuals but whole peoples, took it upon herself to propose showing "Contested Territories."
Gallery: Norman Akers's "Contested Territories
Akers came to the University first in 2002 and then in 2007 as a visiting artist. He said he liked the town's ambiance.
"It's a good place for an artist, and I enjoy the idea of having a challenge in exposing my art to a new audience," he said.
Shortly after his second visit, Akers was offered a teaching position by the University's art department.
"I enjoyed the atmosphere here and I thought it was going to be an important and interesting challenge to move to a place outside of where I had been comfortable," Akers said of the different demographic of people he would meet in Kansas.
He added: "I also thought it was important that I come here and share what I know and a bit of my culture especially since Haskell is down the road."
Akers became increasingly concerned about this "lack of identity" as he traveled for work, which can be seen in the use of mapping throughout his piece. Akers said that over the years he has come up with his own "personal symbolic styles," like in his most recent piece, which shows bright, contrasting colors, asymmetrical linear patterns and layered images.
"I always found it interesting, when I would be driving home to Oklahoma, how there would always be sign telling you exactly where you were. But for natives, that sense of place simply doesn't correlate," Akers said. "When I drive to my mother's house down a small dirt road where boundaries don't matter, that's when I have a true sense of place and feel a belonging."
Growing up in Oklahoma meant being separated from his ancestral home, which had been described to him as the land of his people, given that the Osage Nation once existed in Missouri and Kansas.
Now that he's in Lawrence, Akers still needs to make the trip to and from Oklahoma to visit his family and friends he's left behind. The struggle of being caught between the home of his birth and the home of his people has been the core inspiration for his most recent work.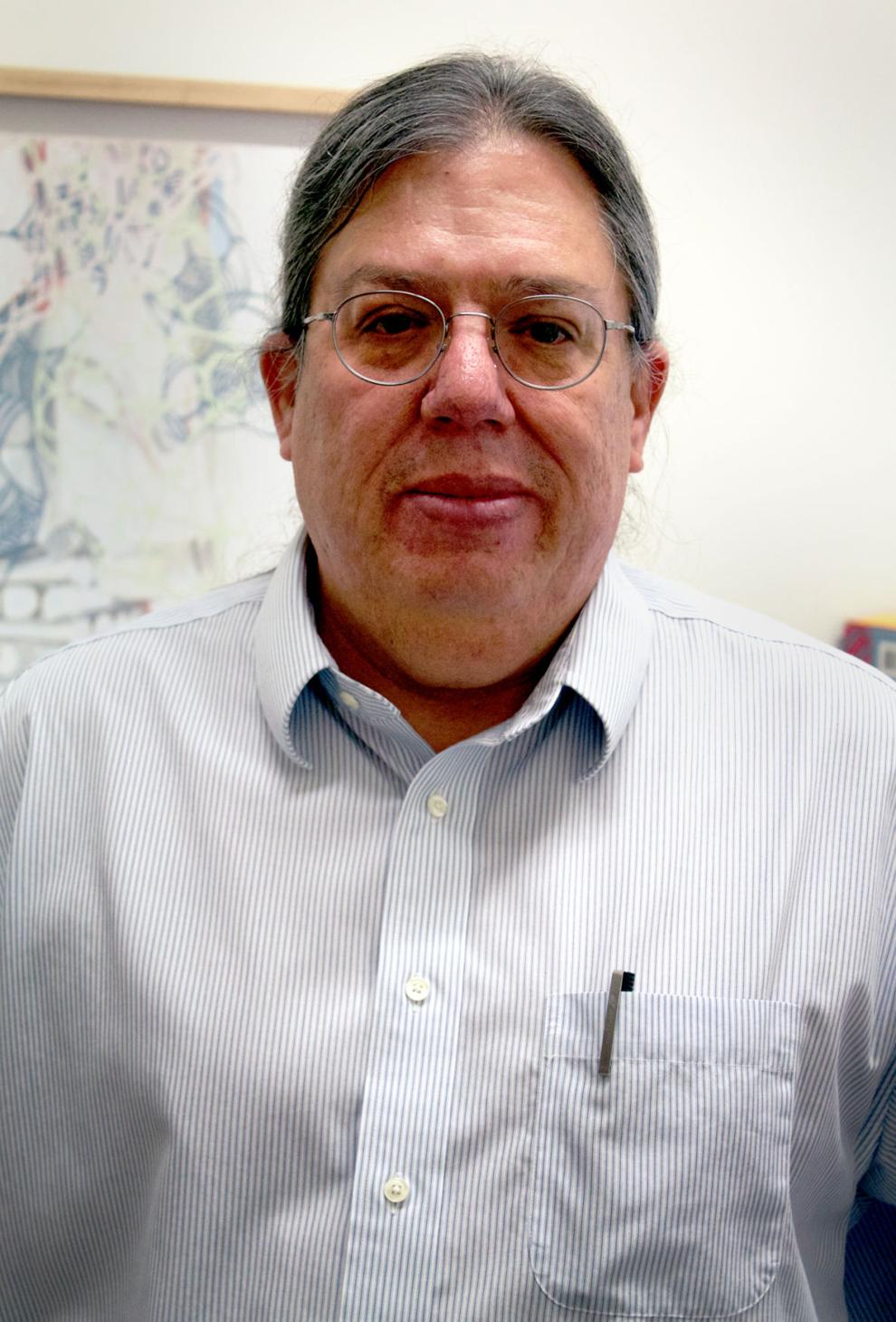 For Akers — and he said he believes for other natives such as himself — finding a sense of identity in his home has been a difficult process. Not only are there borders in America that rarely coincide with the First Nations' ethnic and cultural borders, but even the language used to describe people and where they belong can feel "ostracizing."
"We use words such as 'indigenous,' 'native,' 'immigrant' and others to dictate where someone may belong," Akers said. "But that rarely covers the whole subject."
Rahder agreed with this sentiment, and said she believes it's necessary to educate through art. She said it would help others understand how to look beyond what they've experienced.
"I want the audience to see his work and understand what it is that he is trying to convey," Rahder said. "I hope that at least some people become interested in his art and what it means."
"Contested Territories" is an effort to address several parts of identity, including contesting common stereotypes associated with native peoples and examining what is alien as the natives become foreigners in their own land.
"I don't want to scream and yell about politics, but this issue of not knowing one's sense of place and not understanding one's ancestral homeland is a real issue that I have had a personal experience with and one that I know others like me have had experiences with," Akers said.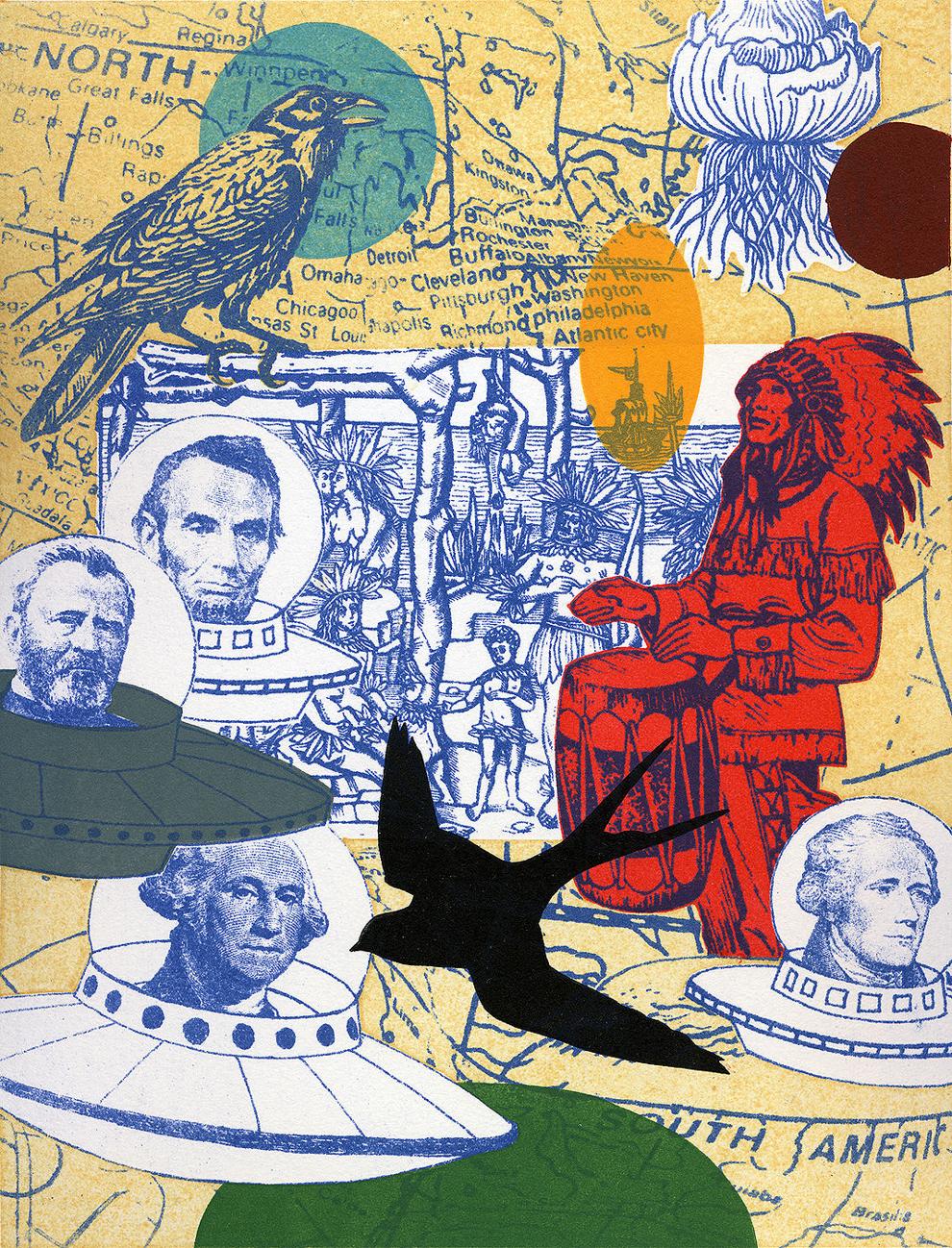 This series of monoprints will be the first major show that Akers will present in Lawrence. Having done most of his work while living in Oklahoma and New Mexico, Akers could not predict how local people would react to his art.
"As an artist, I want to create something that makes people think and hopefully enriches their lives," Akers said. "This is an issue that needs to be addressed. I don't think that my work fits the stereotypical model of what native art is, so I hope it appeals to many people in that I want to them look at my work, I want them to learn something and come to their own conclusion, hopefully starting a dialogue."
Although this September will mark his first in public exhibit in Lawrence, he's already managed to make a positive impact on campus. An art student of his, Hannah Soor, said she enjoys his work because because of its "connection to his Native American heritage and the way he addresses sense of place."
"Some of my favorite moments were learning how to build our canvas frames and panels, and when he would suggest artists that we might be interested in looking at that related to the work we were making," Soor said. "I also liked taking trips to the Spencer and having discussions about certain styles and techniques of paintings — it helped connect the past with what we were doing in class."
Akers's "Contested Territories" will show in the Percolator Art Space through Oct. 24. The artist will give a gallery talk at 6:30 p.m. this Friday to open the exhibit.
— Edited by Colleen Hagan