The most diverse social media app yet has caught the eye of college students nationwide. TikTok has become an outlet for University of Kansas students through quarantine and beyond. 
Like anything on the Internet, TikTok has a wide range of content with communities interwoven throughout. From teenagers having existential crises to housewives uploading their cooking tutorials, there's a niche for everyone. 
Senior Stella Garibaldi, a theatre performance major from Parksville, Missouri, pairs knowledge with her humor-filled videos. A comedic activist, Garibaldi referred to her initial download of the app in late February as a moment of "caving" to see what the fuss was all about. 
"It kind of held the same energy that Vine did, and so it's kind of filled that hole for a lot of people," Garibaldi said. "I made a couple of videos just to make my friends laugh, and then I had one of them blow up, so I kept making videos."
After realizing her videos were gaining traction, Garibaldi found herself with a bit of a following – roughly 35,400 people. With the current climate of the world, she decided she was going to not only use her platform to bring comic relief to her followers, but also try to educate them. 
Garibaldi said she noticed her view count would fluctuate depending on the content of her videos. After doing a bit of research, she realized she wasn't the only one having her videos censored. 
"The first video that I had noticed that was shadowbanned was me talking about the 13th Amendment and the specific verbiage of that, and it received exponentially lower views than the rest of my videos," she said. "It's essentially led to people needing to censor certain words in their videos that they should not have to censor." 
Garibaldi went on to note that the #BlackLivesMatter and #GeorgeFloyd hashtags were heavily shadowbanned. Although they were being used by many creators, these hashtags were missing content and views. TikTok released a statement on June 1 which said the missing content was "a display issue only that widely affected hashtags at large" on the app.
"I would like to see [TikTok] acknowledge the shadowbanning of minority creators and then fix that because they have refused to," Garibaldi said. "They're not doing an aggressive act, they're doing a passive act by silencing [them]."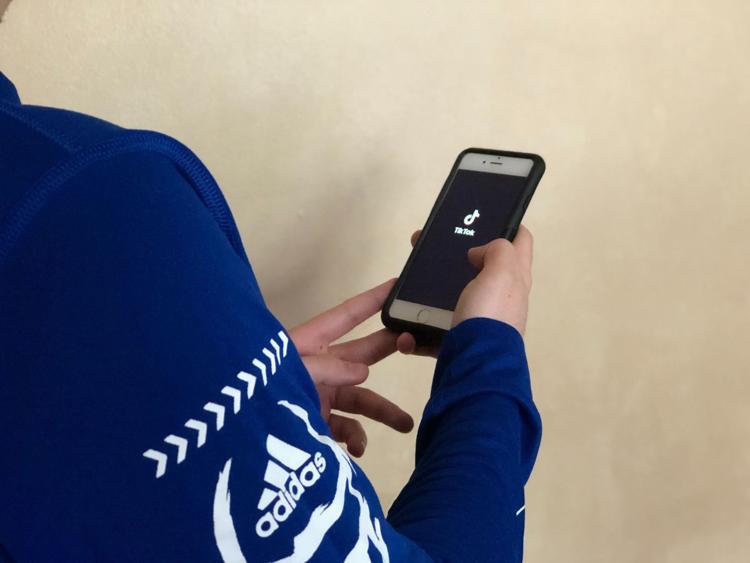 Although there are some improvements she would like to see, Garibaldi has remained active on her account and doesn't seem to be pulling away from TikTok any time soon.  
Senior Matthew Moeder, a KU Nursing student from Hays, downloaded TikTok in hopes of creating a viral video, as many users do. 
After dropping on and off for a period of months, Moeder took a hiatus from the app entirely after realizing the excessive time he was spending on it was negatively affecting his mental health.
"It's almost a competition sometimes because you're trying to make these videos and see what resonates with the people best or what will get you the most views and likes," Moeder said. "You really get into a rabbit hole of, 'I'm not even enjoying the content anymore, I'm just trying to analyze everything.'" 
The For You page, the opening page on the app, is controlled by an algorithm catering videos to a user's particular interests. When a video appears there, it begins to generate more traffic, leading to more views and likes. Many users strive to get on the page — a comparative feeling to getting a certain amount of likes on an Instagram post or a tweet. 
Jansen McCabe, a senior business finance major from Shawnee, has found that the app has an entirely different feel compared to last summer when he first downloaded it. Some of the originality has slipped through the cracks in an effort to keep up with the trends. 
"I try to be original as much as I can, but it's tough when you have so many people on the app doing different things," McCabe said. "It was just really different back then."
With a current following of around 63,900, McCabe no longer felt like he could use the app in a carefree way. With each additional follower, the pressure to perfect each video went up.
"If I have a video idea, I take a second to think about if people would actually like it," McCabe said. "With TikTok, since it shows your videos to random people, you want to make everything right with it since it has the chance to go completely viral, and people want to be seen in their best light."
Moeder said even after taking a break from TikTok, he still finds himself back scrolling through videos every now and again. Although it was difficult at first, Moeder realized he was happier when he put himself first rather than looking for the satisfaction of others through the app.
"There are so many different avenues of where you can go with videos," Moeder said. "With this app, there's such a big audience of people and so many people are using it, so there's a lot of room for different little communities for people to find connections."