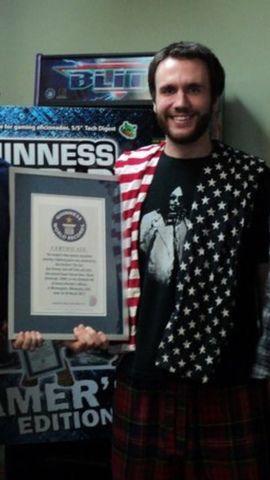 Wedding bells ringing, ex pro-wrestler Ric Flair officiating, the smiling couple walking down the aisle of the chapel inside the Las Vegas Taco Bell, clad in a taco bow tie and matching shirts — this is 2011 Guinness World Record holder and University alumnus Dan Ryckert's dream.
And now, he has a real chance to make it happen.
Bianca and I want to be the first couple to get married at the @tacobell chapel in Las Vegas. Here's our #LoveAndTacosContest entry! pic.twitter.com/jcVRR3r7uU
— Dan Ryckert (@DanRyckert) February 15, 2017
Ryckert, a New York City local, decided to enter Taco Bell's "Love and Tacos" contest after he said he received thousands of tweets from his more than 66,900 followers. A big part of Ryckert's online personality revolves around the fast-food restaurant, it being his well-known favorite food.
Unsure how his fiancée Bianca would react, Ryckert sent the idea to her as a joke — and she was in favor. The two sent the required video to the contest, detailing their love for Taco Bell.
Voting is open to the public, and the winner will be announced on March 1. 
Ryckert said he's received tremendous amounts of support from family and friends. None of them were surprised by his enthusiasm for a Taco Bell-themed wedding — including his friend Ben Hanson, video producer at "Game Informer Magazine."
"I've been through this constant cycle having known Dan for six years now, where he'll say, 'Hey, I think I'm going to do this thing,' and then I'll just say, 'that is stupid. Do not do that,'' Hanson said.
Despite his initial apprehension, Hanson said Ryckert always ends up succeeding. 
"You realize you need to kind of reset your own gauges onto what works and what doesn't, because I've been proven wrong time and time again," Hanson said. "'Never bet against Dan's is kind of a constant refrain."
Formerly a writer for "Game Informer Magazine" and now an editor at the gaming-news site "Giant Bomb," Ryckert is a well-established voice in the gaming community. He's known for his video game commentary and bringing in celebrity guests to play games and star in his stunts.
Outside of his work, Ryckert also holds two Guinness World Records.
In 2011, Ryckert decided to attempt to break the record for "Longest Fighting Game Marathon." After discussing the rules with Guinness representatives, Ryckert and three other friends spent 30 hours straight playing "Super Smash Bros."
After winning this record, later that same year, Ryckert attempted and succeeded in winning another Guinness World Record for the longest Mario video game marathon, which was a total of 50 hours.
Hanson was there to film the process and turn the video into a documentary, titled "Smashed."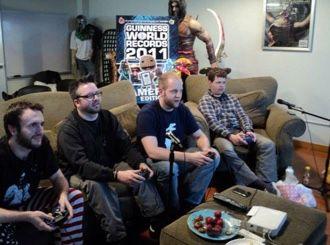 "The [documentary] has a pretty honest portrayal of what it was like," Hanson said. "It was a lot of Dan complaining, trying to weasel out of it and just kind of get the most out of his laziness, like he would intentionally throw matches so that he could sit back and rest and not have to actually compete."
Hanson said Ryckert would spend three minutes at a time checking Twitter and leaning back on the couch between matches, but according to the rule book, he was still technically playing the game.
At the end of the day, his name is in the Guinness World Records book, Hanson said. 
Ryckert also has six published books. Two are fictional and inspired by the cliche '80's films he grew up watching, he said. "Air Force Gator" and "Air Force Gator 2" are both about an alligator in the Air Force that works to combat evil.
Ryckert's most recent book is about his experiences at the University and growing up in Kansas, titled "The Dumbest Kid in Gifted Class."
Despite being known for producing "intentionally stupid" content, Ryckert said, one of his favorite works was a book that he wrote through self-reflection, titled "Anxiety As an Ally." The autobiographical book speaks about his experiences with anxiety disorders and experiencing panic attacks that began when he arrived at the University.
"I also give him a lot of credit for his 'Anxiety As an Ally' book," Hanson said. "And I think that entire book is a good reminder that self improvement takes work, and the more that message gets out there, it's genuinely helping people, so more power to him."
Before his next project, Ryckert plans on getting married and becoming not only a husband, but the first couple to have ever been married in the new Taco Bell chapel. 
"I look forward to seeing Dan's family smiling, seeing his beautiful wife Bianca enjoying the day, and I'm also looking forward to the double-decker tacos, which is a personal favorite of mine," Hanson said. "I think those three things together is really just going to be a winning combination."
— Edited by Allison Crist