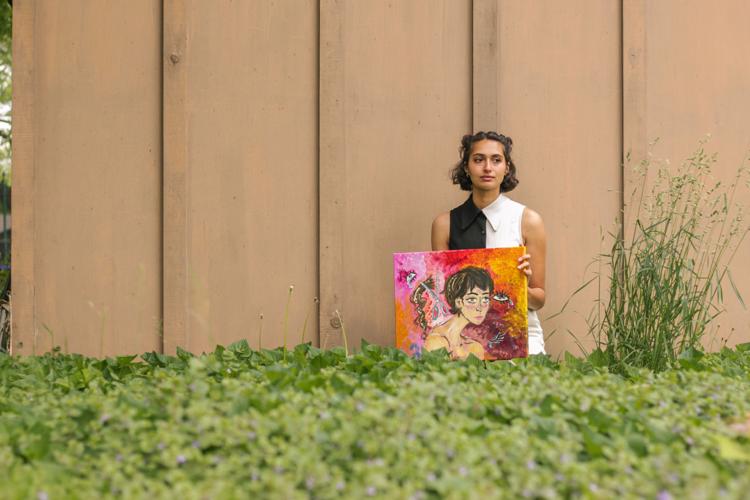 When I talk to Sydney Summers, they tell me about the surprising new source of inspiration they've found staying up to watch the sunrise. With no set schedule from the outside world, their sleep schedule is up to them now.
"That space between night and day is a really strange time," Summers says. "But I definitely feel a lot of creativity flowing during those periods of time, watching the days change before your eyes. Physically watching time pass has definitely inspired some little vignettes of writing."
Summers is a University of Kansas student and poet from Salina, one of five local artists I talked to about what it's like to create in the middle of a global pandemic. For some, nature and isolation have sparked creativity, others miss the communal aspects of sharing their creativity with the world, and all have had to adapt to the changing conditions of being creative from home, often in isolation.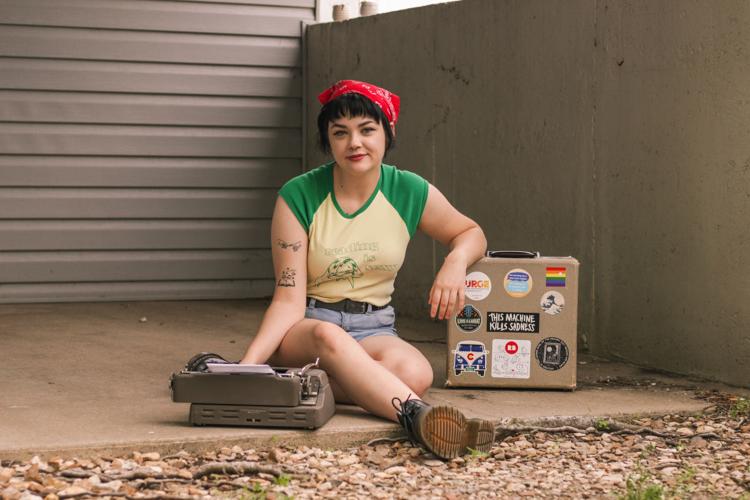 Shut-down orders and social distancing guidelines have interrupted the usual creative process of many artists. Jané Franklin, a local DJ and filmmaker, told me that before the pandemic, she filmed music videos, DJ'd, and made content for her YouTube channel. Most of her creative outlets involved collaborating with others. Now she says the inspiration is still flowing, as she continues to write down her ideas and make treatments, but it's harder to execute them. While the communal aspect of DJing for an in-person crowd has fallen to the wayside, Franklin found community online through live streams from DJs, and Paper Magazine's quarantine clubs, which she says are "kind of like a festival on Zoom, and anyone can get into it." 
University student Eleanor Matheis, a junior from Lawrence, says she was studying abroad in Costa Rica when classes were canceled and she had to return to the U.S. As a result of having a reduced course load, she has had a lot more time to create. To make up for missed in-person birthday celebrations, she made Marvel-inspired posters as gifts for her friends. Mathies says she has always drawn what she saw around her, and now that often turns out to be drawings of herself watching TV in bed. "Drawing is a good way to release anxiety – they're just figures, really messy, different expressions," Matheis says. 
Allison Kelly, an architecture student at the University, was just starting to create more when classes went online. Kelly says her freehand drawing class with professor John Gaunt sparked her love of drawing again, and inside of the classroom she was able to draw for hours. Now, she says it can be hard to focus for long periods of time.
"The one thing I miss about the class is that I had to sit down and draw," Kelly says.
Kelly says one of the upsides of the class moving online was her new fearlessness to experiment, and she has been surprised by her improvement.
"We have these big giant notepads in class, like two feet by three feet," Kelly says, "and when you flip over a giant page, everyone knows you're starting over, but I don't have to worry about that anymore."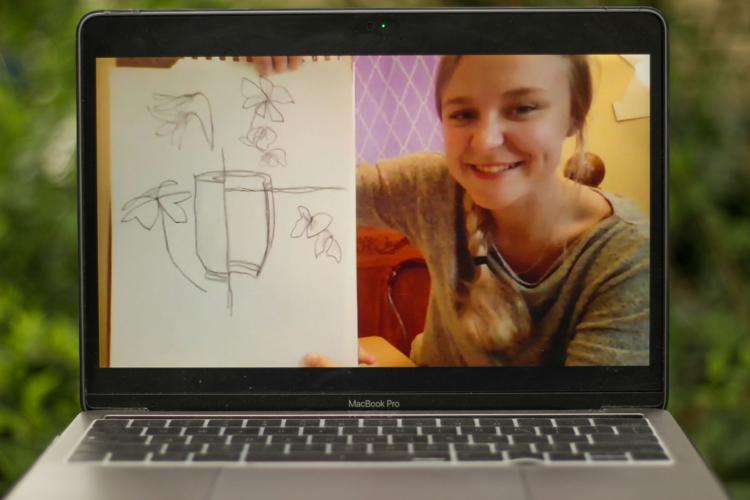 Changing approaches
For some, inspiration comes in new forms. Kansas City, Missouri, artist Simone Griggs says she used to find inspiration by people-watching, sitting in coffee shops and other public places. Since that is no longer a possibility for her, she's looked inward for inspiration.
"I've found though, that I'm usually more motivated to paint and draw when I'm going through some emotional stress," she says. "I feel like there's more to pull out when I have something I can pull from."
Besides painting and drawing, fashion is another artistic outlet for Griggs, one she can use to manifest positive feelings. She says she is an advocate of getting dressed, even with nowhere to go. "It doesn't matter that I'm not going anywhere, it just makes me feel better about what's happening," Griggs says.
Summers says one of their recent poems was inspired by a night out at a concert with an old friend, that took on a new meaning after they both experienced changes and loss in their lives. "I wrote about that night in particular," Summers says, "how happy she and I were even with the looming events that were to come that either one of us had no idea,"
Summers says art helps them put words to what they're feeling. "It's the visualization of what you're feeling, turning the abstract into the tangible," Summers says, "you can find something that speaks to you with what you need to hear."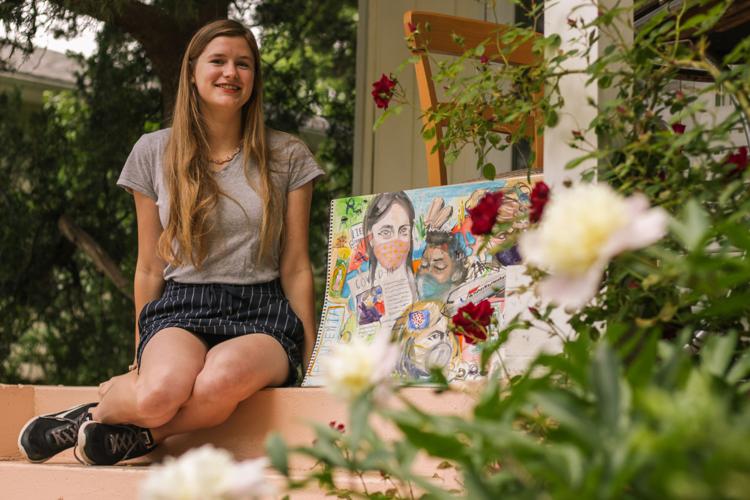 Finding comfort and inspiration in others' art
Some of the artists say they have been reaching for the nostalgia of old TV shows and music. Matheis says she's been re-watching the movies and TV shows she watched as a kid, like 30 Rock. Griggs has been listening to Panic at the Disco. "That's always been my comfort music," Griggs says. "I don't know why, I was just an emo kid."
Franklin has been inspired by the new ways others have found to be creative, including photoshoots over FaceTime, like the photos published by Vogue Italia of model Bella Hadid in her home. 
"I just think that's super cool and so simplistic," Franklin says. "I've thought of making some type of video where it's like a bunch of artists, and models, just being creative on FaceTime."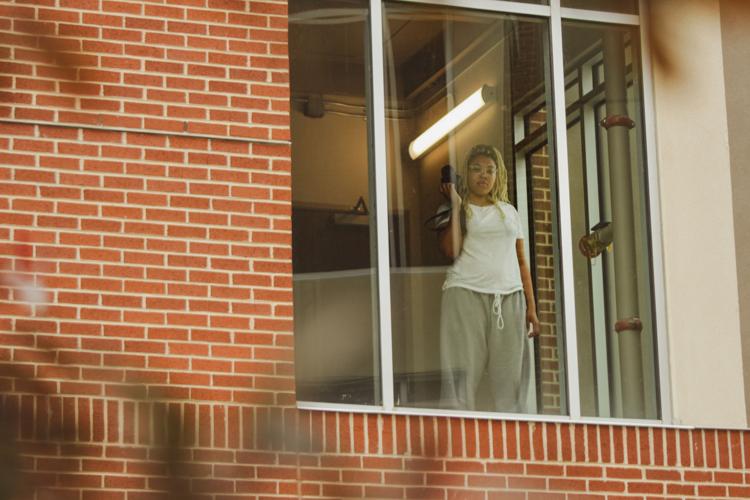 Importance of art
In times of uncertainty, cultural and social shifts, art has always played a role. One of the biggest upheavals in art history, the Renaissance, came to fruition after the bubonic plague killed more than 20 million in Europe. The movement of artists that came out of the so-called "Dark Ages" produced Shakespeare's works, Donatello's "David" sculpture and Dante's "The Divine Comedy," all massively influential works of art that challenged the status-quo of the time. Perhaps the current upheaval of normalcy will allow artists to, yet again, present human existence in a new way.
Franklin says she hopes people are now realizing the importance of art and entertainment in their lives. 
"That's the stuff that kind of keeps people going right now," Franklin says, "and for me it's been keeping me going most of my life."
Griggs says art goes beyond the experience of the individual artist, and has implications for all of society. "We would not be able to learn about each other if we didn't have that outlet. I feel like right now, especially, we're going to have this surge of new media when it's all over," Griggs says. "I think art is gonna be a really great way to connect with each other, now that we can't physically connect with each other."