June 2, 2020: I had just returned to Lawrence from a trip to Gulfport, Mississippi. I remember I slept in that day because I was tired from traveling the day before. When I woke up, about 11 a.m., I checked my phone and saw I had eight missed calls from a bunch of my family members. I listened to the voicemail from my mom first.
"Catherine, I woke up this morning and dad wasn't awake. He's dead." 
My heart stopped for a second. 
Moments later my life was in utter chaos while I tried to pack clothes. I had no time to cry or be angry. I was just focused on getting my ass home. Within the next hour, I was on the road to my hometown of Abilene, Kansas. My family members—two sisters, one brother and their kids—arrived just after me.
When I arrived home, it was mayhem. My mom was getting phone calls nonstop. Friends were bringing food. People were drinking and reconnecting. The house was a weird combination of grief and social activity. We were all happy to see each other, even under terrible circumstances. 
My dad died from a heart attack at the height of the summer during the COVID-19 outbreak. The funeral home was so overwhelmed with people who had died, it ran out of space in its refrigerators. My dad had to lie on a table in an air-conditioned room until he could be cremated. However, he couldn't be cremated until his COVID-19 test came back, which took a couple of days. This compounded the stress on my mom and made her grief sharper. 
And yet, I was irritable. It irritated me that people were calling my mom while we were trying to plan a funeral. Because of this, my mom was unfocused and it was hard to get answers from her at the time that I needed them. My mom and I are the take-charge ones in the family, and this wasn't the mom I was used to. 
So, I took charge. I helped organize everything I could. I helped write the obituary, helped plan the service with the funeral director, did the majority of a slideshow about my dad's life and somehow managed to spend time with my family. I wasn't completely alone in planning—my siblings and other family members pitched in, but they were also preoccupied with their own families and responsibilities. It was five days of non-stop work and phone calls. At one point, I was trying to get my mom to okay a picture for the programs when one of the members of my family tried to ask her a question. I was so frustrated by the constant interruptions, I snapped at her. 
"Not right now! I need Nana to look at this. Can I please get a second without any interruptions?" 
The look on my family member's face after I said that made me feel horrible. I felt like a bitch. This wasn't the me I was used to. 
On the day of the funeral, I finally let down. The funeral and graveside service went by in a blur. It didn't hit me that my dad was actually gone until the end of the graveside service. I felt a wave of emotions: anger, sadness. But, by that time, we were heading back to my parents' house. A bunch of my distant aunts and uncles stayed to spend time with my mom, and she wanted me and my siblings to hang out with them. 
I didn't want to. At that moment, I didn't care about anyone, no matter how far they had traveled. Suddenly, I was exhausted. I could barely keep my eyes open. I went to the basement and slept on the couch for hours, but those hours of shuteye did nothing. My exhaustion lasted for weeks.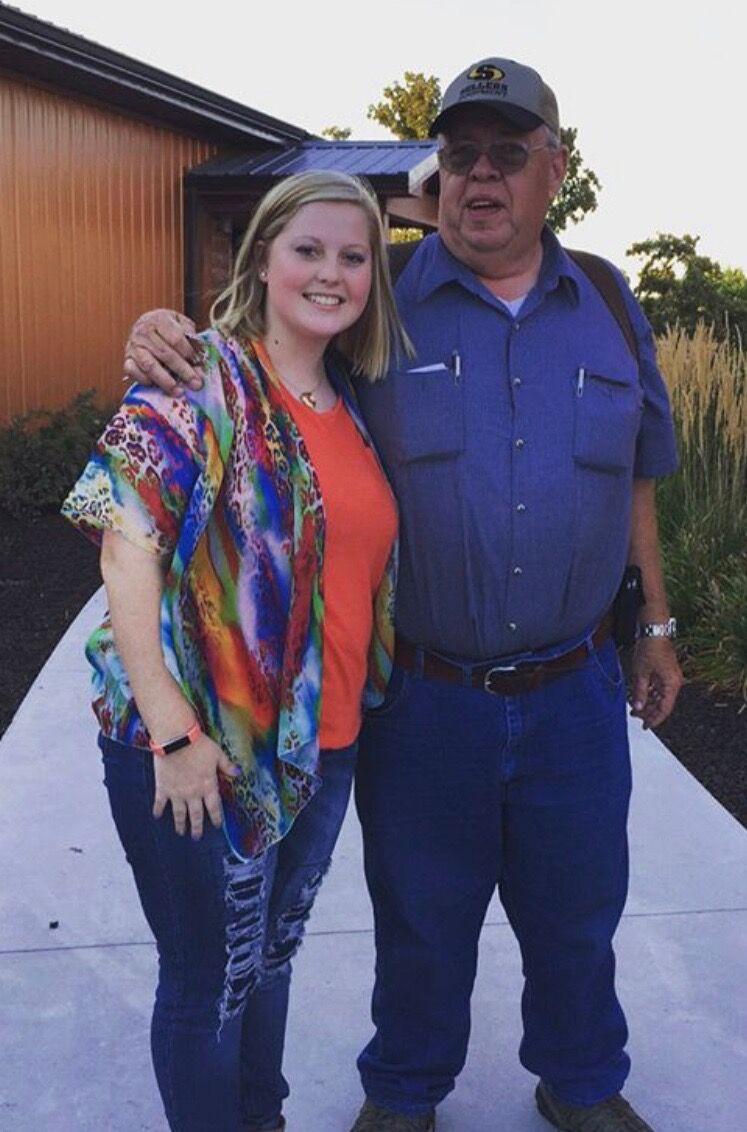 When I returned to Lawrence, I finally got the time to miss my dad, a feeling that was nonexistent in the days leading up to his funeral. I had spent the whole time organizing and planning without a second to grieve. Now, I realize I took charge as a coping mechanism. I needed something to do to deal with my emotions, to divert myself from the full-on grief I wasn't ready for but was expressing itself anyway through my irritability and impatience.
In the months since his death, I've cried countless hours about my dad. I miss calling him when I need to vent and having him there to always fix my problems when they arise. I miss his hugs. I especially miss his sense of humor and his unforgettable laugh. Just knowing I will never see his smile again, except in pictures, hurts me the most. 
I feel Dad's absence most when I go home. Although I know he's gone, it feels like he should be there. His absence has, of course, been hardest for my mom. She is still living surrounded by his things and sleeping in the bed they shared. She's a strong person and continues to live her life as best as she can but without my dad. 
I've learned that grief is a journey that every person experiences differently. I'm not at the end of mine. But I can feel the journey changing. I can talk about him now without feeling the weight of sadness.
What were once sad memories about him are now happy and sometimes even funny. I also see my dad in little things throughout the day like a cardinal sitting in a nearby tree or when "Here Comes the Sun" (a song we jammed out to frequently in his car) by the Beatles comes on the radio. These little things that once brought me to tears now bring comfort knowing that he is still here in spirit. 
I cherish the time I have with my family much more now that I lost someone so important to me. I take time to express my love and try to keep in contact with them more every day. We know not the time or the place, so I try to always be ready.