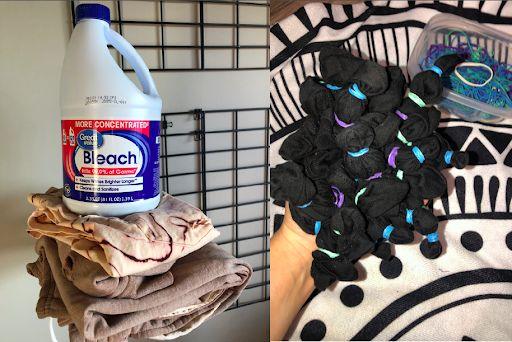 With many retail and department stores closed, new clothing options are limited. There's online shopping, but waiting five to seven business days for shipping can get old (not to mention the ridiculous pricing). If you're struggling with your current wardrobe, consider transforming your closet with a common household ingredient: bleach. 
Nobody loves wearing black more than me, but being stuck at home makes me want to dress brighter. According to a 2014 study on the effects of color on the mood of college students, color is one of the most effective factors in a space to influence the way individuals express emotions. 
To switch things up and potentially brighten my mood, I transformed some of my comfy black clothes, and documented each step along the way.
When bleach dyeing, it's important to make sure your clothing is primarily made of cotton. Bleach doesn't react well with polyester and rayon blends, but it will significantly lighten them. My t-shirt was 100% cotton and my sweatsuit was 60% cotton and 40% polyester.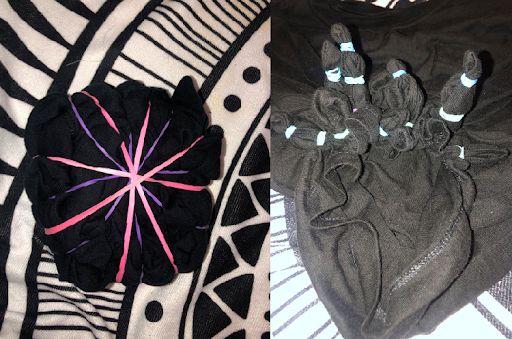 The first (and arguably most important) step is to wash your clothing in the washing machine without any fabric softener. This removes all of the residual dyes and chemicals ingrained in the weave, and will help the bleach react with the fiber. After washing, take your wet clothing and tie it up using rubber bands. I opted for the spider technique for my sweatsuit and a sunburst technique for my t-shirt. 
Now, it's time for the bleach. I made a bleach bath (one part bleach, one part water), and completely immersed my items. If you don't have access to enough bleach to cover your clothing, then you can use a spray bottle filled with bleach solution and spray it on. The bath results in a primarily light fabric color, and using the spray bottle makes a splatter pattern and leaves the original color intact. 
Whether you're using a bleach bath or spray, it's important to let your items sit with the bleach for a while. Usually the color will start to lighten after an hour, but I let mine soak overnight. Also, it's important to flip the items halfway through to ensure the bleach is evenly applied. 
Once your clothing reaches the color you want, use gloves to remove them from the bleach bath and move them to your sink. Rinse the tied-up garment, and carefully remove the rubber bands. Rinse again until you can't smell the bleach on the fabric, and hang to dry or toss them in the dryer. 
Because there are only a few materials needed, bleach dyeing is an easy way to hop on this summer's hottest fashion trend. Make the most of this extra time at home by upcycling your wardrobe ASAP (no shipping necessary). 
Samantha Travis is a University of Kansas senior majoring in journalism and minoring in visual arts with a focus on textiles. She spends her time sewing garments from repurposed materials and dyeing natural fabrics for quilting.