My 2020 New Year's resolution was to start practicing yoga, so I thought I would jump right in with hot yoga. I arrived at HOTWORX, a virtually instructed infrared fitness studio on Indiana Street, for my first hot yoga session. After signing a couple of safety waivers, I was shown to my sauna.
The sauna was fit for three people, but thankfully I had it to myself. Let's be clear, I'm no yogi. I'm not flexible and my balancing skills are subpar. But after trying hot yoga, I would recommend it. Here's why.
It's an efficient workout
HOTWORX General Manager Cydney Barrick says infrared saunas maximize workouts because of how the body is heated.
"If you go in a normal sauna, you heat from the outside in and infrared heats from the inside out," Barrick says. "Your body warms up faster, you're able to get a more efficient workout in and then you continue to burn the same amount of calories afterward as that heat's leaving your body."
A HOTWORX session combines infrared heat with isometric positions, still positions that activate muscle contractions, to maximize the workout. According to Healthline, hot yoga can improve flexibility, reduce stress and burn more calories than other workouts.
I stripped down to my biker shorts and sports bra, threw my hair into a high bun and stepped into the 125-degree sauna I would spend the next 30 minutes in. Emilya Washeleski, the virtual instructor, appeared on the screen in front of me and we began. "Not only is this a great workout, but it's also a great stretch," Washeleski says, preparing me for what was to come while we stretched.
We started the workout in Eagle Pose. I held this twisted position for one minute before switching to the other side for another. A 20-second countdown appeared on the screen followed by five beeps signaling the last five seconds of each hold. This routine was repeated for the duration of the workout.
How easy, I thought. Wrong.
It's challenging
The sound of the five beeps soon became my best friend. Beep, beep, beep, beep, beep. I fell out of Half Moon onto my mat in a puddle of sweat.
"Earn the burn," Washeleski repeats. I was burning, alright. All the water I'd drank disappeared from my body as I struggled to hold positions.
Finally, Washeleski began our cool down and the workout came to an end. "Thank you for nama-slaying it with us," Washeleski says before disappearing from the screen. I left the sauna dripping in sweat, but ready to nama-slay the rest of my day.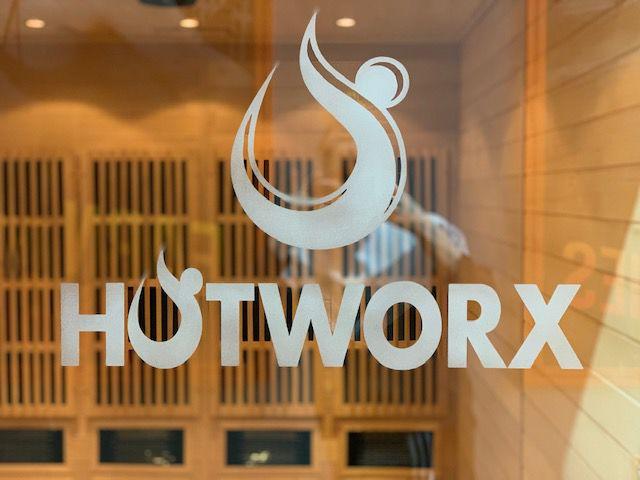 In my opinion, you should try hot yoga for a fun challenge. Plus, you can get a free workout through the HOTWORX website, so why not?
HOTWORX is located at 1101 Indiana Street and has staffed hours Monday through Thursday from 11 a.m. to 8 p.m., Friday from 9 a.m. to 6 p.m., and Saturday from 11 a.m. to 4 p.m. Members have 24/7 access. Hot yoga classes are also offered at Lava Yoga, 1520 Wakarusa Drive, Suite J; and Yellow Brick Yoga, located at 1410 Kasold Drive, Suite A1.