Marijuana: The Schedule I drug taking the United States on a legal roller coaster one state at a time.
According to DISA Global Solutions, only nine states have the drug completely criminalized, but despite the lack of legal medical marijuana, cannabidiol, more commonly known as CBD, offers alternative medical benefits for cannabis consumers. In Kansas, where medical and recreational marijuana use are still criminalized, CBD use is legal. Downtown Lawrence has several places to get a CBD-fix, but Wake the Dead Breakfast Bar offers a different kind of plant-based help for those 21 and older: The CBD cocktail. 
CBD is a natural compound that comes from both marijuana and hemp leaves; however, unlike the tetrahydrocannabinol, or THC, found in marijuana plants, CBD does not cause psychoactive or euphoric effects associated with marijuana use, according to Healthline. At Wake the Dead, you can find an array of CBD-infused drinks to accompany your meal and take the edge off the day early. 
Server Madison Smith says the bar uses a dissolvable liquid form of CBD in its cocktails, allowing the compound to blend smoothly with any alcoholic beverage. 
"The most popular are probably the Mary-j-rita or the Blue Dream just because they're all really the perfect balance of champagne or tequila — plus they have CBD," she says.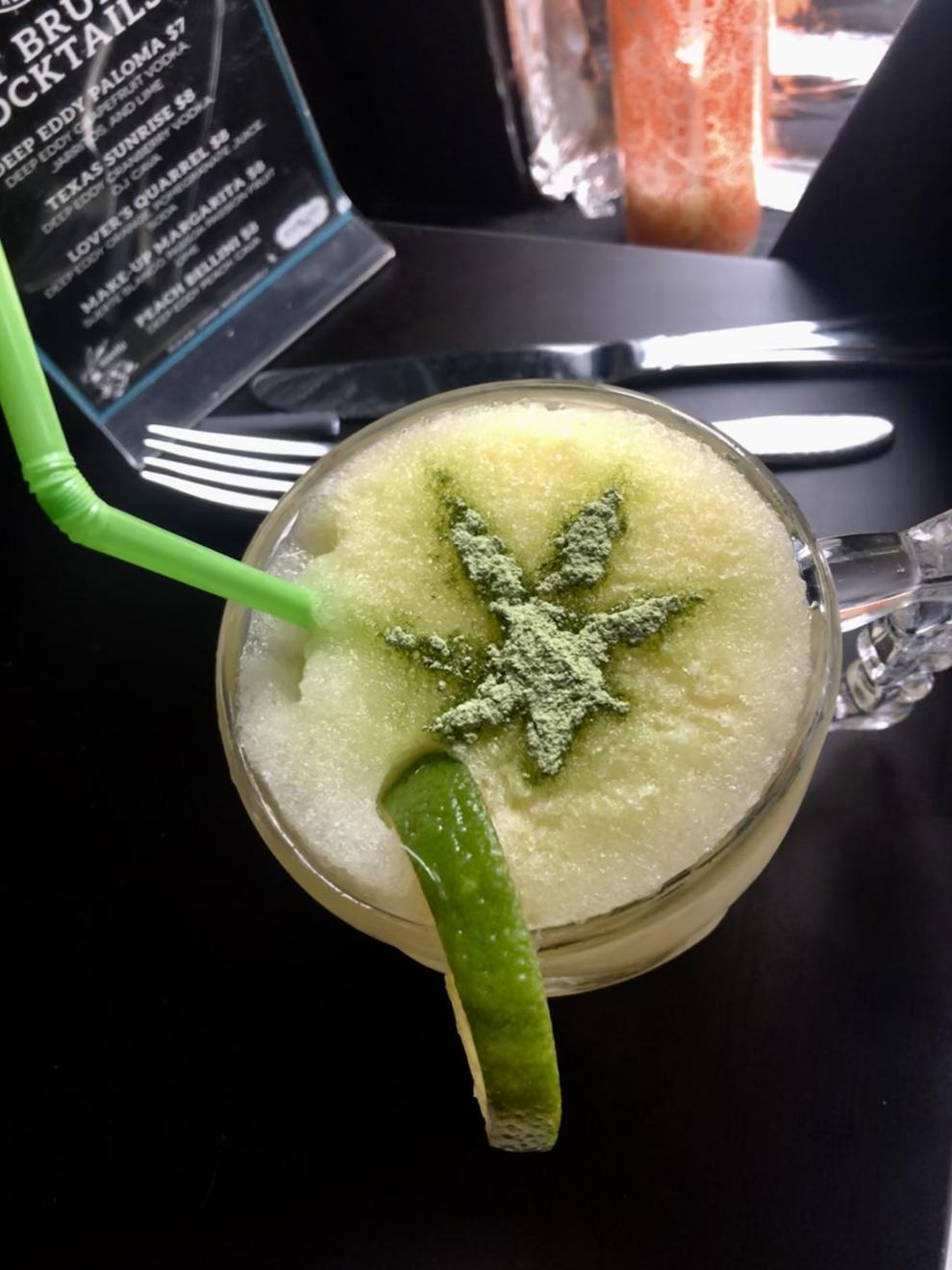 I kept it simple and tried the Mary-j-rita, a frozen margarita with a twist from our favorite friend, Mary Jane. The tequila-CBD slushie comes in a glass skull topped with a slice of lime and a delicately sprinkled matcha-powder marijuana leaf for maximum greenery.
The stimulant-depressant blend of CBD and alcohol creates a solid balance to take on the day, but the drink does taste like tequila and a vape. Overall, the combination of lime, cannabis and matcha provides a refreshing, leafy spin on the classic cocktail. If green had a taste, the Mary-j-rita would be it. 
Wake the Dead Breakfast Bar is open Tuesday through Friday from 8 a.m. to 2 p.m. and weekends from 8 a.m. to 3 p.m. The restaurant is closed Mondays.