Everyone knows the mimosa, but a new breakfast staple has gotten a boozy twist: Cereal.
This past weekend, Ramen Bowls held a soft open for its new Moonlight Tiki Lounge. Thursday through Saturday from 10 p.m. until 2 a.m., you'll find a new, candle-lit atmosphere and a fresh menu. The after-hours food starts serving at 11 p.m., and cocktails start at 10 p.m. Sushi, ramen and cocktails are all on the menu, but the winners sit right at the bottom.
What? Cereal with … alcohol? Could such a thing even exist?
Well, it exists. It's about to change your whole world, and we have one ambitious chef to thank. Stephano "Rozz" Petrozz, general manager of Ramen Bowls, says he got the idea from a different alcohol-dairy collaboration.
"I adore boozy milkshakes, so I wanted to do something different," Petrozz says.
The menu offers four bowls: Cinnamon Toast Crunch, Peanut Butter Captain Crunch, Fruity Pebbles and Lucky Charms. 
I ordered the most ambitious bowl of the four: the Cinnamon Toast Crunch bowl. Not only does it come with an (un)healthy serving of the cereal, but a scoop of Sylas & Maddy's "Da Bomb" ice cream sits right in the middle, all topped with a drizzle of chocolate sauce. On the side is a glass of Hildebrand Farms Dairy chocolate milk and a shot of Godiva dark chocolate liqueur.
After pouring the milk and shot into the bowl of sugary goodness, I took a bite. Now one thing about me is that I despise cereal with milk. But this? This was perfect.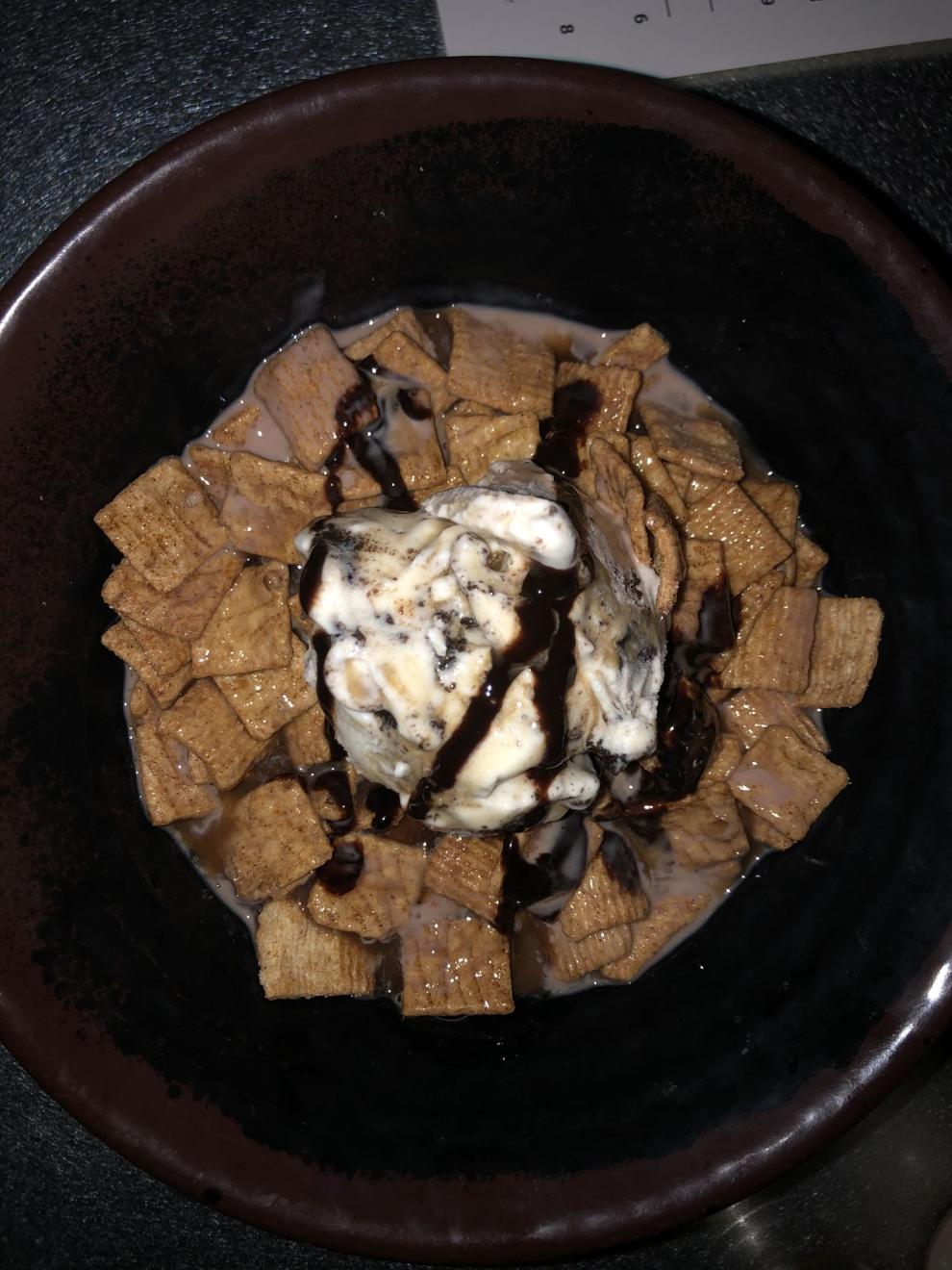 The cinnamon-y crunch of the cereal, smoothness of the Oreo cookie dough ice cream and the richness of the liqueur-infused milk blew my mind. While a bit larger shot of the liqueur might have added to the cocktail aspect of the drink, I wouldn't change anything about it.
I have to agree with Rozz on this one. It's "everything I could want from a bowl of cereal."