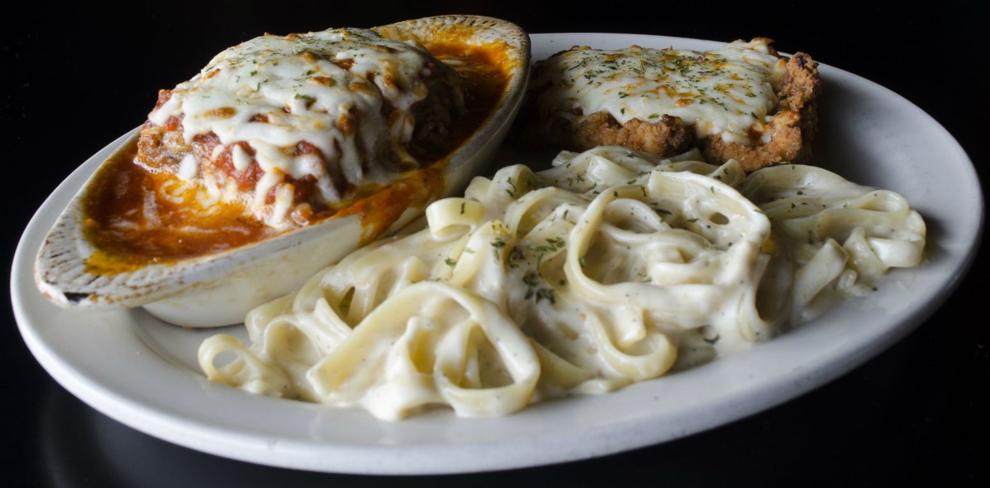 There are a number of places to spend date night in Lawrence, but if you're in the mood for Italian, I recommend Paisano's Ristorante. While you're there, try the Taste of Italy: a combination of three classic dishes.
Paisano's is ranked fourth in the best 10 Italian Restaurants in Lawrence on Yelp and 10th on Trip Advisor
The restaurant has a very laid-back, gangster movie feel. The environment is not too rowdy, even with sports playing in the background, and not too quiet thanks to the restaurant's diverse selection of music.
I went on a Monday night and they set the mood with some Marvin Gaye and Al Green, then shifted to Drake and Justin Bieber. Whoever is controlling the music is clearly a pro. 
The Taste of Italy is definitely one of the most prominent dishes at Paisano's. The dish is $17.99 and includes chicken parmigiana, 15-layer lasagna and fettuccine alfredo. The cheese in the lasagna literally melted in my mouth and I cannot express enough how good the chicken was.
Jacquelynn Turnage, a former University of Kansas student, says the Taste of Italy is her favorite dish at Paisano's. She says ever since her first visit to the restaurant, she goes at least three times a month. 
"The food in general – like the breadsticks and salad – are good as well, but the Taste of Italy was easily the standout dish," Turnage says. "And the restaurant itself was very nice and just peaceful." 
While the Taste of Italy has become my personal favorite, Paisano's offers a wide selection of dishes, ranging from chicken picatta to shrimp scampi. With the variety of choices, there's a possibility you can't go wrong with any of the dishes on the menu. 
If my recommendations aren't enough, Paisano's server Trey Brillhart suggests the Chicken Marsala: a pan seared chicken breast sautéed with mushrooms and served with a side of fettuccine alfredo.
"Add that with a nice wine selection and you will really have yourself a night," Brillhart says. 
Paisano's has various specials for you to choose from every night. Bottles of wine are half price on Monday, and range from $16-20. And for those of you looking for a date night spot, Cosmo Martinis and Leaning Towers are $5 on Fridays.
Paisano's is located on 2112 W. 25th Street and operates from 11 a.m. to 10 p.m. Sunday-Thursday, and 11 a.m. to 11 p.m. Friday and Saturday.