It was a warm, early May day. The sound of the green-grey water crashing into the riprap outside my family's house at the Lake of the Ozarks was matched by my brother's laughter and the sound of our dogs barking in our back yard. I was inside. I was sitting on the couch, eyes locked to my phone, scrolling through TikTok and edging on seven hours of screen time while contributing to the nation's 47% data increase during the early parts of COVID-19. I was oblivious to the innocent fun occurring just 20 feet on the other side of the windows.
For months, especially at the beginning of quarantine, I allowed my phone to fill the void left when my boyfriend also had to move back home. I would sit with my family at our lake house each night while "we" watched a movie, but I actually watched my phone. Each time I saw its screen glow pale blue or heard three vibrations signaling a text, my attention diverted from my family and our movie. My parents, two sisters, brother and even my two dogs became bystanders in my life, which I was living through a screen. Strangers dancing on TikTok to "Party Girl" by StaySolidRocky were the main characters in my vicarious life.
For months, I forgot what living in the here and now felt like. For months, my family became distant strangers. Something needed to change, even if I didn't know it at the moment.
In June, my dad and I went to our lake house for a weekend getaway. In the beginning, it was as if it were my dad, me and my phone on the trip. Then one night, as he was scrolling through movie suggestions, we came across "The Social Dilemma," a documentary exposing the ways Big Tech companies lure us in and manipulate us.
Within minutes of starting the movie and hearing an array of ex-tech executives voice their ethical concerns about different social media platforms, I had shut my phone off and set it on the kitchen counter outside my line of vision. For the remainder of the movie, I sat next to my dad terrified. We listened to the sources talk about how social media is tailored to addict us and to drive us further apart. They explained how even the tech moguls have almost lost control of the algorithms. Instead, artificial intelligence now knows almost everything about us, which leaves us vulnerable to whatever content and notifications it decides to feed us.
When the movie ended, I felt different. I looked at my phone across the room and no longer had the deep urge to pick it up and leave the presence behind. I wanted to destroy it.
My parents and grandparents had always told my siblings and me how bad our devices could actually be, but none of us ever saw any truth in their words of warning. To us, our phones served as a lifeline, providing pleasure and much needed connection, especially in times where we couldn't physically be around our friends or significant others.
This time was different, though. This time I heard them.
When I finally picked up my phone, I went straight to the settings and turned on a strict time limit for Netflix and Snapchat. I then scrolled across my screen to my once precious social media folder and deleted Facebook, Instagram, Twitter and TikTok.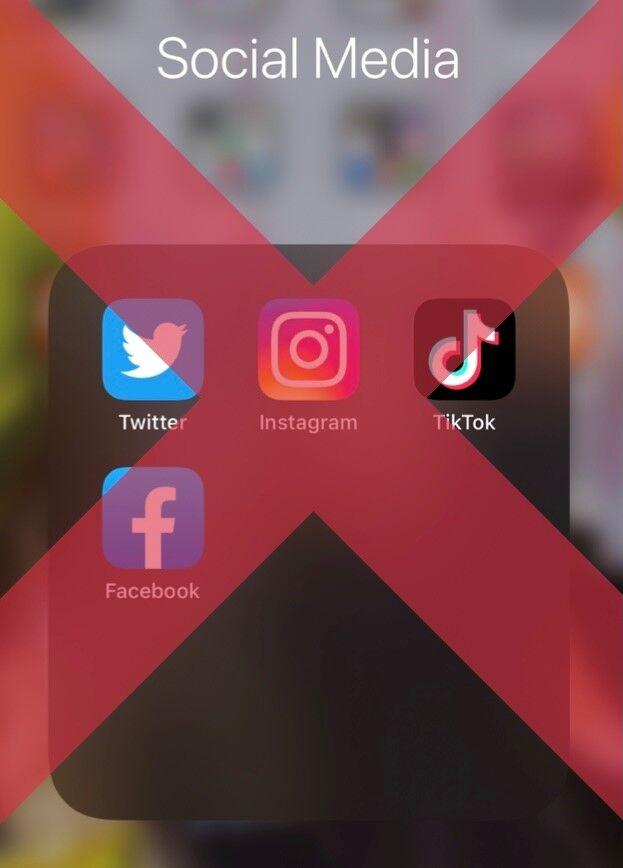 At first, I struggled. My pointer finger would unconsciously make its way to the location of the social media folder, which was no longer there. I'd even occasionally cave and use Safari to pull up Instagram. Little by little, the urges that once locked me into my phone for nine hours a day dwindled, and I started to feel free.
Shortly after deleting the apps, I began to realize just how much stress and anxiety social media had caused me. Since seventh grade, I had been steeped in an artificial world. I obsessed over how many likes I received and what my followers thought about my profile. I labored over creating an online persona focused on shallow characteristics. But once I deleted my social media apps, my mind stopped focusing on my next post, who had unfollowed me or what the new TikTok dance trend was.
Without social media, my family became my priority. I found myself thinking about my sisters' boy drama, my brother's desire to be back on the baseball diamond, and my parents' daily work life. When we'd watch movies together, instead of keeping one eye on my phone and one on the movie, I began to ask for the remote.
Letting go of my social media persona allowed me to develop my real-world character and strengthen relationships I had neglected.
My mom and I rekindled our old habit of watching '80s movies when my dad was at work, and we even began a hobby of making charcuterie boards. My dad and I took more trips to our lake house and I made sure to spend my time outside helping him clean the boats, plant new flowers and build extra storage. We even started sitting outside after dinner and listening to jazz music while we talked about my life after college. My sisters and I started spending more personal time together. Instead of turning to the Quizlet app to prepare for tests in my summer class, I asked them to help prepare me instead. My brother and I took our dogs on electronic-free walks in the mornings and talked about life in the seventh grade.
In the months since my initial purge, I have slowly added these apps back. However, I have a one-hour combined time limit restricting me from overusing them. This experience has taught me how seductive social media apps are, and I now edge on the side of caution when I engage with them. Moving forward, I will continue to attempt to be more outward-facing, instead of facing downward looking at my phone.