Joining the women's Ultimate Frisbee club helped ease Julia McElroy's transition to college. "Coming into KU, none of my friends were also coming here, so I was very scared," McElroy, a sophomore from Overland Park, says. "It was just that immediate connection, that immediate friendship. It was very welcoming."
It's an age-old conundrum, isn't it: How does a student stay and feel involved in a college as enormous as the University of Kansas? How do they make friends?
We spoke to University students who solved these problems by joining sports club teams. Research shows that's a good move to make. According to a study by Lori Artinger, published in the NASPA journal, involvement in intramural sports or sports club team helps students with social integration and can facilitate the transition to college.
KU Recreation Services offers 31 sports club teams, ranging from organized sports like volleyball to combat sports like Tae Kwon Do. "There's really something for everyone," says Lucas Perez, a sport club program manager.
Sports club teams are more competitive than intramural sports. Members often try out for the team and pay their dues until they get to play and travel across the country for competitions. Across the board, students involved in these clubs say it's helped them find their place at the University — it's how they feel engaged, how they stay active and how they make friends. Here's a look at five University sports clubs and how they help students find their own little corner at the University.
Women's Softball
Women's softball club president Shelby Mulford, a junior from Norton, Kansas, went to high school in a small town of about 2,000 people. Her school was so small it didn't even have a softball team, a sport she's played since she was four years old. To go from a town of 2,000 people to a freshman class of 5,000 was hard, but that changed when she found her community in the softball club.
"Club softball, and club sports as a whole, is honestly my favorite part about going to KU," Mulford says.
Most of the players on the team have played softball for the majority of their time before college, so the team gives them an opportunity to keep up with the sport. The women's softball team practices twice a week in the spring with an additional hitting practice each week. The team travels around the Midwest, competing against other college club softball teams, including Iowa, Iowa State, K-State and Nebraska.
Being part of the club softball team makes Mulford feel comfortable at the University. It also helps her meet people in other clubs and feel more connected. The feeling on the team is a sense of belonging — they've found their place at the University. "There are some life-long friendships being built," Mulford says.
Women's Ultimate Frisbee
Most of the players on the women's Ultimate Frisbee team, also called Betty Ultimate, haven't played competitive Ultimate Frisbee before joining the club at the University. Ultimate is a no-pressure environment because of the players' limited experiences, team president Madison Foster says.
Foster, a junior from Topeka, played competitive sports in high school, so the ultimate Frisbee team helps her stay active. It's also where she's made most of her friends. "It's a lot of my social life," Foster says. Many of the players' roommates have come from meeting each other on the team. Almost every time Foster goes to the library, she finds a table full of people she knows from Frisbee.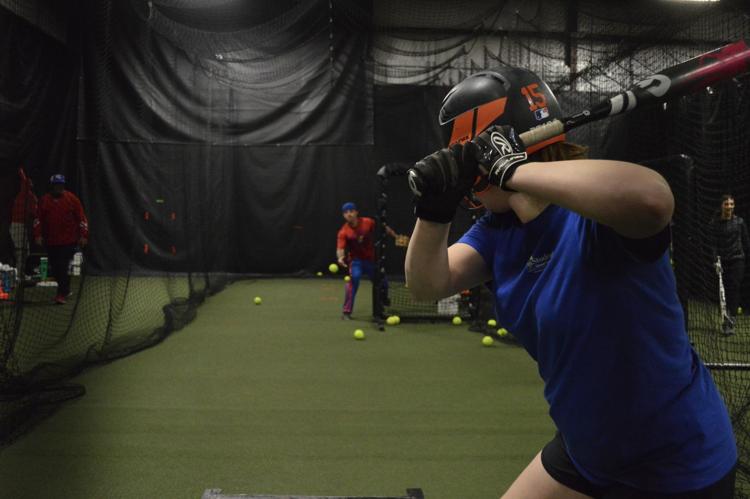 Men's Ultimate Frisbee
Brooks Hidaka, a graduate student from Overland Park, found a similar welcoming and friendly environment on the men's Ultimate Frisbee team. Hidaka, captain and vice president of the Horror Zontals, says he was swindled into joining the team at an event his freshman year — he initially didn't want to join because his older brother had played, and he didn't want to be compared to him. But the team makes Hidaka feel like he's part of a big university. It keeps him active, and introduced him to some of his best friends.
The team travels to tournaments around the country, allowing the players to visit places they might not normally get to as college students with limited finances. This extra time together further cements the players' friendship.
"We get to travel the country, play a sport and hang out — it's the best of both worlds," Hidaka says.
Quidditch
"It's just a bunch of athletic nerds," says Kaija Dewsbury, a junior from Shawnee and the president of the Kansas Quidditch team. Quidditch is inspired by, yes, the magical sport in the Harry Potter series. In real life, the players don't fly, but they still have to keep a broomstick between their legs at all times — and there's even a golden snitch.
Joining the quidditch team helped smooth Dewsbury's transition to the University. She found a friendly and welcoming environment there. The quidditch players keep busy with three practices a week during the fall semester, with tournaments almost every weekend. Dewsbury played soccer before coming to college, which took up a lot of her time and was how she found friends. The quidditch team makes her feel like a part of the University, and it's where she's built a community with fellow Harry Potter nerds.
Rock Climbing
Willie Donovan, president of the rock climbing club, also found a welcoming and friendly environment when he joined the club his freshman year. "Everyone was really friendly and willing to teach you how to climb," says Donovan a senior from Seattle. "It seemed like it was very open to beginners." Donovan grew up hiking and camping but didn't know how to rock climb before joining the club.
The club meets three times each week during the semester at the Chalk Rock climbing wall in the Rec Center, and is open for anyone. Education chairs are available during club hours to teach people to rock climb. The club also takes about five climbing trips each semester to states across the country, including Arkansas, Kentucky, Utah, Nevada, Colorado and Illinois. The rock climbing club is where Donovan says he's made most of his friends in college. "I don't know what else I would do besides this," Donovan says.