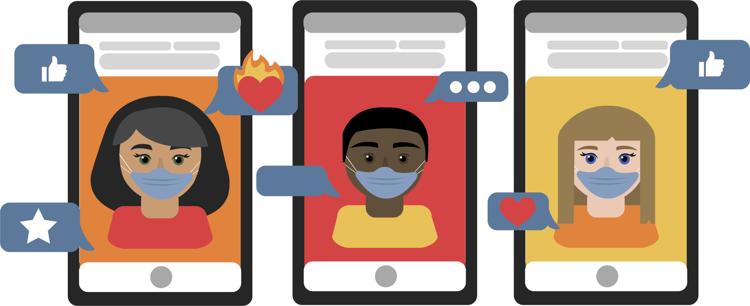 Let's be honest. Social distancing has ultimately made dating a lot harder. And, if you're single, this is especially true because of the various restrictions that have been established to prevent physically meeting with people. In fact, being single during a pandemic likely means you're somewhere in between being on the verge of having a horny meltdown and being entirely apathetic toward the dating game. 
For Jade Harrison, a PhD student in the University of Kansas' English department, being single during COVID-19 has made her yearn for an emotional connection more than ever before. The stay-at-home orders were the impetus for her to reactivate her accounts on Tinder and Bumble.
"I got bored," the self-proclaimed extrovert says about her return to dating apps. "I got a cat, and that has been helpful, but there's still an element of human interaction that's obviously missing. I talk to my friends, but I was already talking to them before quarantine. And my life is stale because I work from home, so I'm often bored as hell and I just wanted to flirt. I just wanted to talk to someone."
However, her experience thus far hasn't been as satisfying as she hoped. 
"It's a whole mess," Harrison says. "Using dating apps to meet up with people is already weird in some way because it's hard to catch a vibe from someone via a dating app, but now you have this weird barrier. Now, if I match with someone, it's just all conversation. Everything is virtual, but it's weirder that way for me because if we FaceTime,  I have an issue with people being able to see my house, so I don't really like to do any sort of video call with guys, which makes it even harder to connect with someone."
Although Tinder seems like the perfect go-to for single people like Harrison during this time, Math, Tinder's parent company, revealed that user growth for the popular dating app has declined due to COVID-19, according to the Q1 2020 earnings report released this month. 
Tinder ended this quarter with 6 million subscribers. Although that number is an increase from the 5.9 million subscribers at the end of last year, only 100,000 new subscribers were added this quarter. Around the same time last year, Tinder added 384,000 new subscribers. 
The decline in subscribers is likely due to people not wanting to meet in person, which is the assumed next step in online dating. However, Harrison says that hasn't stopped guys from asking her to break the rules. 
"I had a dude tell me that we're supposed to be quarantined together," Harrison says. "And I was like, 'No, were' not. First of all, that defeats the whole purpose of social distancing, and second of all, just no' and I think a lot of people are trying to use this time to find that one person with whom they can isolate in their homes."
In an interview with Vanity Fair, Anthony Fauci, the director for the National Institute of Allergies and Infectious Diseases who's a key member of the Coronavirus Task Force, advised people to be cautious when considering physically interacting with others, especially when wanting to be intimate. 
"If you're willing to take a risk—and you know, everybody has their own tolerance for risks—you could figure out if you want to meet somebody," Fauci said in the interview. "And it depends on the level of the interaction that you want to have. If you're looking for a friend, sit in a room and put a mask on, and you know, chat a bit. If you want to go a little bit more intimate, well, then that's your choice regarding a risk."
Although she's not seriously dating anyone, Tatyana Turner, a senior psychology major at the University, is taking that risk to meet with a person she has been talking to for a couple of months.
"Our relationship hasn't really changed, but the pandemic has changed how often we see each other," Turner says. "Before everything happened, I probably saw him maybe four to five times a week, but now it's gone down to once a week or once every other week."
But Turner says she's seamlessly adjusting to the new change."I can definitely adapt," Turner says. "I'm not upset about it at all, and it doesn't make sense for me to see him that much because everything has changed. I kind of have gotten used to the quarantine style, so whenever we get to see each other is fine with me, but I'm still using dating apps to talk  to other people."
For Mona Ahmed, an alumna of the University, being single while social distancing hasn't been difficult. She's using her down time to focus on her future. 
"While I'm talking to someone, I'm currently focused on starting law school next semester, so all of my energy has kind of gone toward that," Ahmed says. "This pandemic is certainly stressful and confusing, but focusing on myself has definitely helped me forget about not being in a relationship."