Last year, Emporia State University senior and Lawrence native Kahill Perkins joined a Black Lives Matter march at the Country Club Plaza in Kansas City, Mo. Police pepper-sprayed and tear-gassed the protestors. Perkins describes what it feels like to be tear-gassed by police.
It started out fine. My partner, our friend and I joined the Black Lives Matter march in the afternoon on May 30. We walked together with a sea of people surrounding us, chatting and chanting as we marched.
I looked to the sides and saw police surrounding the peaceful march, standing in their black uniforms watching the crowd.
We were approaching the plaza park when I suddenly heard screaming and crying up ahead. The atmosphere changed immediately. I heard people yelling, "He didn't do anything!" and "Stop!"
Suddenly, I looked over and saw my partner pulled aside and pepper-sprayed by a police officer. My partner yelled and stumbled over to me. I pulled them aside, calling desperately for help as they coughed and cried.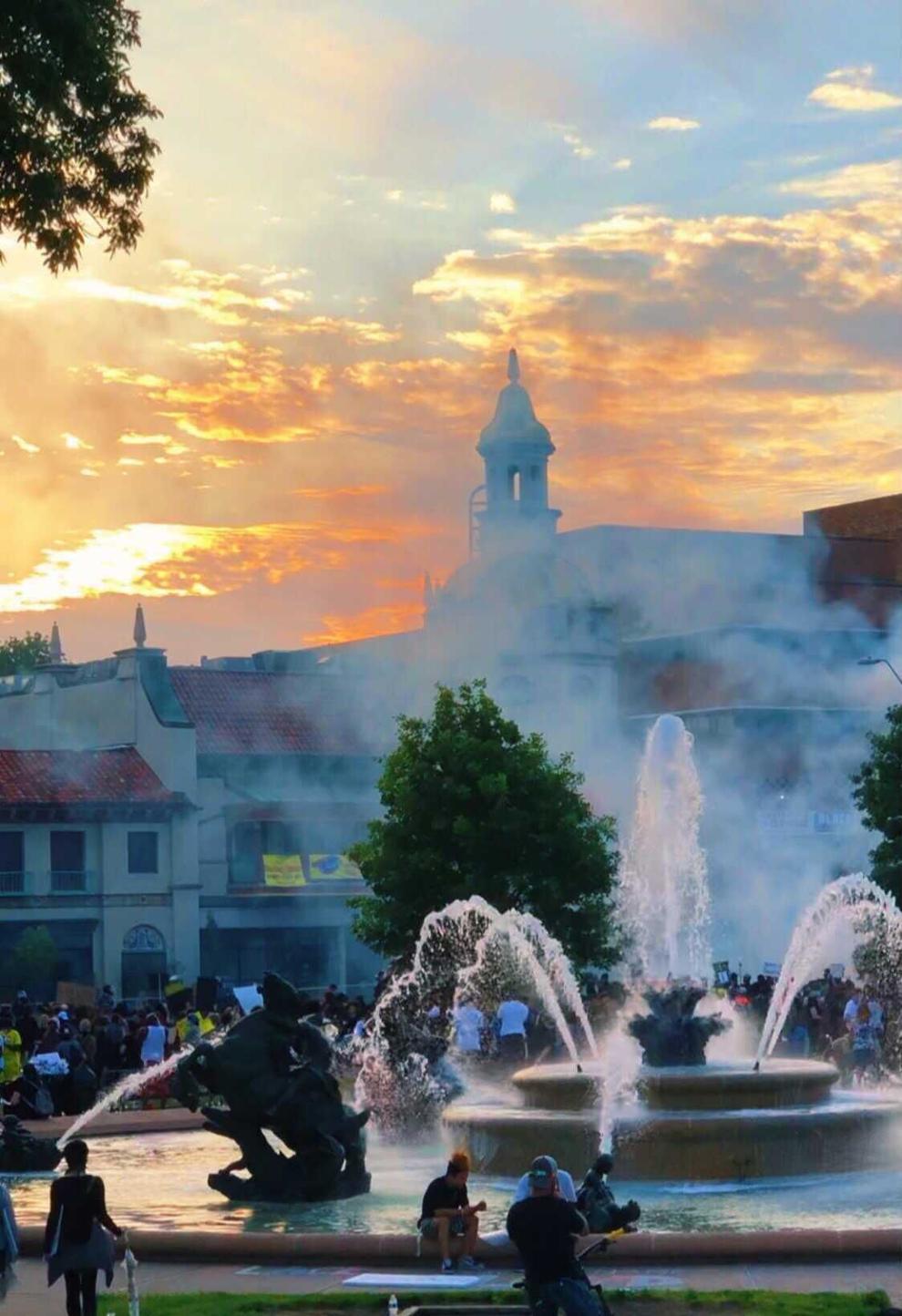 Around me, people were being thrown to the ground and sprayed in the face by police. Then, they began throwing tear gas into the crowd.
I saw the gas start to billow towards us and the air became hazy. The gas burned my skin and blinded my eyes. I coughed as the gas became trapped inside my mask.
It felt like inhaling fire. It felt like I was choking. My skin turned red as I began to develop a chemical burn. Tears ran down my face. All I could think in that moment was "I can't breathe. I need air."
Everyone scattered and I ran into the park. I couldn't stop coughing. I noticed my companions were no longer with me. I heard more screaming as I looked around, disoriented.
A little girl, around 7 years old, appeared by my side. She was sobbing, crying out for her mom. I crouched down.
"Hey, are you okay? Are you lost?" I asked as I gently wiped her face with a wet cloth. I stood up and grabbed her hand. The police surrounded the park and threw more tear gas into the grassy area.
We ran away to avoid the toxic chemicals engulfing the area. I walked around with her, trying to find her mother.
I heard a woman cry out a name behind us. The little girl turned around as her sobbing mother fell to her knees to hug her daughter. The mother looked up at me and thanked me.
"We weren't even in the march. We were just watching. Thank you for looking after her."
I then stumbled around trying to find my friends while coughing and crying. When I finally found them, we ran to the car to go home.
The experience was traumatic. However, the very next day I joined another Black Lives Matter protest in Lawrence. The fight for justice continues.