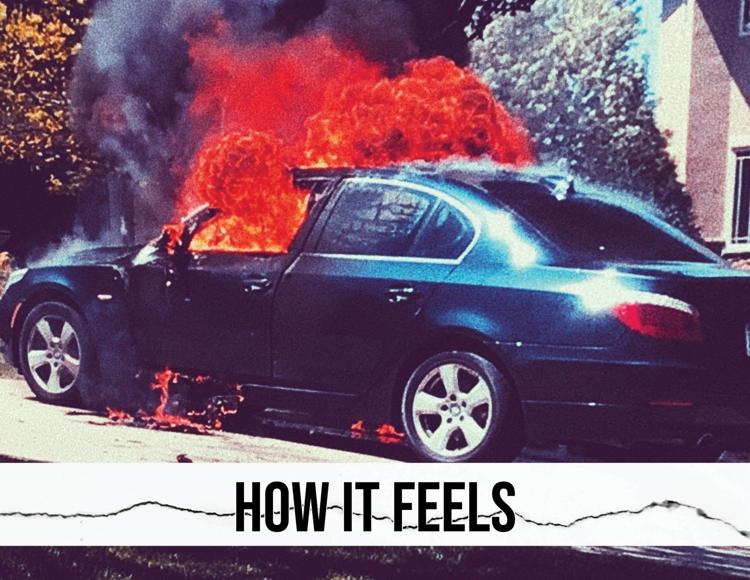 At the end of her sophomore year, Maddie Theisen, a senior studying strategic communications, was driving home to Minnesota for the summer when she got lost somewhere in Missouri, and wound up in an accident that caused her car to explode.
I see a pheasant walking across the road as I'm going 80 miles an hour with a semi next to me and cars lined behind me on a two-lane highway.
There was no way I could slam on my brakes.
The bird was flapping its wings and looking like it was about to fly away, but next thing I know, I nail it.
I looked in the rearview and just saw feathers, no animal, which was strange. I decided to pull over in what felt like the busiest gas station, with everyone staring at me like I had sixteen heads.
This guy, a classic stereotype of a Missouri farmer, looked at me and said, "Miss, you know you got a pheasant in your Beamer?"
"Excuse me? What?"
I ran around to the front of the car and there was a pheasant hanging from my headlight. At this point, I was bawling. It was disgusting. 
I walked into the gas station and people were trying to help, but we had no clue what to do. When I went back outside, the same man offered to help and, bare-handed, took this bird out of my grill.
"You got a big one," he said, throwing it in the back of his truck. "You don't want it, do you?" 
My front light was busted, so I sent my dad a video of it all. After making sure I was OK, he replied with, "Just try to get home before dark."
From there, I made it home in good time with my family waiting for me and a wild story under my belt. Luckily, we unloaded my car that night.
The next morning, I dropped my best friend off at her house down the street on our way home from a workout class.
Up until now, my car had seemed fine. But, as I turned the corner with my house in sight, smoke started coming out of my air vents and filling the car. I rolled down the windows and parked it at the bottom of my driveway because I thought the engine had died or something.
No one was home and no one was answering the phone, but a worker at the house next door suggested I move away from the car. 
The smoke was getting darker and darker and surrounding the car, so I went across the street with him and called 911. Next thing I know, I'm yelling to the operator, "It's on fire, it's on fire, my car is on fire!"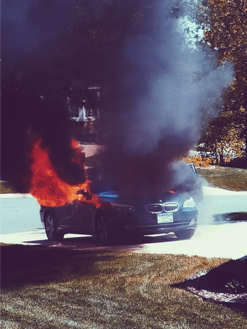 Windows were shattering. Tires were popping. I was bawling again.
The tree next to my car caught on fire and now I was panicking that my house was going to catch on fire and my family would hate me. 
Even on a late Wednesday morning, neighbors were coming out of the woodwork to stand in their yards and watch what was happening.
The car had a full tank of gas and two quarts of gas in the trunk, which sounds ridiculous now, but luckily, we live close to a fire station and the firefighters got there in under five minutes.
It took two fire trucks and 20 minutes to put out a fire, which started from wire damage in the front end when I hit the bird.