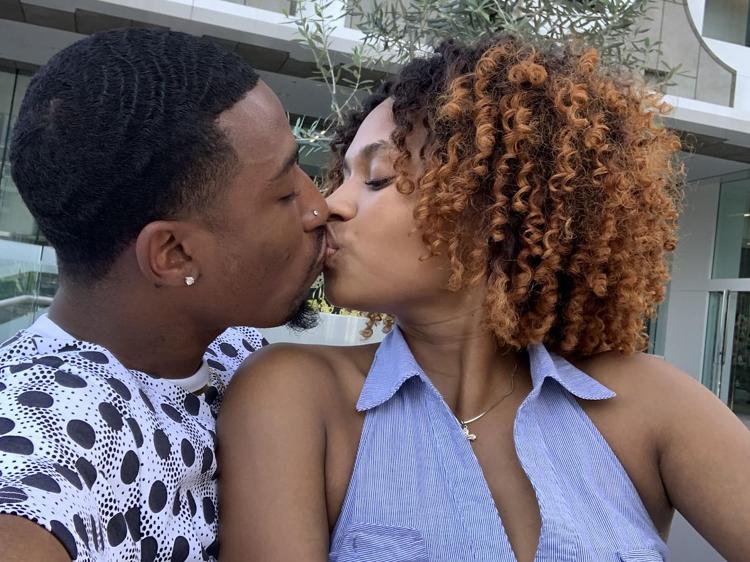 University of Kansas senior Quentin Dancer and junior JaRen Daley first saw each other at an indoor track meet in January 2019.
JaRen was dragged to the meet by a friend, quickly got bored and decided to leave. While leaving she locked eyes with Que. He ran track at the University at the time. They gazed at each other and looked away. She asked her friend Aminah who Que was.
"I think he has a girlfriend but I don't know," Aminah said. "He ain't shit."
JaRen wasn't worried about her friend's comment because she just wanted to know what he was like in bed.
Later that night, they both ended up going to the same party. JaRen spotted Que with a friend she knew from high school. 
"I went up to Chris [her friend from high school] and said 'Hey I think your friend is cute,'" says JaRen who is from St. Louis, Missouri.
JaRen knew Que could hear her but she wanted to make things clear. After telling Chris, she whispered in Que's ear and said "I think you're really cute" and then kissed him on the neck. Throughout the night they flirted nonstop. 
"JaRen kept drinking out of my drink," says Que who is from Waco, Texas. "I liked how aggressive she was."
Before the night ended, JaRen put her number in Que's phone and when he got home he texted JaRen to make sure she got back safely as well.
"I was shocked," JaRen says. "I didn't expect him to text me because you know what people say about athletes."
The next day the two spontaneous love birds spent the entire day together and have been inseparable since. They recently had their one year anniversary and have a Havanese fur baby named Elliott.