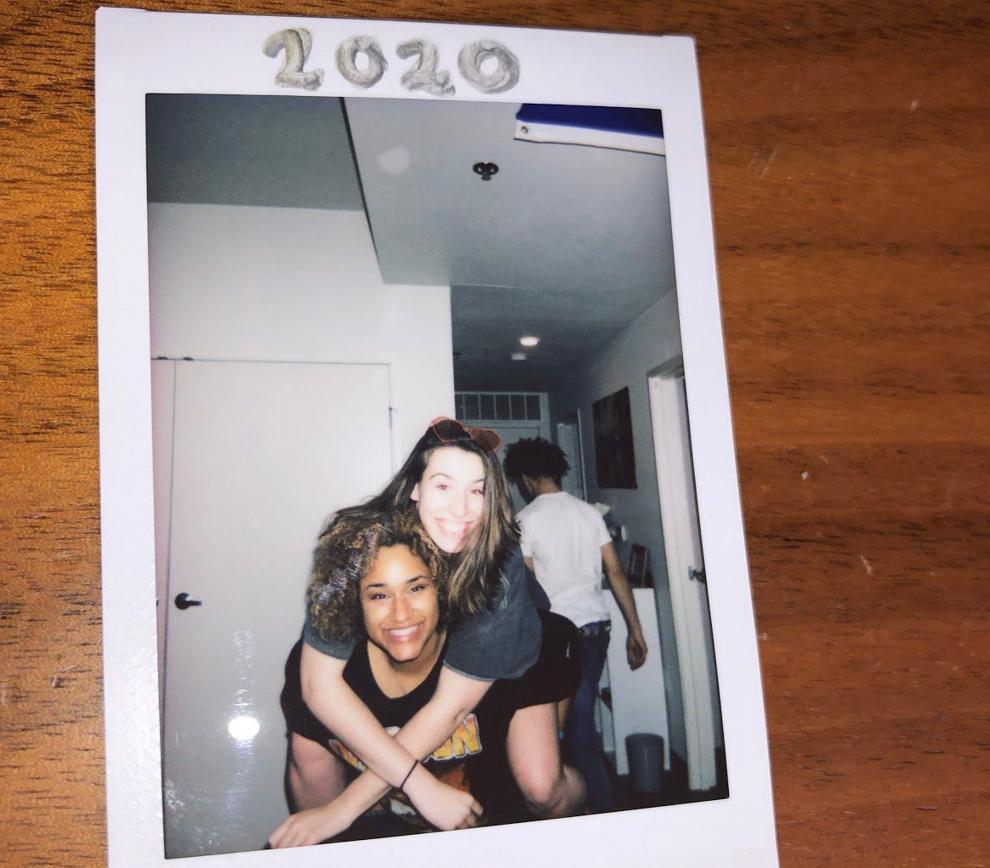 University of Kansas juniors Taya Hart and Charlotte Richter are attached at the hip. They're not just roommates, they're best friends. The two have lived together during all three years of their college careers, and they plan on living with each other next year. Considering the longevity of their friendship, one would assume that when the two first met they became instant besties. But, that would be incorrect. 
In August of 2017, the women moved into Oswald Hall. Richter lived in a room at the beginning of the hall, Hart in one at the end. They didn't actually meet until their floor's orientation. As they sat in a circle in the community room, the resident assistant had all of the new freshmen say where they were from. Everyone seemed to be from somewhere in Kansas, but Hart was from Las Vegas and Richter lived in Hawaii. Hart thought to herself, "Yes! West coast, baby!" 
Eventually, the floor's residents were told to write down their interests, hobbies and birthdays on small pieces of paper.
"I remember looking over at Charlotte and asking her if she was from Hawaii, and she just dismissively replied," Hart says. "I was like … okay then, never mind."
In response to this accusation, Richter says her marker wasn't working and all she could focus on was getting a new one from the bin of markers, which was on the other side of Hart. Regardless of what happened, they both clearly didn't think that there was any potential friendship after their little chat.
A few months later, Richter became friends with Hart's roommate at the time. They both played water polo and had classes together. They quickly bonded over their shared experiences.
"My roommate was really trying to push me to become friends with Charlotte, but I didn't care," Hart says.
The two continued to blissfully ignore one another, that is until Hart's roommate's long-distance boyfriend spent a weekend in their shared dorm room. 
At the beginning of the semester, Hart and her roommate filled out a standard roommate agreement contract. Both girls had long-distance boyfriends, and decided that they were OK with overnight visitors as long as the other wasn't in the room. Later on, her roommate's boyfriend decided to visit for a weekend. Hart spent the first night of his visit sleeping on the floor of the common room in order to avoid the noise. The following morning, she begrudgingly made her way to the dining hall. 
"I walked into Mrs. E's and saw Taya sitting in the far side of the room all alone. She had her head in her hands and I thought that I should probably go talk to her," Richter says. "Then, she told me her entire life story and explained the current problems with her roommate. I told her that my roommate was out of town, so she could just spend the night with me." 
For the next few nights, the two hung out, slept and ate together. After Richter's roommate returned from her weekend at home, Hart continued to sleep on an air mattress in their room.
"Long story short, rule number five is how we met," Hart says. 
Currently, the two are quarantining together at Richter's parent's home on the Fort Leavenworth army base in Leavenworth, Kansas.
"Even when we isolate, we're together. It honestly just feels like it's freshman year again," Richter says.