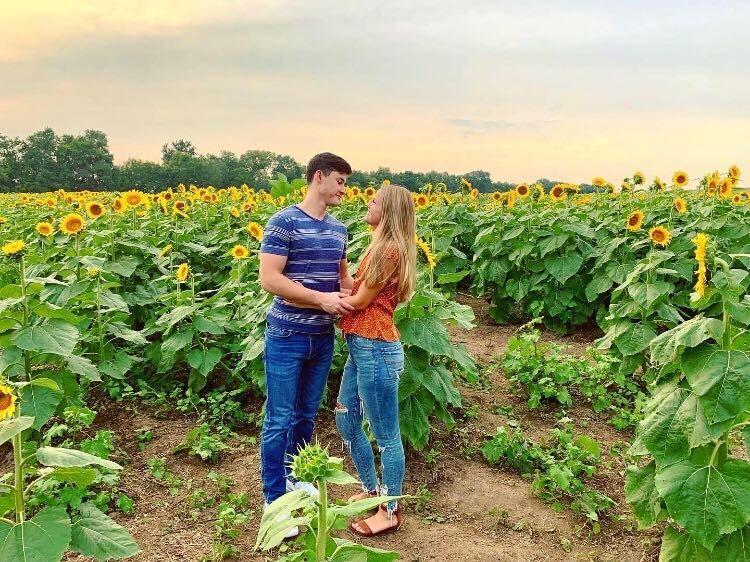 When Lauren Becker was in her senior year of high school in 2017, she went on a seven-day cruise during her spring break. She knew it would be fun, but she didn't know she would meet the person she calls the love of her life.
She met him on the first night of the cruise when she decided to visit the hot tubs instead of going to sleep. They noticed each other and talked until about 2 a.m., says Becker, a University of Kansas junior.
"There were immediate sparks and chemistry there, even though we had just met it felt like we had known each other for like ever," Becker says. 
Parker Childress (Becker's now boyfriend of three years) knew there was something about her that drew him in the first time he saw her and wanted to get to know her better. Childress says it was "her sparkling blue eyes and the way they brightened every time she smiled."
Becker says it became an unspoken agreement that despite the other things they did with their family and friends during the day, the two would meet up at the same time in the hot tub every night on the cruise.
"He definitely told me he loved me that first week," Becker says. 
The environment of the cruise made their relationship begin to flourish.
"You had no phone. You had to get the most of that moment in the present with that person," Becker says. "And you kind of had to put your heart on your sleeve. And we definitely had a lot of fun together, but we definitely had real feelings for each other." 
Childress felt love at first sight and knew these feelings weren't anything casual.
"She made me feel like I was on top of the world," Childress says. "There wasn't a better place to be than right next to her."
Childress was from Cabot, Arkansas, and Becker was from Louisburg, Kansas, so long distance was something they had to battle when they returned to their lives after the cruise. She was in school at the University of Kansas, studying to become a nurse. He was planning to join the AirForce.
"The whole time I thought this was the only time I would ever see him, because not only was he from Arkansas – which the distance was like seven hours (from Lawrence) – but he would also be leaving to the Air Force and we didn't know where he would be," Becker says.
Becker says her mom did not want her to date going into college in 2017, but Becker knew that Childress was the one she ultimately wanted to be with.
Becker says it was nice for her because even doing the distance, she still had that freedom and was independent but would still see him once a month.
"My whole freshman year, he was the only one who drove ... he would drive 14 hours within one weekend," Becker says.
In August of 2019, Childress moved to Lawrence. This fall, Becker plans to go to the University of Kansas School of Nursing in Kansas City while Childress will be moving to Baldwin City and living with a roommate. 
Becker had a great time with her family on the cruise, but she didn't know one interaction would change her life forever. 
"I was able to just talk to him and be open about everything and he did that with me too," Becker says. "We really did get to know each other in that week. Just how we were able to get along and just how much fun we had and how our humors matched up. It just felt like he was already becoming my best friend."