During my second year of college, my first relationship ended, and it hit hard.
I responded by isolating myself. I starved myself of life, including every aspect of living, to the point where I was hardly existing. I stopped going to classes, stopped listening to music, stopped spending time with friends and, most harmfully, stopped eating food. 
Like many others, I have struggled with body insecurity. It started around the age of 17. I'm the third of three daughters. At a size four, I was the bigger one, even bigger than my mother. There was never any teasing or harsh words, but when you grow up comparing yourself to the women around you, you start to wonder why you're not the same. 
Heartbreak seemed like an easy excuse to make myself smaller because I simply wasn't hungry. Once I stopped eating, the weight loss just kept going. It almost became addictive. I lost somewhere between 20 to 30 pounds within the span of three months, and the longest time I went without an actual meal, or more than just a few crackers, was three days. People seemed to notice, but not many, myself included, realized how problematic my behavior had become. I joked about being anorexic, but like the nature of some humor, it stemmed from a serious question of whether or not I actually was. 
Still, the compliments came flooding in. "You look so good," they said on social media. "Wow! I never realized how hot you were under there," a friend said while we were shopping. "Look at your thigh gap!" and "You're so thin." I even got a reference to the shape of Kendall Jenner's body, which simply didn't make sense because I'm only 5-foot-3. In a way, the commentary fed the addiction — people thought I looked good. But, somewhere in the back of my head, I knew the way I was feeling and treating myself wasn't healthy. 
Close people in my life began to notice. My dad came out from Georgia to visit me and check in. It had been a rough year. One morning we went to visit my sister at Kansas State, and he made us breakfast. My body had been so used to not eating, I threw up because I physically couldn't handle taking in a whole meal. 
I realized what I was doing to myself. Starving myself of joy and necessary nutrition wasn't helping anyone, and heartbreak couldn't be an excuse to not take care of myself. Slowly I started reintegrating the things that make us feel alive. 
I started going to class and interacting with people, but addressing the food issue was the last and hardest thing to do. 
So I painted myself nude. 
In high school, I took art classes, and I decided to buy some canvases to give the brush a go again. I liked the smell and feel of painting with oils, so it seemed like a safe place to start. 
There I was, alone in my room, phone in hand, taking naked photos of myself on the bed. It was an awkward situation trying to get my whole body in frame and not pose like I was taking a selfie. Once I had a good enough photo, I filtered it black-and-white and played with the contrast to study myself and get a better idea of the highlights and shadows of my body. I drew it out, picked some colors and went hard in the paint. 
The first nude took me seven hours to complete; I stayed up all night to do it. She's blue, sprawled across the canvas, face hidden. There is no setting other than a background of pink brushwork to soften and balance the blue. Oils take a while to dry, so I set her by the window, and a couple of weeks later I mounted the painting to the wall near my mirror across from the door. 
Over the course of the past two years, I've made a series of three: the first one, one in yellow and purple acrylics, and one in blue and orange oils.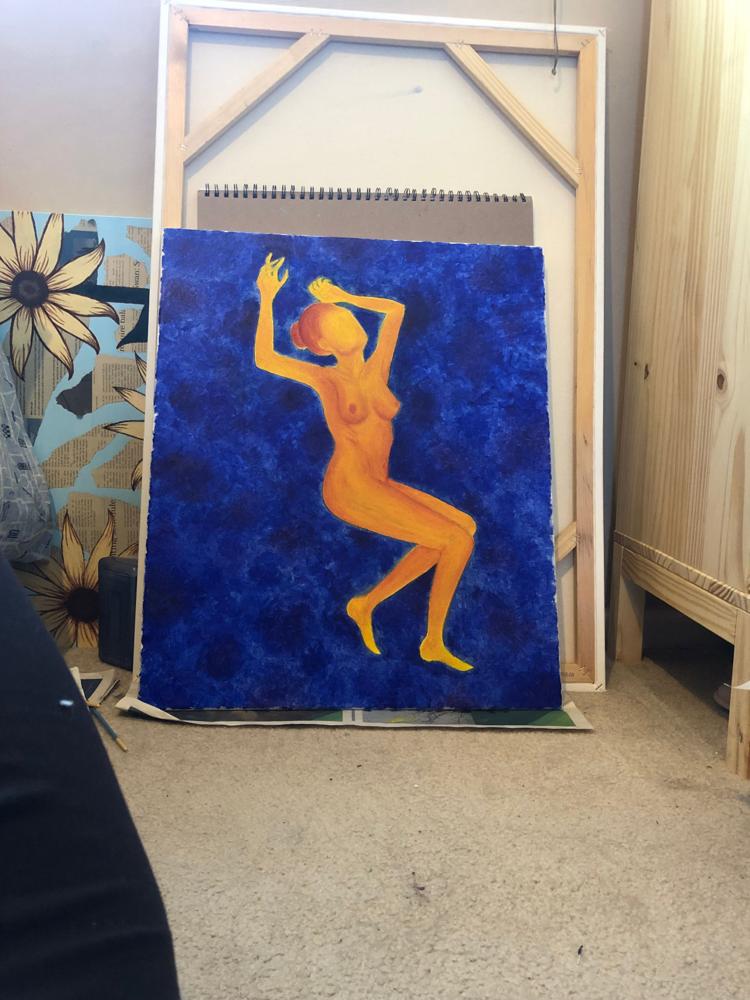 Those painted nudes helped me fully deal with the fact that I had a problem. I failed to take care of my body and spending time portraying it in soft colors helped my mind approach myself in a softer manner. I stopped focusing on the harsh lines of my protruding hip bones and the crevices of my collar bones. Instead, it was time to let myself be soft again. 
Those painted nudes helped me reacquaint myself with my body, and everything went up from there, including, finally, my weight. 
Now, the paintings hang in my room, and to this day they serve as reminders to be more than a size, more than a compliment, more than harsh lines. And sometimes it can seem tempting to fall back into the mentality of "If I just don't eat one meal," but I know now that one meal can quickly spiral into two, three, six, 12. 
I can honestly say I still have a weird relationship with food, but at the beginning and end of the day, there she is — the first nude — on the wall in pink and blue. She reminds me how it was to feel just as blue as the color of her skin. But more importantly, she reminds me how it felt to let myself be soft, to brush away those hard edges. She helped take me out of anorexia and, ultimately, depression. Every time I look at her I think, "I promise I'll take care of you," because taking care of her, means taking care of me.