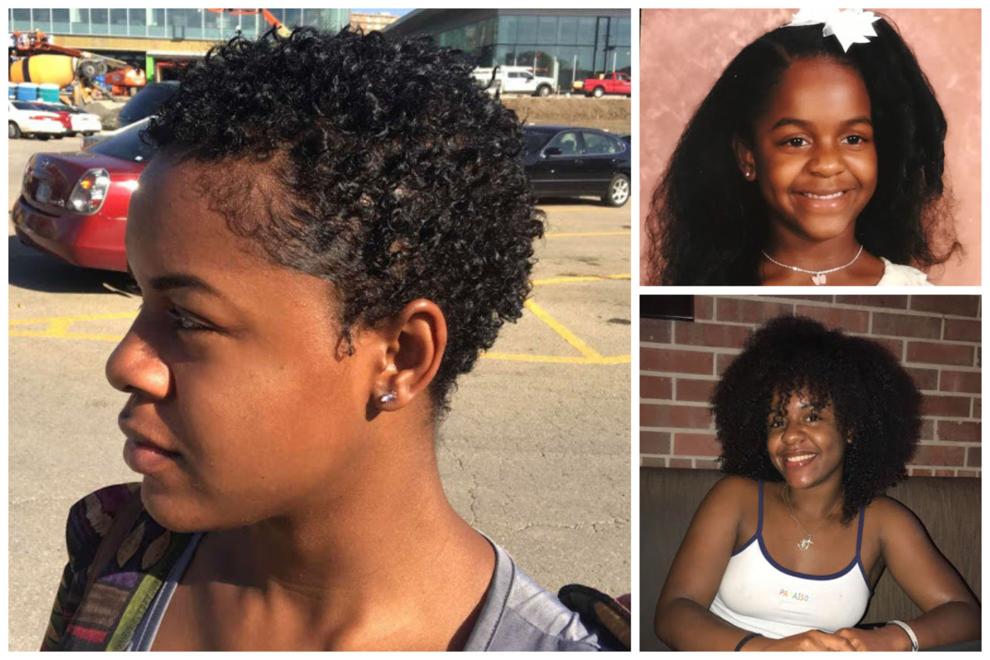 We've all heard the saying, "If a girl cuts her hair, she's going through something and starting new." I'm here to tell you that's definitely true for me. 
I've been proud of my hair for as long as I can remember. When I was in grade school, my mother would straighten it for special occasions like picture day, but, by the end of the day, my hair would be a huge long poof that went halfway down my back. Family members, African American classmates and strangers would always tell me, "Oh my gosh, your hair is so long for a black girl." As obnoxious as that is … I'd be lying if I said it didn't make me feel special.   
In the African American community we often refer to hair as a crown. Whether we straighten it, wear it natural, grow dreadlocks or cut it all off, it expresses us. 
Growing up, I was a huge fan of "The Fresh Prince of Bel-Air" and "My Wife and Kids," two sitcoms that focused on black families. On both shows, the leading females, who were darker skinned, were replaced partway into the series by lighter-skinned females with looser curls or straight hair. They weren't replaced because they looked more "black," but, still, I noticed and began to compare my hair to theirs. I wondered why my hair texture was so much kinkier? Why didn't it stay bone straight after using the hot comb?   
When I was 16, I met a boy. And, as meeting boys often does, it made me want to change my hair. I asked my mom if I could get a texturizer, a chemical product that loosens the texture of your hair but doesn't make it completely straight, and she said no. It was frustrating. She wanted me to embrace my natural hair, but it was kind of hard when she had a relaxer herself. So, I kept working on her until she finally said yes.   
When I put on the texturizer, I was scared. Suddenly, my big hair seemed to have no volume. My hair seemed flat to me. I looked in the mirror and thought I looked like someone else. Meanwhile, the boy didn't even seem to notice. But other African American girls did. They asked me what products I used on my hair and complimented my "good genes." 
I told everyone it was my natural texture.  
In weeks, the texturizer grew out and I put another one on to keep the false image of my relaxed curls going. My hair didn't like that extra dose. The ends became very thin. I had ruined my hair in two treatments. My hair was so damaged that I felt like my beauty was gone.   
After the second dose of texturizer, I let my hair grow out. My mom would trim the chemically processed hair off a bit at a time until, after a month, my hair was to my shoulders. All of the relaxed curls were not gone; you could see a mixture of relaxed and kinkier curls.  
By my senior year in high school, I had learned to be confident with my shoulder length hair and the volume of my natural hair was back. Then I began expressing myself through clothing, piercings and social media. Dressing for school became a passion for me. I would pick out my clothes the day before and cut shirts into crop tops. I wore bright colors and always showcased my outfits on Instagram. Social media was a place of comfort for me. I found my voice and would express my opinions in videos. By the end of high school, I had a stud nose piercing, hoop nose piercing and a septum. Piercings helped me take risks. Although my hair wasn't as long - it was growing back and I loved my texture.  
Fast forward to my sophomore year of college. At this point you couldn't tell me anything. I knew I was beautiful and everyone around me could feel my confidence. I felt like I could be beautiful with any hairstyle.    
But then another boy came along and I found myself wanting to change my hair again. I got a relaxer, a chemical product that straightens your hair completely. When my boyfriend saw it, he was disappointed. He liked my natural hair better.  
I felt judged, and, yet, I knew he had a point.  
That night, I went to my bathroom and cut off a two-inch strand of my straight hair. By the time I went to bed I had decided I would have my hair cut short the next day.   
The next morning, I went to the salon with my boyfriend and left a new woman. I went in with shoulder-length straight hair and left with a 2-inch afro, the shortest it had ever been. I couldn't hide behind my hair anymore. I was able to see the woman I wanted to be, and that woman didn't need to constantly look to others for acceptance. A few months later, I broke up with my boyfriend because I felt like I didn't need him anymore.   
Since then, my hair has grown out again, but I no longer let my hair define me. My hair is still my crown, but now it is the crown I was born with and not one that was created to fit in with others.