The Aesthetic
On John Brown's patio, hanging above are warm yellow lights and on the sides there's fencing with vines crawling from floor to ceiling. A faux cherry blossom tree immediately catches the eye. Even though they're fake, the plants that surround you in the environment give a warm feeling — a sign of life in the middle of cold and cloudy weather and a global pandemic. It makes the environment feel lively. 
At John Brown's Underground, the environment is half the attraction. Its usual underground location is uniquely ill-suited for a respiratory virus. That's why when COVID-19 hit, the bar made it a priority to create a nice outdoor space where customers feel safe.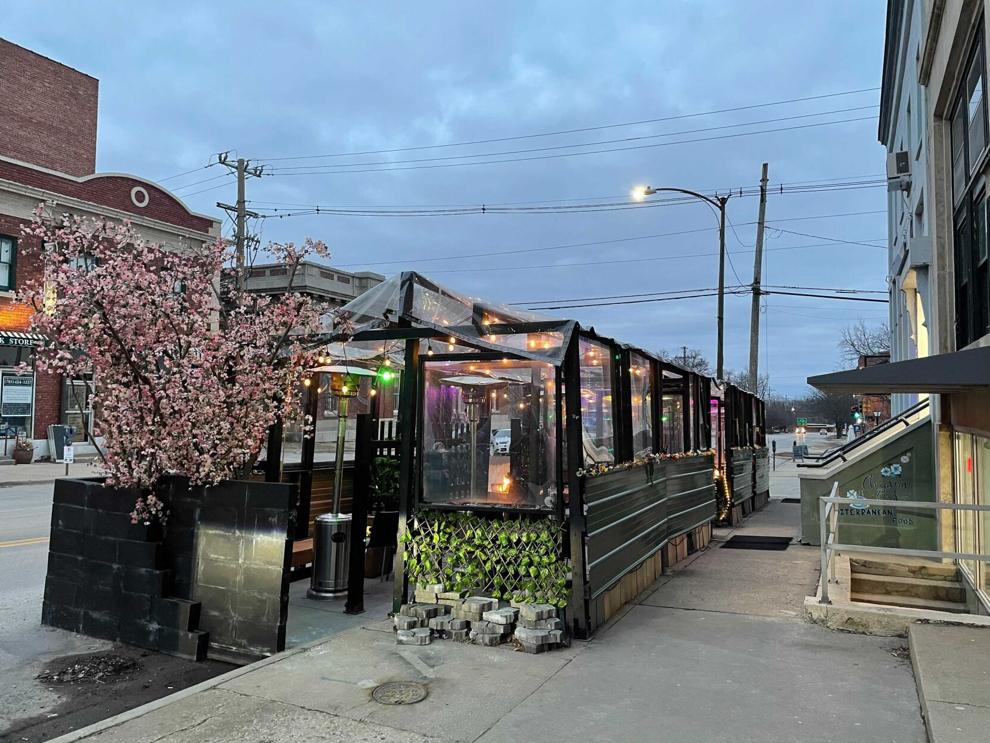 "We wanted to make something that was cool enough to rival what it felt like to be inside and didn't feel like you were missing out on any part of the experience," Dante Colombo, general manager at John Brown's Underground, says.
When patrons are allowed indoors, the speakeasy-style bar has photos from the 1920s lining the walls and a giant mural of John Brown in a suit holding a microphone and a saxophone. Pre-Covid, the bar was completely full almost every Friday and Saturday night. 
Jack Hatzfeld, who graduated from KU last year, is a bartender and designer at the bar. He says they took the pandemic as a unique opportunity as a team to see how strong they were together. 
"My hands feel like 80-year-old hands cause they're just covered in bruises and scars from building this patio," Hatzfeld says. "We've learned so much about how we can adapt in ways we never thought we would."
Cammie Mitchener, assistant manager, greeted me and my girlfriend and asked what our seating preference was — in a pod with the heaters or next to a fire pit "for the aesthetic." Naturally, we chose the aesthetic which she appreciated. 
The Menu
John Brown comes out with a semi-seasonal cocktail menu every few months. The newest menu came out the day I happened to be visiting on Feb. 24. The menu features beautiful illustrations of animals drawn by Mitchener. The newest theme draws inspiration from national parks as well as uncommon animal friendships. The uncommon animal friendships relate to the uncommon flavor pairings in the new cocktail menu.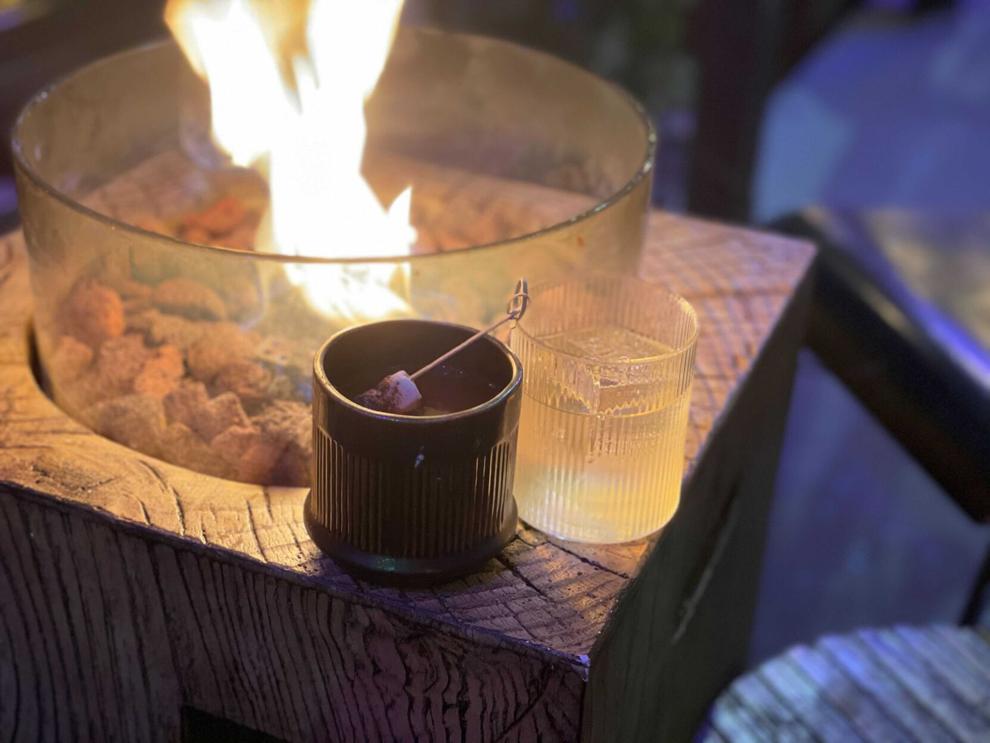 "Molé Mittens'' is a twist on a Mexican hot chocolate, with cacao and a golden raisin flavored liqueur. "Opinions of Sheep" combines a coffee liqueur that was blended in collaboration with Yippee Cafe in Lawrence, and is washed and clarified using a sheep's milk cheese from Pedestrian Cheese on Mass. Street. Hatzfeld calls "Opinions of Sheep'' beautiful because it "features local businesses we care about that deserve more recognition for their creativity." Another drink I found very intriguing was called "Lost Boys" with a flavor pairing of black garlic and apple.
When I mentioned that I was considering "Lost Boys," Mitchener said the drink is very polarizing so I got scared and described the type of cocktail I usually like. Mitchener said, "Do you trust me? Can I surprise you?" I agreed (thankfully).
The Drinks
Mitchener came back with a drink called "Let Me Be Clear," which she says is a staple of the bar — not one on the new menu. Colombo, who described the drink as "his baby," says the drink is based on a cocktail called "Jungle Bird," which is unique for its bright colors and bitterness. The drink usually contains rum, Campari, lime juice, simple syrup and pineapple juice. "Let Me Be Clear" is a twist on "Jungle Bird" by being more richly concentrated in terms of flavor, easier to sip and, of course, clear — the drink's namesake. The goal of the drink was to hit the middle of the Venn diagram between being sweet, sour and bitter.
"Let Me Be Clear" comes in a whiskey glass with a giant ice cube. It has warm citrus flavors, is slightly sour and very smooth.
Michener brought me a sample of "Lost Boys" because I was so curious about the drink. It was very pungent, had a strong smell and taste of garlic, but was rich. The warmth of the alcohol was felt within seconds. It wasn't my favorite drink of the night, but the creativity is still admirable.
"A lot of the garlic that we get is fresh and it's from the clove and black garlic is saved and it's dried out and it's gross but it has this beautiful funky characteristic to it," Hatzfeld says.
I finished with "Molé Mittens," which was a warm drink with three toasty marshmallows. It was a little spicy and creamy with deep rich flavors. Colombo says he knew the drink would be a favorite for a while because it's so warm and absolutely perfect for a cold winter night. 
If you're not yet comfortable dining outdoors, John Brown's Underground also offers a limited selection of their staple drinks and new menu for curbside pickup.