University of Kansas senior Hayden Brax achieved her dream of competing in the Miss USA pageant as Miss Kansas after years of preparation.
Brax received fourth runner up at the Miss Kansas USA pageant in Wichita in 2018. Brax says her friends and family believed she gained more confidence after that competition. On Jan. 19, she won the Miss Kansas USA title at the Lied Center of Kansas.
"I did not really expect to win this year but I'm happy that I did," Brax says. "I think it was the perfect timing." 
Brax had interview coaching throughout the year to prepare her for her private interview at the Miss USA competition. Brax's coaching transitioned online during the summer due to the pandemic, but she says she practiced interviewing with as many people as possible to help her feel prepared. 
The official private interview with the president of the Miss Universe organization was conducted over Zoom before going to the pageant to promote safety. 
After finishing her private interview, Brax only had to focus on her evening gown, swimwear and on-stage question before leaving for Graceland in Memphis, Tennessee, to compete for the crown. 
Brax arrived at Graceland on Nov. 2. As described on the Miss USA website, Memphis, Tennessee, is known for "its rich history, especially in its connection with slavery and the Civil Rights movement." The Miss USA and Miss Teen USA contestants visited the National Civil Rights museum this week. 
"I'm just so thankful that in a year like this we're bringing attention to that and this organization definitely promotes inclusivity," Brax says.
Brax had to be tested for coronavirus with the other contestants before and after arrival in Memphis. She took a coronavirus test via mail on Oct. 26 and then was tested again after she arrived at Graceland. There was a doctor on staff at the pageant and the women did their own hair and makeup. 
Brax decided to be a part-time student to accommodate time for appearances and preparation for the Miss USA pageant. Brax says she will resume being a full-time student with a practicum next semester. She plans to earn her Doctorate of Occupational Therapy to assist the rehabilitation of children with disabilities.
Brax says some title holders choose to take a gap year, but she says she is glad she continued with her studies because many of her appearances and events were canceled this year due to the coronavirus pandemic. 
Brax's trip to South Africa with the "Give Hope, Fight Poverty" nonprofit organization — Brax's official charity of choice for Miss USA — got canceled four days before she was supposed to leave in March.  
Give Hope, Fight Poverty's mission is to educate, empower and lift orphaned and vulnerable children in Eswatini, Africa, formerly known as Swaziland. 
Brax says she has received criticism for posting photos with some of the children she has met through the organization. One comment that impacted her said "black children are not photo ops."
"I really appreciated this comment because I want people to realize that it's not a photo op," Brax says. "It's not an exploitation or a photo. It's bringing attention to the issue." 
Brax says she posts photos and information about Give Hope, Fight Poverty on social media because it is one of the best ways for nonprofits to receive attention and obtain donations. She says she will continue to advocate for these children even if there are criticisms, because to her, it is about the children.
In July, Brax partnered with the Newhouse Domestic Violence Shelter in Kansas City, Missouri. Brax had a conversation with Mission Impact and Administrative Manager Karena Jensen to see how their work has shifted during the coronavirus pandemic. 
Brax says she learned domestic violence was going up during the coronavirus pandemic even though calls were going down because people were afraid to get help with their abuser at home.
"I really think that we need advocates on the national level for survivors of domestic abuse as well," Brax says.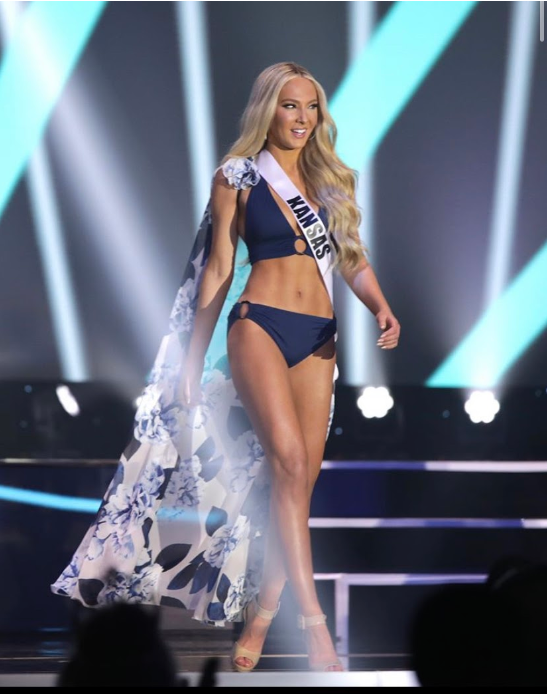 When Brax is not giving back to the community, she may be cheering on the Kansas City Chiefs or spending time with her pet hedgehog named Hemmingway. She is also a member of the Chi Omega sorority.
"I'm so, so proud of everything that Hayden has accomplished as Miss Kansas," says Sydney Dahlgren, Chi Omega President. "She is absolutely the most deserving person for this role and I'm so excited that she was able to represent Kansas so well on the Miss USA stage." 
When Brax was 12, she watched her cousin represent Missouri at the Miss USA pageant. She says it is a great feeling to be a role model for young girls as Miss Kansas USA like her cousin.
"It's come full circle to be able to represent my state now at Miss USA and have my family in the audience cheering me on," Brax says in her Miss USA biography video.
The preliminary competition took place on Nov. 6. The top 16 candidates were announced at the final competition on Nov. 9. Mississippi's Asya Branch won the Miss USA 2020 title.