Lawrence restaurant veterans Jen Young, Mike Young and Chetan Michie always knew they wanted to open a restaurant together. However, they didn't plan to open one during a pandemic. 
"We have had to pivot to Plan B and Plan C and Plan D several times already so we are prepared to do what it takes if worst comes to worst," Jen said. 
Located at 1035 Massachusetts Street, the Latchkey Deli fills the location previously occupied by Papa Keno's. The trio said they plan to open Latchkey in the next few months, but they don't have a set date yet. Due to the fast-casual nature of the deli, the owners feel confident in their ability to survive the pandemic. 
Similar to many restaurants, Latchkey plans to offer curbside pick-up as well as delivery. Customers will be able to order online or via phone call. Latchkey also plans on offering catering services. 
Latchkey plans to do dine-in service. However, there will also be seating outside on the front and back patios, with room for about 20 with COVID-19 safety precautions in mind. Before the coronavirus pandemic, the inside capacity was about 45 people, but the trio plans to keep the capacity around 18 to fit Douglas County Health public health guidelines. Mike wants the overall vibe to feel cozy.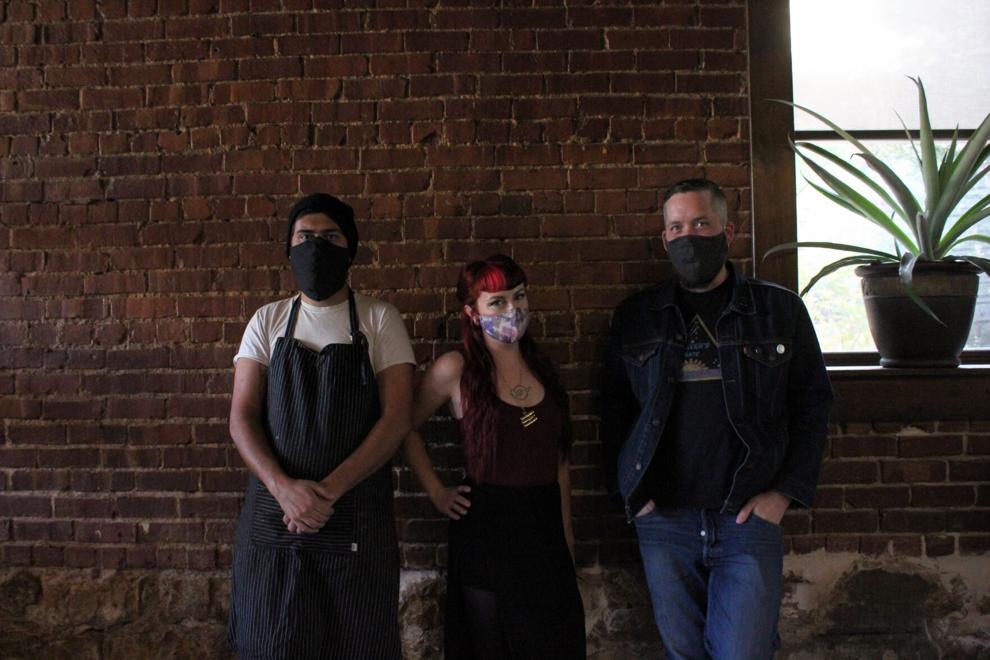 "Our goal is to make it a new restaurant that feels like it has been here for 20 years if that makes sense," Mike said. 
The menu features a variety of deli classics such as a hot beef Louise, BLT and Italian sandwich. That being said, Latchkey will also serve a grilled cheese, a breakfast sandwich and a veggie sandwich with options for customers to create their own sandwiches. 
All sandwiches will be served with Latchkey's house-made chips and a Kosher pickle. Jen says her mother, Debi Miller will even be on staff baking a rotating menu of sweet treats as Latchkey's "bonafide in-house deli grandma." 
"We're really trying to focus on doing as much in-house as we can," Jen said. 
Jen anticipates diners will be most excited about Latchkey's lemon and dill lox and the Reuben and smoked trout salad sandwich which pays homage to a traditional Jewish whitefish salad sandwich. Customers will also be able to pick up deli meat, cheese, pickles and bread to take home. 
"This isn't the idea of a deli, this is a deli," Michie said. 
As for the drink menu, Latchkey will serve a mix of Italian soda flavors, canned beer, canned wine and liquor which can be added into an Italian soda.
With years of involvement in the Lawrence restaurant scene, the owners say fellow restaurant-owners have been incredibly supportive of the process. Other restaurant owners have dropped off supplies or offered to let the Latchkey crew use their restaurant's kitchen to work on some recipes. 
"Everybody is more than willing downtown and in Lawrence, in general, to help each other out in whatever ways possible," Michie said. 
Having deeply felt the impact of a supportive community, the trio wants to make Latchkey feel connected to the community and as accepting as possible. 
"We see sandwiches as being a medium for community involvement," Michie said. "And we see sandwiches as being a medium for social change. Within these four walls, you are safe, you are comfortable, you're accepted."
As they prepare to open, it is something the group hopes drives Latchkey through these times. 
"I think that if we can get through this unprecedented time as a new restaurant, and as friends and parents and people that are connected to the community, then really what can't we do?" Jen said.