A local artist, some neighbors, a street corner, a handful of lawn chairs and a Lied Center flag are the makeup for what has been dubbed as "Lied Loves Lawrence."
Although COVID-19 robbed the world of most concerts, the Lied Center is hosting a series of socially distant pop-up performances in Lawrence. 
The ongoing event series features concerts by local artists in Lawrence-area neighborhoods. The performances began virtually on Facebook Live in March but moved to in-person in August.
Plexiglass often separates the artist from the crowd, and every event is outdoors and socially distanced, allowing a maximum of 45 audience members. In an effort to keep crowds small, the live events are never advertised beforehand, and details of the performances are kept on a need-to-know basis, says Derek Kwan, the executive director of the Lied Center.
In addition to neighborhood shows, the Lied Center has also put on performances in other community spaces. To honor their bravery and hard work during the pandemic, the performance center put on a show for healthcare providers at Lawrence Memorial Hospital in early September. Willy the Wizard, a Kansas City magician, also performed last month for preschoolers at The Ballard Center. 
"We decided to start this series of performances in the community because of the restrictions on gatherings that is in place right now for the county and university," Kwan says. "We felt it is still extremely important for the Lied Center to serve the community through the power of performing arts." 
Ashley Davis, a Celtic singer-songwriter and native Kansan, was featured at Lied Loves Lawrence events for several performances both virtually and in-person. Davis performed her first in-person Lied concert in the neighborhood she grew up in.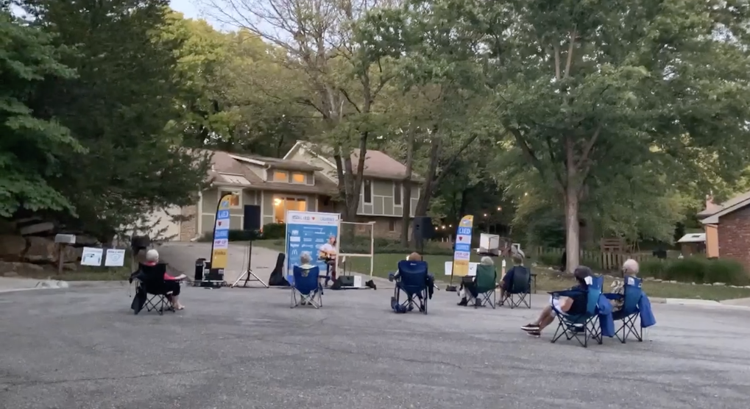 As an international artist with eight albums, Davis is usually booked with tour dates but has stayed in Kansas since the coronavirus outbreak. Her last event was over six months ago in Gainesville, Florida. 
"I think that the Lied Center putting on these concerts for the community is such an amazing gesture of good-will and towards supporting the artist at the same time," Davis says. "It's a double-prong gesture that the Lied center is doing."
Other notable performers on the lineup have been Quixotic, a contemporary aerial and circus arts group, and symphony artist and singer Vanessa Thomas.
There have been nine pop-up shows so far, and at least five more are planned to happen as colder temperatures approach in Kansas. Kwan says they plan to continue the event virtually during the winter months as well. 
"It is human nature to gather," Kwan says. "The pop-up concerts bring a great amount of joy to the community during a time where we can't gather."