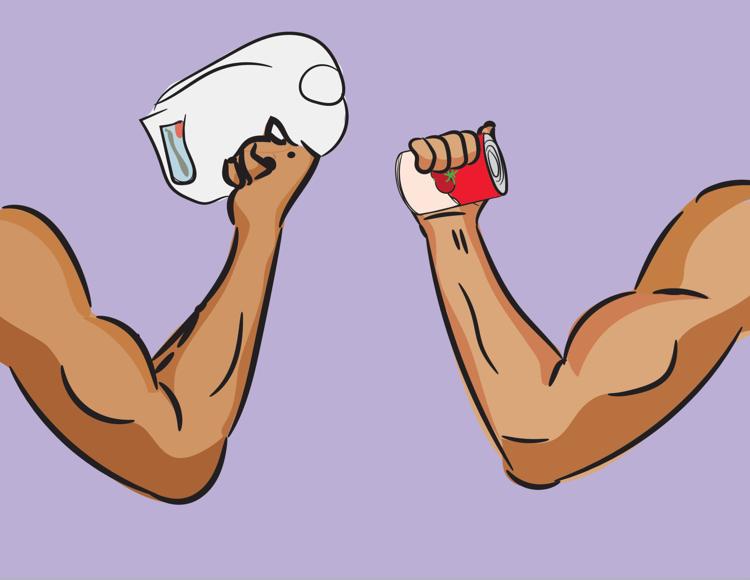 Ohhhh noooo, I thought to myself sarcastically when I got the text that my gym would be closing for the foreseeable future. Guess this gives me an excuse for some R and R time. But then, not too long after, boredom struck, and I had no other choice but to force myself through a workout.
However, the equipment-free workouts I found on Pinterest just did not seem to be doing the trick, but with no gym equipment at home I had no other choice. That is, until now. If you are also trying to feel that burn, CHALK spoke with fitness experts about items you can use in place of gym equipment that you probably have laying around your home (or your parents' home — live your truth).
Bed sheet or towel for arms
To work your upper back muscles, you need to have rowing movements. If you don't have a rowing machine, you can make your own at home, says Chris Dellasega, owner of Athletic Strength Institute in Lawrence.
Tie a knot in one end of a sheet or towel and wedge that through a door. Then, shut the door. "That gives you a little bit of stability," Dellasega says.
Milk jugs for weights
Milk jugs "work quite well," Dellasega says, because of how versatile they are. Use an empty jug (hello, don't waste your almond milk) and fill it with as much water as you are comfortable with. A gallon milk jug filled to the brim with water is eight pounds, says Scott Smith, certified strength and conditioning specialist and owner of BodySmith Personal Training in Kansas City, Kansas.
Once you find a weight most suitable for your abilities, the jugs can be used for shoulder raises, curls, shoulder presses, flyes, front squats and thrusters, Smith says. Military presses, shoulder lateral raises and squats are additional exercises that can be used with the jugs, Dellasega says.
Cans (paint, food, etc.) for weights
Similar to milk jugs, cans of different sizes can be used for different amounts of weight. Using a can of paint would be a heavier dumbbell replacement, whereas a can of food would be a bit lighter, Smith says.
These cans can be used for the same workouts as the milk jugs, just make sure to use a weight you are most comfortable with.
Chairs for push-ups and hip dips
Chairs are not just for sitting and eating your third takeout meal of the week anymore! Now, grab a kitchen chair and use it as a bench, but first make sure it is sturdy and stable enough, Smith says.
Once you have found a suitable chair, it can be used for multiple workouts, one of them being hip dips. Sit facing away from the chair with your legs straight out in front of you. Place your palms on the end of the seat and extend your arms all the way straight and back down, making sure not to let your butt touch the ground, Smith says.
Chairs can also be used for incline push-ups, Dellasega says, by elevating your upper body onto the chair, or placing your feet on the chair and hands on the floor.
You can also use the chair in place of a box for step-ups if it is at a comfortable height for you.  
Step stool or crates for step-ups
If a chair is a bit too tall for you, don't worry.  
Just grab a step stool or crate and use this instead for step-ups, Smith says.
Stairs for cardio 
Another option for step-ups (the options are endless!) is to use stairs.
Stairs can also be used for getting your cardio on and doing sprints (whether that's forwards, backwards, or you can even switch it up and go sideways), Smith says.
Additionally, stairs can be used for calf raises. Stand on the end of a step with your heels hanging off, and extend onto your toes and back down.
Broomstick for barbells
Well, you've already swept your entire house three times over, so maybe it's time to use that broom for something else.
Grab the broom and put it behind your neck, grabbing it with both arms. Then proceed to arch your back and bend forward, and come back up again, Smith says.
You can also use a broom in place of barbells for overhead squats and shoulder mobility drills.  
Broomsticks can even be used as a replacement for exercise bands by taking a bungee cord and attaching it to an unmovable object, and the other end to the broomstick, Dellasega says.
"The first time using these new pieces of makeshift workout equipment, go easier in terms of weight, rep ranges and sets and see how your body responds," Smith says.
Your own bodyweight for basically everything
If you don't have any of these items, there is one thing you absolutely have that you can use: your own bodyweight.
"Really what it comes down to is finding different ways to make bodyweight exercises a little bit more challenging, Dellasega says.
There are so many workouts you can do without equipment that still strengthen your body, Smith says, including squats, squat jumps, wall sits, lunges, split squats, push-ups, floor bridges, floor crunches, planks, prone cobras or superman, side bridges and planks, burpees, knee tuck jumps, jumping jacks, speed skaters and hand stands.
Whew, I'm sweating just writing this!