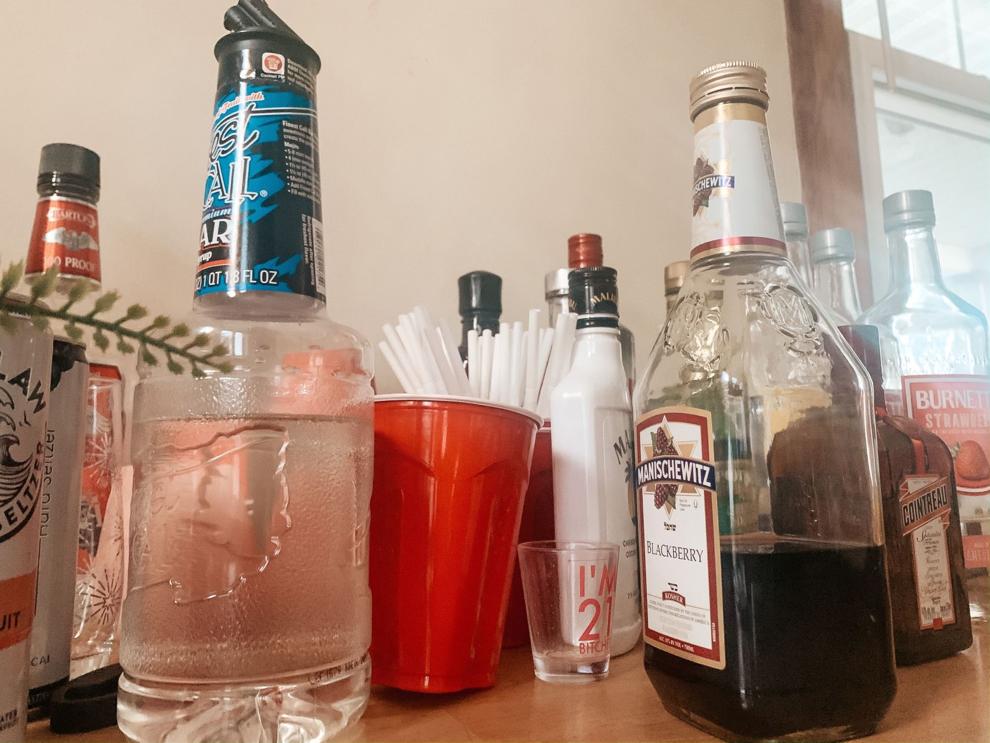 Liquor stores in Lawrence and other places across Kansas are still open, as they're considered essential businesses in some areas. While being stuck inside, it seems the perfect pastime is alcohol. According to market research firm The Neilsen Company, alcohol sales went up 55% during the week that many states began stay at home orders, news outlets like The Associated Press and Forbes report.
So, getting your drink on seems like fun and games, until you wake up the next morning with the biggest head and body aches and suddenly you're regretting all of your life decisions. However, as we all have learned, you're not dying and the hangover will eventually go away. But there are some ways that could help you not feel so awful when you wake up in the morning (or afternoon, who am I to judge?).
Pre-drinking
The golden rule of drinking (nope, forget liquor before beer) is to always have food in your stomach. Zach Newby, a health educator at Watkins Health Services' Health Education Resource Office, recommends chowing down two hours before you plan to start drinking so the food will be digested. When you have food in your intestines, it takes longer for the alcohol to absorb into the stomach lining.
Another thing to remember is your goal when it comes to drinking, if you have one. This can be anywhere from having a few celebratory drinks to completely blacking out. "Having some sort of mind frame or goal in mind when you're going out can be super useful," Newby says. With a goal in mind, it can prepare you for what may come the next day and give you guidance to act on that.  
During drinking
The key to making you feel better is staying hydrated. A part of your brain, called the pituitary gland, creates an anti-diuretic hormone called vasopressin, which works as a way to stop you from peeing all the time. However, when you drink alcohol, it takes over this gland, increasing how often you have to go to the bathroom. "That's why when people talk about breaking the seal, that's what happens and that's why you're becoming dehydrated," Newby says.
Due to this, Newby recommends keeping up on your liquids. While you are drinking alcohol, also try to drink water as much as possible.
The environment you are drinking in can also have a toll on how much you drink. If you're drinking during a stressful time, it can have completely different effects on your body. "Not to say you shouldn't do it, right? Because alcohol can be used in times as celebration or in times of stress as a coping skill. But just being cautious of where you are at emotionally [when you're] drinking," Newby says.
Post-drinking
So you wake up after a great night and are sweating bullets of vodka. What do you do? Well, you repeat the steps. Drinking water and eating food. For college students, it seems hitting the drive thru is the food of choice.
Abbey Carnazzo, a University of Kansas senior studying Biology from Omaha, says her go-to is McDonald's hash browns.
University junior Evan Satlin, who is from Los Angeles and is studying psychology, says he enjoys an egg sandwich and medium iced coffee from Dunkin' Donuts.
However, Newby recommends anything with lots of trans fat, potassium, and magnesium. "My go-to when I was an undergrad was [a] banana and gas station peanuts," Newby says. Although greasy food makes people feel better in the moment, it actually has little effect on how you're going to feel later down the road. Newby instead suggests food with high water levels such as fruits and vegetables.
Caffeine is another thing to try to avoid because it constricts blood vessels, Newby says, so unless you're an everyday coffee or soda drinker, you should probably avoid it.
Lastly, and the best piece of advice if you ask me, is that you finally have an expert excuse to skip the gym. Newby says that sweating it out is not a good thing, and can make you feel worse in the long run. He recommends staying in bed and getting plenty of sleep, because "sleeping through a hangover is real."
So now with these tips, you can find me taking my daily walk next door to the liquor store (yes, I live by a liquor store). Cheers!