The Origin of Pedestrian Cheese & Deli
In the heart of downtown Lawrence, a pale pink building pops out from the concrete and brick that surrounds it. A giant green sign reading "Pedestrian" pulls in curious customers. Outside is a large patio enclosed using recycled pallets from Free State Brewery with well-spaced dining tables and chairs. Inside, you'll find a giant wrap-around cheese case and bar, as well as hand-painted signs and a wall of wine. 
Pedestrian Cheese is the brainchild of Holly and David Heitmann. "I wanted it to feel really bright and kind of like a bodega feel," says Holly who has wanted a restaurant since she was 15. 
The couple played around with the idea of opening a cheese shop for the last three years. Once they had their second child and knew they were done having kids, they decided to start looking for a space.
They signed their lease in February, just before COVID-19 began to spread across the country. They initially planned to have their grand opening on March 1, but ended up pushing it back to the end of May because of the pandemic. 
The couple said they had a great summer but eventually made the decision before Thanksgiving to shut down their kitchen so they could have only two employees at a time and keep everything contact free.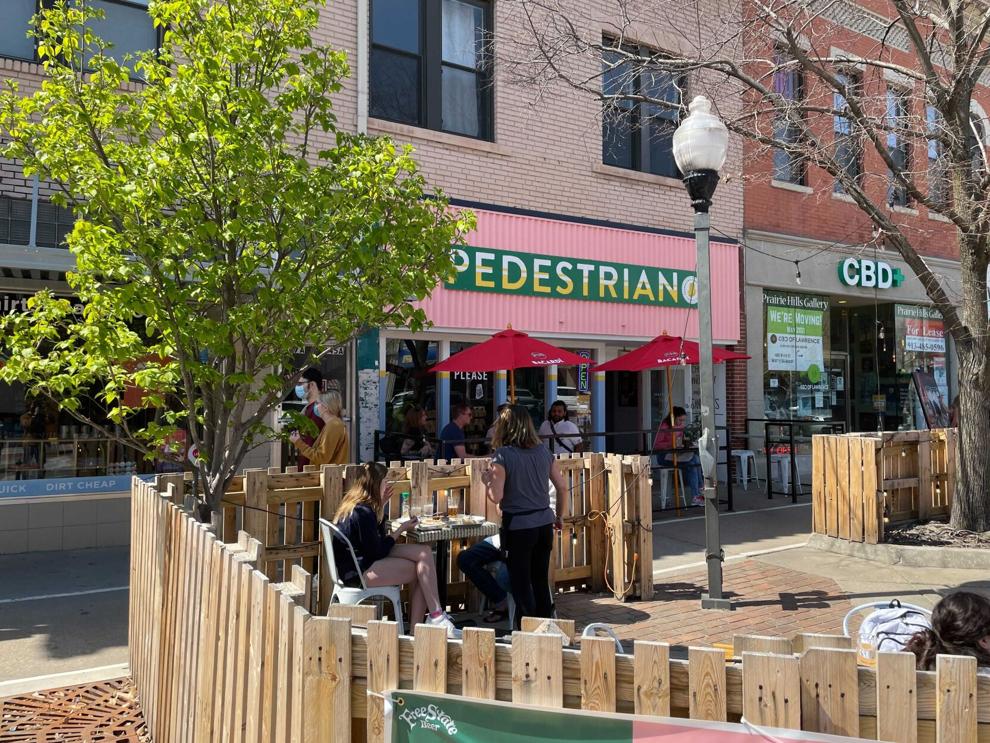 "We very much did not want to be a vector — for the purpose of keeping our staff healthy as well as, obviously our customers and the community," David says.
In March, they finally felt comfortable opening Pedestrian back up because their staff was able to get fully vaccinated. 
The Menu
Cheese is obviously one of the most important aspects to the menu at Pedestrian. However, Holly, who creates the menu, says that her cooking style is very veggie-forward as she was a vegetarian for a decade.
In addition to veggies and cheese, freshness is key to Holly's recipes. "I love lots and lots of herbs. I also really like strong flavors — bold flavors. I think that ties into our cheeses as well," Holly says.
"The agriculture in this area is a huge inspiration to me," Holly says. Using local ingredients and learning how to eat based off of the season was something very important to her because it's more environmentally friendly and better for the local economy.
The menu mainly consists of sandwiches which actually came as a pivot because of the pandemic. Their initial plan was to do small plates with no permanent menu but they switched out of necessity for take-away friendly food. 
Holly says around 90% of Pedestrian's ingredients are local. She shops at local farms in Kansas, Missouri and the Lawrence Farmers' Market to get most of her ingredients.
"We have really high standards for our food, our sourcing, our products and what goes into it — the ethics of it. But we also just want to make really good food for people to enjoy." They don't market their restaurant as farm-to-table and advertise their food ethics because Holly says, "to us, that's what all restaurants should be doing."
"In a perfect world," David says.
"Yeah! But, you know, that's why you start a business because you get to make the perfect version of it," Holly says as the couple laughed.
While I was there, I tried their "Loaded Veggie" sandwich which changes on a weekly basis — or while ingredients last. The one available at the time was a hummus sandwich with corn salad, sugar snap peas, pickled radishes, Bulgarian feta and a basil aioli which compliments this sandwich perfectly.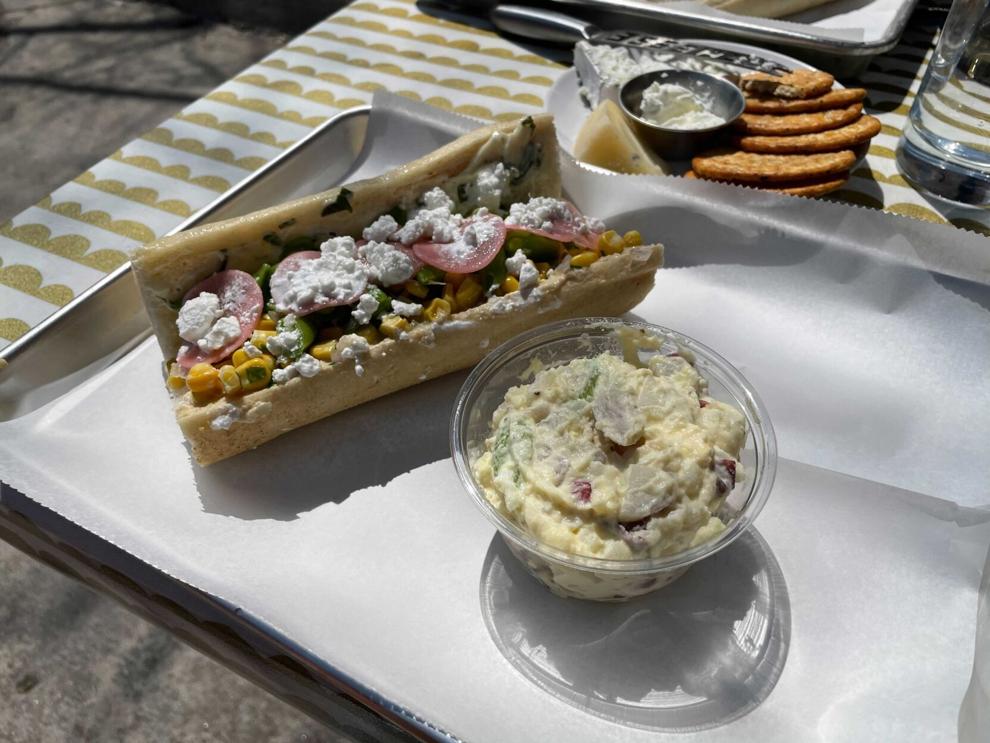 I also tried the "House Grilled Cheese" (for around the 15th time), which has a brown butter allium spread, French Brie and cottonwood cheddar on a baguette made in Kansas City. The brown butter allium spread adds a slight sweetness, there's a perfect crunch in the baguette and the mix of cheeses complement each other well.
Every entree comes with one of their sides: "Southern Dill Potato Salad," "Summer Pesto Pasta Salad" or a bag of chips.
The pesto pasta salad, which is served cold, is a callback to Holly's love of herbs as she uses cilantro, parsley and mint — a very unique yet delicious touch. She also uses a cashew creme as a base, which makes it extremely smooth and creamy.
I also tried three cheeses from their enormous selection. The "Green Dirt Farm" fresh sheep milk cheese has a subtle flavor and is very spreadable and creamy — mainly because sheep's milk has the highest fat content of any type of milk, Holly says. "Humboldt Fog" has a thick yet soft rind, is cracker spreadable and has a slight tang. "Zimbro" is a Portuguese thistle-rennet cheese made with sheep's milk. It's harder on the outside and more molten on the inside. It has a little bit of a tang from the thistle rennet — almost like a hint of lemon zest, David says.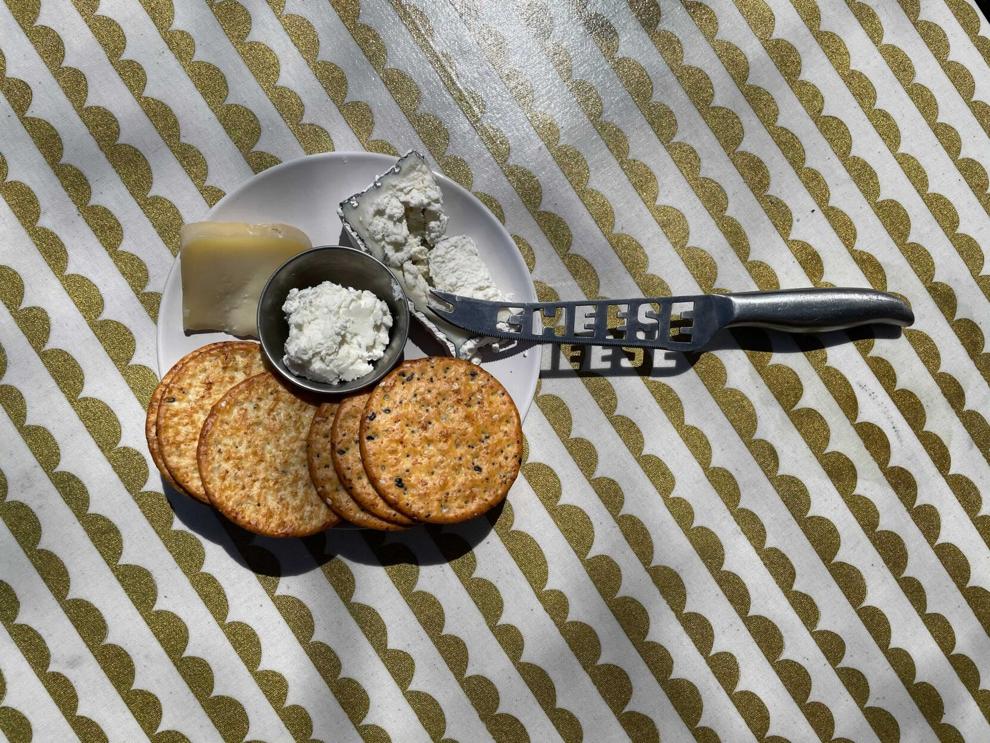 The Community
The main reason the couple opened their restaurant is because of their love of food. However, Holly says they also opened it "for it to be an active space within the community, for our employees but also as a business and so, working alongside other businesses is an awesome way of doing it."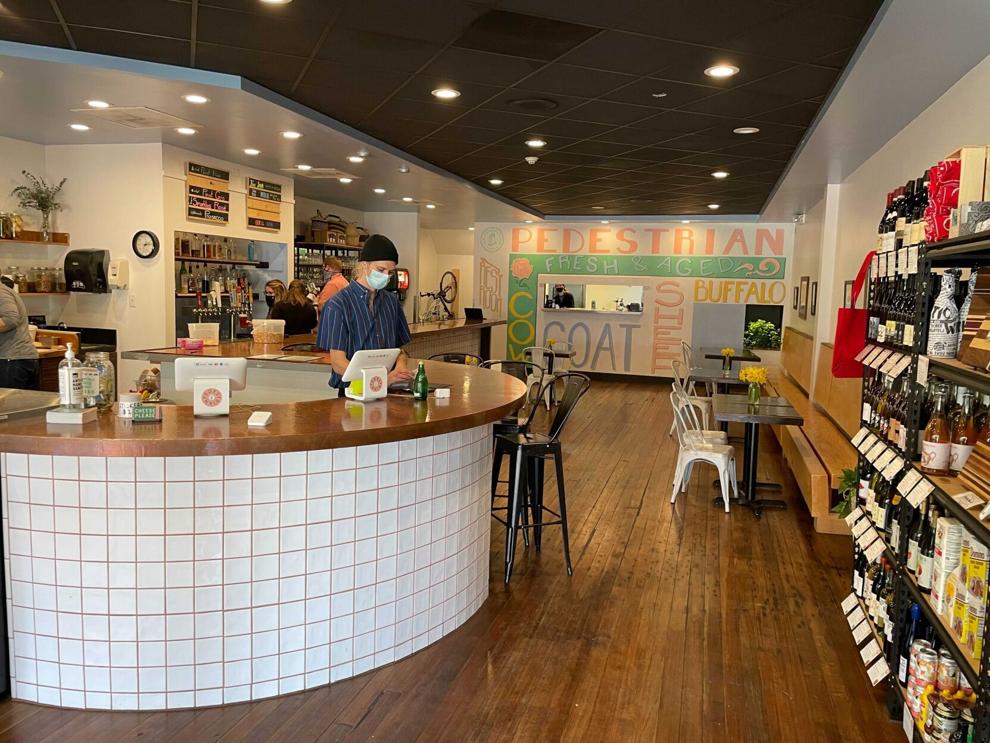 The couple say they have also enjoyed collaborating with other Lawrence businesses.
"It kind of helps you get on board with the community and it's been huge," David says.
They have a date-night board in collaboration with Liberty Hall. Customers can buy a cheese board, a bottle of wine and movie rental tickets from Pedestrian then go home for a nice date night.
They provide cheese boards for Mud and Lotus for a "soak and snack," where you can snack on cheese while soaking in an outdoor hot tub.
They also have cheese boards that can be purchased while drinking at John Brown's Underground.
While Pedestrian does feature many cheeses, wines and ingredients with names and features that I've never heard of, the staff is more than willing to help out and explain what everything is. 
"A lot of what we do with the restaurant in general is try to make it really accessible — we don't want to be haughty about any of our products including our cheeses and our wine," David says.