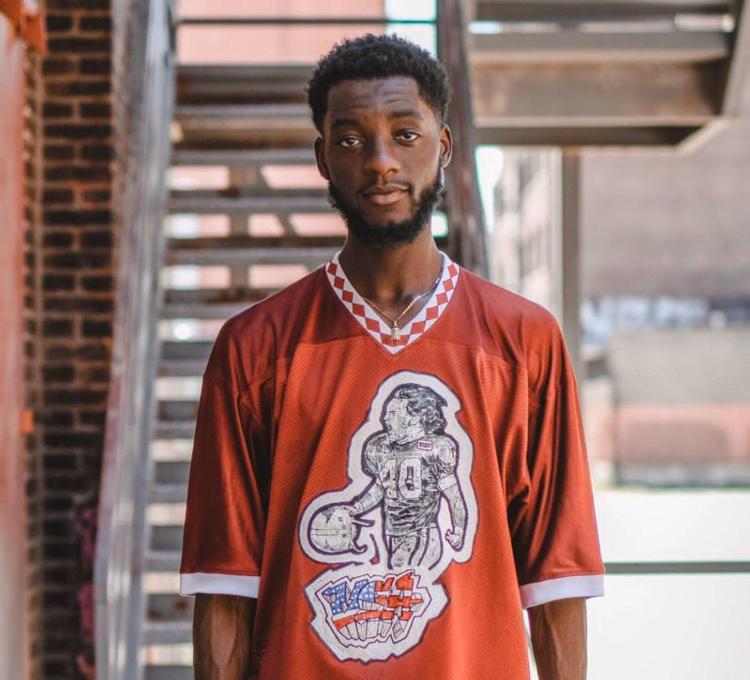 Panyin Boye-Doe is a Lawrence-based artist who creates custom, hand-painted clothing. He graduated from the University of Kansas in 2018 with a bachelor of science in accounting, and now runs his art business full time.
MY FAMILY MOVED TO LAWRENCE FROM GHANA WHEN I WAS 7 and we've been here ever since, so this town is home for me. I've always been creative and into art and fashion, and I took art classes throughout middle and high school. I even got college credit for taking AP art classes in high school.
GROWING UP I HATED GOING TO SCHOOL AND SEEING SOMEONE WEAR THE SAME THING AS ME. I've always valued originality with my artwork and I try to be as different as possible. I also think making one of a kind pieces helps me set myself apart from other artists or designers.
MY PARENTS DIDN'T THINK I'D BE ABLE TO MAKE GOOD MONEY IF I PURSUED AN ART DEGREE, which I agreed with at that moment. Instead I graduated in 2018 with my bachelor of science in accounting.
I JOINED THE HABITAT FOR HUMANITY CLUB IN MY JUNIOR YEAR AND GOT THE POSITION AS GRAPHIC DESIGNER, and this helped me get back into making artwork. During my senior year I decided that accounting wasn't how I wanted to spend my life, so I began trying to build my own business with the knowledge I had acquired.
I FEEL LIKE THE YEARS I WASN'T CREATING WERE REJUVENATING FOR ME. It gave me the opportunity to see art through a less restrictive "art world" lens. But I believe everything happened for a reason, and my goal is to eventually exhibit my artwork and fashion line all around the world.
MY INSPIRATION COMES FROM THE POP ART MOVEMENT DURING THE '60S. I was intrigued by how artists like Andy Warhol and Roy Lichtenstein incorporated everyday items into their artwork and gave them new meaning.
MOST OF THE CLOTHING I PAINT IS SECONDHAND, so it's like bringing new life to clothing. I love thrifting and the way that vintage clothes look. It's always fun finding clothes that I'm able to use for projects.
ONCE I START ON A PROJECT THERE'S NO GOING BACK. Either people tell me what kind of clothing item they want, or they give me the freedom to decide. When I'm given the freedom, I try to look at their personal style and see what fits them the best.
I LOVE HAVING COMPLETE FREEDOM, but I don't mind getting some direction on what someone wants made. I'm not the kind of person who'd get offended by that at all.
I'M ALWAYS TRYING TO CREATE SOMETHING THEY'D LOVE TO WEAR so getting insight is important. Having complete freedom in the beginning was scary because there was always the fear that they wouldn't like the piece I made for them, but now that I'm more confident in my craft, it's not something I worry about.
Follow Boye-Doe on Instagram to keep up with his latest projects.