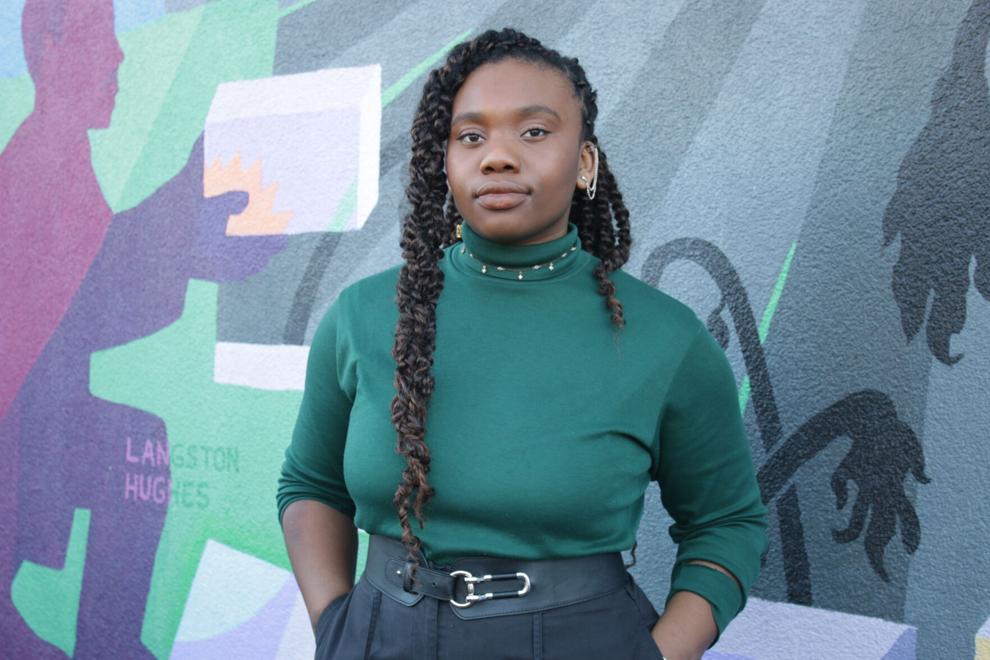 Erika Lobati is a junior from Springfield, Missouri studying film and psychology with a minor in Spanish at the University of Kansas. Lobati is a writer who, among other things, creates and performs spoken word poetry.
I WOULD SAY THAT I AM VERY MUCH A WRITER AT HEART. Poetry for me is something that, yes it's a hobby, it's something that I do in my free time, but it's also, in my past, it's been a form of therapy and just processing through my emotions, processing through my life experiences.
AS MUCH AS IT HELPS ME, I THINK THAT THE POETRY THAT I WRITE CAPTURES A VERY SPECIFIC EXPERIENCE THAT OTHER PEOPLE RELATE TO IN ONE WAY OR ANOTHER, so by me performing it publicly, I'm able to inform people around me about my experience that don't relate to it or kind of affirm the experiences of other people who do relate to it. Whether it's the experience of me being a woman or me being Black or just mental health issues, so I think that it's a way to communicate with other people, like yes I affirm myself, but it's also a way to encourage other people in knowing that they're not alone in their experiences.
I FEEL LIKE IF I JUST FEEL DRIVEN TO WRITE SOMETHING, I JUST WRITE IT, THERE'S NO HARM IN IT. It really is just like I'll have those moments of just kind of like sudden inspiration lowkey, where I'm just thinking about the experience, and I just start saying words that kind of sound good together about it and I just start writing and it kind of flows together on the page. So I don't really outline like I'm going to write a poem about this, about that, they kind of just happen when they happen.
BE NICE TO THE PAST VERSION OF YOURSELF. Because I've had conversations with people, I used to even do this where I used to look up my old poetry and was like, "Oh what was I even talking about, I was being so dramatic," and all that stuff, and it's like that was a person who was being vulnerable with their emotions and was bold enough to write it down and to try to capture their experience the best they could.
THERE'S JUST SOMETHING ABOUT THE RHYTHM AND THE CADENCE OF POETRY THAT JUST, IT'S LIKE EAR CANDY, it's like something you just want to keep listening to, especially with spoken word artists, I mean it's like so eerily similar to music at times.
YOU REALLY CAN BE AS SPECIFIC AS POSSIBLE WHILE ALSO BEING AS GENERAL AS POSSIBLE, in the sense that it's like you're capturing these really common emotions that people have dealt with while talking about it through your own specific experience, so even if somebody hasn't exactly experienced that exact situation that you are highlighting in the poem, it's like, well the way that they were able to verbalize that emotion really connected me because I've experienced that. Or even if they haven't experienced that emotion, it's almost like you verbalize it in such a way or present it in such a way that they almost feel like they have. 
I MIGHT TAKE BREAKS FROM IT, not intentionally, there might be points in my life where I'm not really writing a lot of poetry, maybe I'm writing stand up instead, but I don't think I'll ever stop writing poetry honestly.