Kim Pham, a fourth-year senior at KU, majoring in biology with a minor in Spanish, is the president of the lion dance club on campus. Lion dancing is a traditional dance in Chinese culture where performers mimic movements of a lion. They usually perform around Lunar New Year.
There was a team at my high school, and I really wanted to join and learn how to lion dance. It's a cultural thing, and I've always grown up watching lion dancers at all the new year events that happened in Witchia, Kansas. There's a big Vietnamese population there. Every new year at temples or even restaurants, they have lion dancers come out and they light firecrackers.
There's a layer of sexism though. Boys only did lion dancing, but the club I was interested in mostly were girls.
Coming to KU was a bit of a cultural shock, because it's not a very diverse campus. Sometimes I got really homesick, and making this lion dance team was my way of coping with that homesickness.
The lion dance is pretty common through China and parts of South and East Asia. There's two styles: and hunx son and foot sun. I'm used to dancing in the hunx sun style. Northern China is more rooted in Kungfu movements, but there's a greater emphasis on Kungfu. It gives you more freedom on what you can do.
It's a dance that takes a lot of repetition. Each part of the dance has its own learning curve. I think drumming is the hardest thing, because you have all these rhythms, you gotta learn. And lion dancing, you have these tricks you have to learn with the other person, and you have to work and coordinate with them. It takes a while to build that level of communication and try to carry this person and help them land on their legs.
The lion costume is kind of heavy, and we rest it on our shoulders. You have one person carrying the head and the other hunched over carrying the tail. It's a very noisy performance with a drummer, percussion, and gong.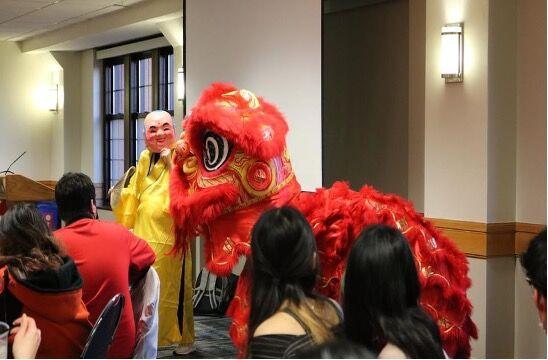 I think lion dancing is very helpful for me in maintaining a connection to my culture. There's always this pressure to stimulate with American culture, especially white culture. I definitely don't enjoy the idea of abandoning any part of me to fit in or whatever.
Being in biology, I also am like a EMT on the side. The percussion part, the drumming, is supposed to be the heartbeat of the lion. Translating that to the rest of my life and working as an EMT, volunteer firefighter, I respect that notion of maintaining that heartbeat. As long as that heartbeat is going, I feel like things are good.
The biggest misconception about lion dancing I've heard or seen is people have this assumption that you have to be Asian to learn it. I believe it's never too late to start a new hobby. Something you are completely unfamiliar with. I've actually seen pretty good lion dancers who are not Asian.
The Lion Dance Club meets on Monday nights at 8 p.m. in the Woodruff Auditorium.