Danny Bilson says it took only one scene for him to realize Spike Lee's latest film "Da 5 Bloods" was special.
Bilson, a co-writer of the film, was watching dailies with producer Lloyd Levin shortly after shooting wrapped in mid-2019.
Bilson was shown two scenes: The first was of the protagonists on a boat in Vietnam, à la "Apocalypse Now." The second featured a moment of reconciliation near the end of the film between Chadwick Boseman's character, Stormin' Norman, and Delroy Lindo's character, Paul. 
The scene is a one-shot in the jungle, culminated by a hug of forgiveness between Boseman and a tearful Lindo. Bilson says it's the "pinnacle of the film" and emphasizes how important those emotional moments are for an audience. 
"I turned to Lloyd and I said, 'We're good,'" Bilson says on a Zoom call with film students from the University of Kansas, University of Southern California and New York University Friday. "Once he [showed me that scene I said], 'We're good. This scene is killing it. It's the center of the whole movie.'"
For that scene, a spotlight of sunshine is beaming down on Boseman. Lee says they didn't even light the scene, only adding smoke for the serene atmosphere. 
"That was God's heavenly light on Chad," Lee says. "You know, and that was a very emotional scene. And to me, maybe I'm biased, but I've never seen a scene where you just had two Black men, grown ass men, showing love to each other."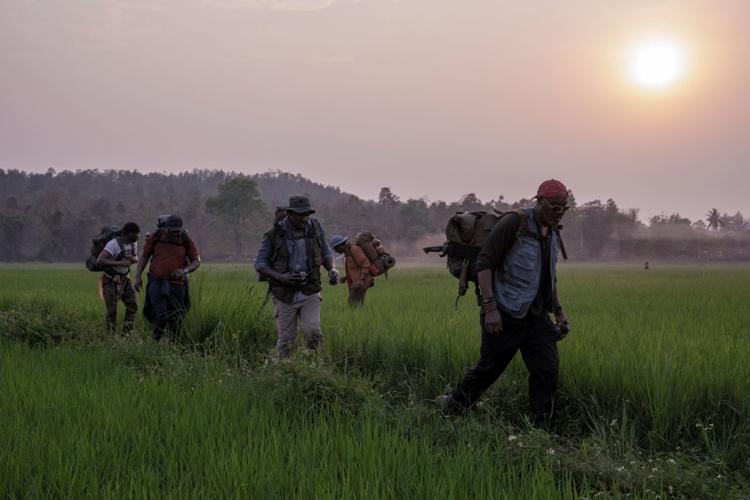 Lee says "Da 5 Bloods" — Boseman's penultimate film before "Ma Rainey's Black Bottom" hits Netflix in December — has become an entirely different film after Boseman's death on Aug. 28. Boseman battled colon cancer while still maintaining an extremely successful acting career, portraying the likes of Jackie Robinson, James Brown, Thurgood Marshall and the Black Panther in several Marvel films. 
"Chad was a soldier. He did not want any pity," Lee says. "If I had known he was sick, I don't know if I would have made him do the stuff he was doing. And he knew that, so that's why he didn't tell me."
Spike Lee's longtime collaborators 
Lee's career, one filled with those moments, can be defined by many things. But one of his most indelible attributes as a director is his storied collaborations, dating back to his debut film "She's Gotta Have It." Lee has made 16 films with composer Terence Blanchard, 15 films with editor Barry Alexander Brown and 11 films with production designer Wynn Thomas and costume designer Ruth Carter.
Lee, who likens himself to a general manager of a sports team, says working with the same group turns the cast and crew into an extended family.
"And what that does is that it saves a lot of time," Lee says, "because you read each other's mind. Everything doesn't have to be explained to the nth degree, because we've done this before."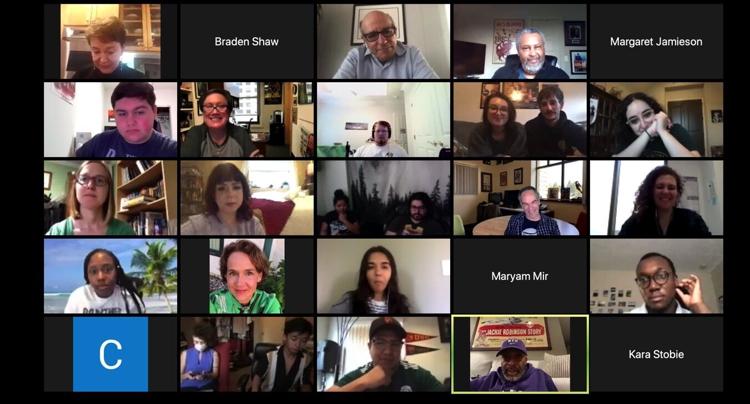 Actors have been inducted into the family, too. Halle Berry's first film role was in "Jungle Fever." The same goes for Rosie Perez in "Do the Right Thing." Lee's collaborations with Wesley Snipes, Samuel L. Jackson and Denzel Washington are well-documented. John Turturro, a fellow Brooklynite, has appeared in nine of Lee's films. 
Even in "Da 5 Bloods," Lee reunites with Clarke Peters, Isiah Whitlock Jr. and, most notably, Lindo. Lindo appeared in three of Lee's films prior to "Da 5 Bloods" — "Malcolm X" as West Indian Archie, "Crooklyn" as Lee's real-life father, and "Clockers" as drug kingpin Rodney Little. 
For one reason or another, Lee and Lindo hadn't worked together in 25 years, a fact Lindo made sure to bring up to Lee on the first day of production on "Da 5 Bloods."
"Another thing Delroy reminded me of, which I had forgotten, I offered him one of the roles of the three cornermen in 'Do the Right Thing,'" Lee says. "And he turned it down."
Creating 'Da 5 Bloods'
Even before Lindo was cast, Bilson and Paul De Meo — the two screenwriters who were on board before Lee and KU film professor Kevin Willmott — knew the character of Paul would be the center of the film. 
The goal was to model Paul after Humphrey Bogart's character, Fred Dobbs, in "The Treasure of the Sierra Madre," one of Lee's favorite films. Where that is most apparent is Lindo's monologue directly to camera in the third act.
"When you saw Bogart doing it [in 'Sierra Madre'], it just reconfirmed, for me, how well that was going to work and how that was a right place for it in the script," says Willmott, who also co-wrote "Chi-Raq" and "BlacKkKlansman" with Lee. "That he was, you know, falling into madness at that point in the story. And I just, I just couldn't wait to see Delroy do that."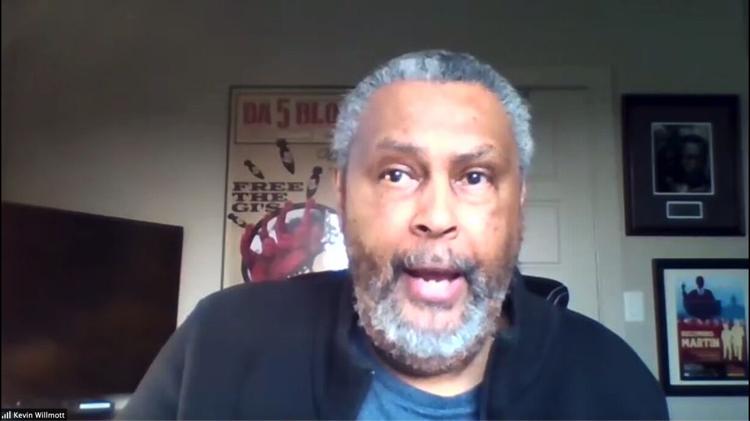 Paying homage to other films is one of many Spike-isms — the most obvious and famous example being his nod to "The Night of the Hunter" through the character of Radio Raheem in "Do the Right Thing." But whether it's a "Wizard of Oz" themed dance sequence in "She's Gotta Have It," or a "Vertigo" reference in "He Got Game," Lee has always been one to pay tribute to classic films.
"Da 5 Bloods" follows suit, paying homage to both "The Treasure of the Sierra Madre" and "Apocalypse Now," among other Vietnam war films. Lee also incorporated Marvin Gaye's seminal album "What's Going On" — a Vietnam war protest in itself — and archival footage to bookend the film.
Lee says when telling traumatic stories — such as a group of veterans dealing with post-traumatic stress disorder — it's a filmmaker's job to take that pain and create art.
Not only is "Da 5 Bloods" an example of that, but Lee, Bilson and Willmott made sure on Friday to use it as a teaching moment from their 40-plus years of experience in the film world.
"We want to impart our knowledge, wisdom, and experiences, so you [film students] can take that, do what you will, and tell your stories," Lee says. "You are the ones that got to keep this thing going, you know, and you should feel proud of where you are."