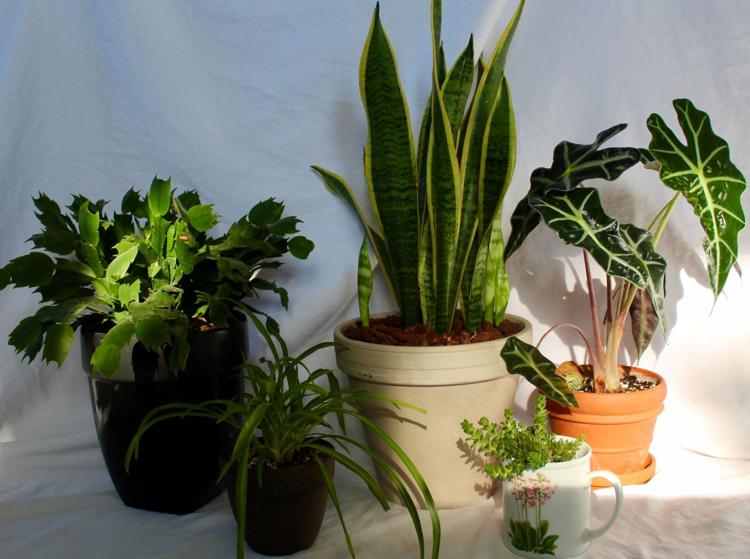 Whether it's a fiddle leaf fig or a philodendron, plants are having their moment among young adults. There is an entire community of plant enthusiasts on Instagram, and houseplant tours on YouTube that allow you to pine over other's collections
The recent opening of locally owned plant shops such as Jungle House Goods in Lawrence and Virgil's Plant Shop in Kansas City, Missouri, also reflect the 77% growth in households that are now gardening, according to the National Gardening Survey.
"The community has always been behind us and our driving force to opening the shop," says Rachel Guffey, co-owner of Jungle House Goods. Guffey and her husband want the store to be a community space, encouraging this through workshops and free events for families and children.
More notably, 18 to 34 year olds maintain around 30% of all gardening households, according to the National Gardening Survey.
A large portion of Jungle House Good's clientele is University of Kansas students, according to Guffey. "I'd say it's because of the trend. They're instagram-able, add life to your space, it's eco friendly and sustainable," Guffey says. 
Located in east Lawrence, Jungle House Goods began as a pop-up shop after Guffey started "hoarding" houseplants and decided to sell some. The pop-up shop sold out in a few hours and Guffey and her husband immediately knew there was a market for this in Lawrence, opening a store just two month later in October 2018. 
Whether the increase in plant ownership is just a trend or a change in habit here to stay for young adults, it has contributed significantly to the industry. American gardeners spent a record $47.8 billion in 2017, a record for lawn and garden retail sales.
Virgil's Plant Shop also recently opened with immense support from the community. Before establishing a brick and mortar location in early 2020, Virgil's operated out of a mini school bus converted into a mobile plant shop.
"We are fully in the age of social media, which includes posting pictures of, or with, cute things, and the bus is pretty dang adorable," says Rebecca Hamilton, the owner of Virgil's Plant Shop. "I often have folks come onto the bus if only to take a picture, which I love."
Hamilton also noted that a significant amount of her clientele are young adults, mainly women.
Chally Miller, a University junior studying political science and women, gender and sexuality studies from Salina, has always been interested in plants but picked the hobby backup in college. "It's been fun to learn about new plants that I was less familiar with," Miller says. 
The benefits of houseplants
More than just a social media photo op, plants can provide real benefits to your health. It's clear that a relationship with plants is personal — you bring them into your home and nurture them on the off chance they'll do well.
"Caring for plants gives me a purpose and something to care for especially when seasonal depression strikes," Guffey says. She adds that they bring life to any home. 
Hamilton says that plants can act as a source of pride, "I felt like it was so rewarding to take care of these plants, learning what I was doing right when they flourished, and figuring out what I was doing wrong when they struggled."
Plants also improve air quality, overall mood and even aid in relieving stress and anxiety, according to the Hillside Organization of Atlanta.
"Giving life to something and learning about how the plants grow and caring for them feels really great," Miller says. 
How to buy plants in a pandemic 

Recently Jungle House Goods adapted to the closure of businesses following the COVID-19 pandemic by offering 'physical distancing plant grams' and kids to-go workshop kits. They'll drop off plants or various kits at either your own or a friend's door step. 
"The community is the only reason we've been able to sustain this far," Guffey says.
The shop offers messages attached with each plant gram, ranging from "Hope you haven't screamed too many expletives at your children," to "Hi Grandma, I hope you're doing OK," as the shop shared on its Instagram page. 
Virgil's Plant Shop is offering free, no-contact delivery during business closures as well. 
If you're interested in buying some plants of your own, Guffey recommends low light plants (sansevieria, ZZ plants and pothos) since they're the most popular low maintenance starter plants. Hamilton also recommended sansevieria, adding that her favorites are of the Starfish and Fernwood variety.