Two strangers sit next to each other on "The Wishing Bench," waiting for a bus to never come. As their journey begins, so does director Marlo Angell's film about a young woman and an older man's connection.
The Lawrence Arts Center held a virtual short film screening and Q&A session on Nov. 13 for the short film "The Wishing Bench." The film tells the story of two strangers connecting at a Lawrence bus stop and their subsequent journey, according to the Lawrence Arts Center's description.
Through the main characters' journey, the film explores topics of cognitive memory, neighborhood culture and history, and concepts of place and time.
"[The theme is] really about intergenerational connections. The two characters meet upon the bench, and they each learn from one another," said Angell, the writer and director. 
The short film begins with the main character, Meera, played by University of Kansas student Maxine Nwachukwu, greeting an older man, Julio, played by José Faus, at the bus stop. As they wait together for the hourly bus to pick them up, Julio talks about his wife, Lola, and the late actress, Lupe Vélez. 
Through Julio's flashbacks with Meera, the two learn about Julio's wife and their past. From this, Meera receives some wisdom from Julio, including learning to be aware of your past while also living in the moment, Angell said.
"[In my personal life,] I don't think I have effective conversations with older adults and sit down and compare our lives, so it was interesting to see how that played out in this film," Nwachukwu said.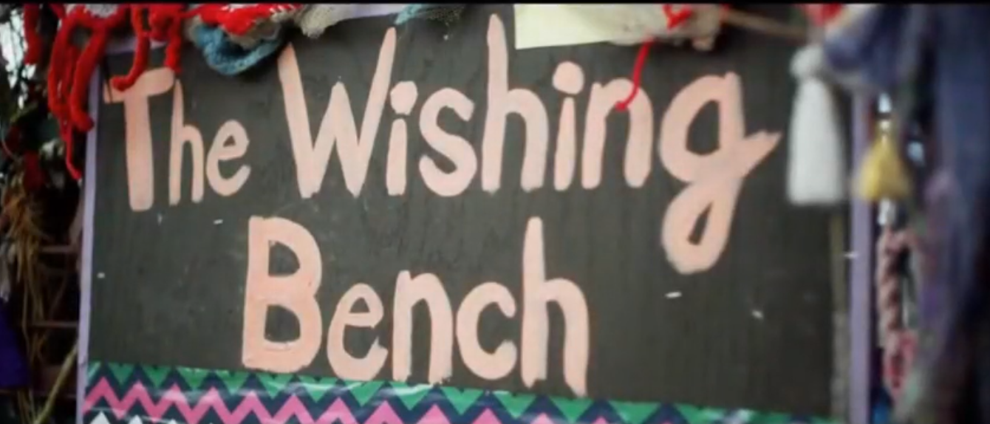 Toward the end of the 12-minute film, Julio is retrieved by his nursing home doctor, leaving Nwachukwu's character to realize she was talking with a dementia patient at a faux bus stop.
Angell said "The Wishing Bench" draws inspiration from a nursing home in Germany that created a fake bus stop to provide those with dementia a comforting destination to keep them from wandering away from the nursing home.
"I really love the Radiolab Podcast, and I heard about the Germany story there," Angell said. "I thought it seemed like a great backdrop for this public art project because a big goal of the project was to explore neighborhood history."
"The Wishing Bench," along with its overlying theme of intergenerational connection, also explored the history of East Lawrence. During the Q&A, Alex Kimball Williams, one of the film's musicians, talked about the impact of Angell including an homage to Lawrence land.
"Being Native, I appreciated the ties, not only to Lawrence history, but to land in Lawrence was very special to me having spent time mapping Lawrence," Williams said.
Angell is the founding director of the Free State Festival, a co-founder of the female filmmaking collective, Women of Lawrence Film (WOLF), and the New Media Director of the Lawrence Arts Center, and has multiple short films in her repertoire, according to the "Wishing Bench" website. 
"Whatever happens to this film, I would love to use it as an educational piece because there were so many communities around railroads through Kansas and Mexican-American communities that have these great cultures," Angell said during the Q&A.
As Angell explained, "The Wishing Bench" is a film that captures the historical significance of railroads in both Kansas and Mexican-American Culture. Though only 12 minutes, the film served as a powerful homage to these communities through a feel-good story of a young woman and an older man crossing paths and stories.