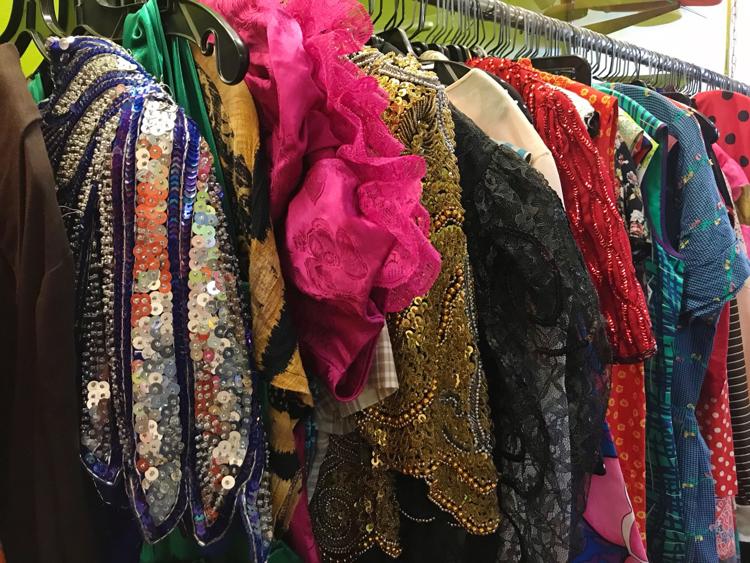 You won't see a tab to "shop" when you visit Hadley Clark's website, where you can sign up for sewing workshops, view her work and purchase clothing she's made. Instead, there's an option to "invest." That's because the idea of shopping is often mindless, says Clark, a Kansas City, Missouri-based artist and adjunct instructor in the fine arts department at the University of Kansas. And she doesn't want that to be the case when you buy her work.
"I want my pieces to be something that you would have in your closet for the rest of your life, maybe you would hand down to a family member or a friend," says Clark, a University of Kansas and Parsons Paris alumna. "I just don't want people to be mindless in the action of it."
Since about 2014, Clark has been interested in creating new clothing from other people's waste. What started out as a conceptual idea was eventually overtaken by an effort to create sustainably. Clothing can become an investment – rather than an impulse buy – when you repair what you already own, buy secondhand and buy from people who are transparent, Clark says. She teaches students these values in her textiles classes. 
"Ultimately if you are a maker, and this is what I teach in my class, you have to think of the life cycle of what you're making," Clark says. "You have to think about where it will ultimately end up – that's your responsibility." It's important to understand where the object you're buying came from, and how it has affected the earth and the people who have interacted with it, Clark says. 
The Environmental Protection Agency estimates clothing and footwear accounted for 12.8 million tons of Municipal Solid Waste in 2017. To prevent your clothes from ending up in landfills, consider how often you'll wear new pieces and whether you'll wear them right away before making a purchase. Lauren Singer, CEO of Package Free Shop, says in an email interview with Chalk that she buys clothes for the person she is now, rather than the person she wants to be. "This helps me ensure that I will get current use out of clothing and give it the most fighting chance of being a wardrobe staple," Singer says.
Singer also looks for pieces made of natural fibers like cotton, silk, hemp and wool, which are naturally biodegradable, rather than synthetic fibers, which are harmful to the environment, she says. "When shopping, I look for simple, well-made pieces that I could imagine wearing two days in a row and not having anyone notice," Singer says. "I like for my clothing to be basic and not trendy. That way I can layer it, wear it over and over, and keep it for a really long time."
Synthetic and plastic-based fabrics, like polyester and nylon, can be harmful to you and the environment. For example, when they end up in landfills they emit greenhouse gases as they break down. Additionally, when you wash clothes that are made of plastic-based fabrics, microplastics (tiny pieces of plastic) are released. Microplastics can eventually make their way to bodies of water and cause harm (like fish eating them), according to publications like Vox, Forbes and The Guardian. Girlfriend Collective, which makes size-inclusive athletic wear from post-consumer water bottles, sells a microfiber filter on its website. Filters like this one – which goes in your washing machine – and washing bags like Guppyfriend aim to reduce the amount of microplastics that go from your clothes to the ocean.
Learning more about the environmental impacts of your shopping choices is a step toward living sustainably and reducing waste, says Singer, who lives in Brooklyn, New York. "Many people think that to make a positive difference, they have to make dramatic changes in their everyday choices," Singer says. "I like to say that every little change to reduce waste is amazing!"
Buy clothing that already exists in the world 
Vintage
Shopping vintage is the perfect harmony of making an eco-conscious clothing decision while expressing your individual style with a piece no one else has.
Andy Braz, a sales associate and seamstress at Wild Man Vintage in Lawrence, says shopping vintage is a moral decision for him. "It's also way cuter," says Braz, a University alumnus. "I'd rather have something that nobody else has, than something that 45 people walking down the street have."
In addition to being unique, vintage clothes are usually high quality, says Donna Foulk, owner of Donna's Dress Shop in Kansas City, Missouri. If you buy a vintage piece now, it could last another 50 years and the quality is better than what you'd buy new, she says. "I think the vintage that you find, the vintage that has survived is really good quality," Foulk says. Foulk says that vintage keeps its value, so if you invest in a great piece, you'll likely be able to sell it later on. "New clothes, they're like a new car rolling off the lot where the value goes plummeting as soon as you buy it," Foulk says, "but vintage keeps that value."
There aren't rules to shopping vintage or styling vintage pieces into your wardrobe, Braz and Foulk say. Basically, if you love a piece and feel a connection to it – go for it. 
"People come in not looking for anything in particular and they see a piece and they're like, 'I have to have this,'" Braz says. "And oftentimes it's one-of-a-kind or it's something that you're not gonna find at a fast fashion retailer."
Secondhand 
Vintage or not, shopping secondhand allows you to purchase clothing in an environmentally conscious way. Nearly three-fifths of all clothing ends up in incinerators or landfills within years of being made, according to a 2016 McKinsey and Company article, so it's useful to think of the concept of circular fashion. 
Shopping sustainably means making a promise to yourself and understanding a larger responsibility, says Natalie Kogan-White, a University senior who is co-president of Environs, a student group focused on sustainability. "If you have to buy a hat, and you have the decision to go to Target and buy the hat or to go to the thrift store and buy the hat, why not create that habit?" says Kogan-White of Minneapolis, Minnesota. "It's like you're creating a system for yourself to honestly train your thoughts, train your mind to think 'Where can I go that's least impactful?'"
Anna Krause, a University sophomore and director of communications for Environs, says when you buy clothing, you should also sell clothing. "Part of understanding sustainable fashion and understanding the cycle and all that is when you take in something new, you're giving something away as well," Krause says, "There's a finite amount of resources in our world and part of sustainability is recognizing that finite quantity and … playing into the cycle aspect of it where you're not taking too much of anything at any one time." With this philosophy, Krause says she never spends money on clothing because she uses the money from selling clothes to buy new clothes. 
If you can't find what you're looking for in your local thrift stores, or you can't pry yourself from the desire to shop online, you have options. Websites like Rent the Runway allow you to rent designer clothing items, which is a great way to wear something special to an event without the long-term commitment to an item you might never wear gain. And online marketplaces like Poshmark, Depop, ThredUP and The RealReal let you shop – or sell – second hand clothing at various price points from the comfort of your keyboard. According to ThredUp's 2019 Resale Report, second hand is expected to be 1.5 times the size of fast fashion within 10 years.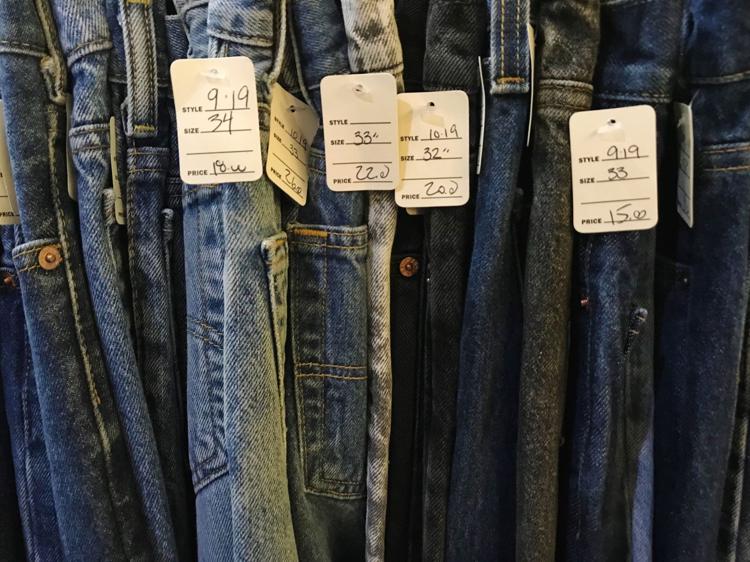 When you buy new, consider sustainable brands 
Slow fashion
If you want to make environmentally conscious purchasing decisions and you prefer modern pieces, shopping from slow fashion brands is an option. While slow fashion means buying quality pieces that will last you a long time, slow fashion is typically intertwined with ethical labor practices. 
"The benefits of buying from small, sustainable brands is that they are a little bit more considerate of the environment, of the people that make the clothing and the waste that they produce," says Melissa Gallagher, owner of Coco + Mischa, an Atlanta-based shop that specializes in handmade and vintage products. Coco + Mischa carries slow fashion brands like esby and Ace & Jig, along with vintage clothing and handmade jewelry from small local makers. Coco + Mischa also buys back slow fashion pieces to resell, and has organized a Slow Fashion Symposium in Atlanta.   
Shopping sustainably has helped Gallagher build a wardrobe with intention, rather than shopping on impulse, she says. "Three years ago, you couldn't have pried me from TJ Maxx and Forever 21 and whatever the bargain basement, cheapest place to get the most stuff," Gallagher says. "And I still struggle with having a very, very full closet."
You don't have to compromise your personal style for sustainability. In fact, Gallagher says shopping mindfully has helped her define her style. "I was kind of a victim to whatever the trend was," Gallagher says. "And I feel like because I spend more money on my clothes, I care about how long I can wear them. And I just feel like I've cultivated my style." 
Slow fashion and lifestyle brand Whimsy + Row makes environmentally conscious decisions through every step of the process, says Rachel Temko, the brand's owner and creative director. The Los Angeles-based brand primarily uses deadstock fabrics, Temko says, which are mostly from one warehouse in downtown Los Angeles. "This warehouse that we find our fabric in, I feel like, is kind of where fabric goes to die unless you really are good at finding it," Temko says, "...But we're taking it and we're using it and making beautiful goods. And a big part of what we do is we make sure that we don't order too much fabric." When Whimsy + Row doesn't use deadstock fabric, the brand opts for environmentally friendly options like organic cotton and linen, Temko says.
Whimsy + Row's clothes are made in smaller quantities in factories in downtown Los Angeles, Temko says. "We personally visit and audit each factory and check pay stubs and make sure that they're under ethical conditions," she says. According to Temko, consumers should remember that clothes are handmade and that there are people behind the pieces you buy. 
Before purchasing a clothing item, Temko says to consider where it came from, why it was made and how much use you'll get out of it. "All of our pieces are all made to mix and match and to dress up or down," she says. "So we try to make them as versatile as possible, and to fit into somebody's wardrobe." The pieces are investments that are well-made and will last, Temko says. 
Brands that prioritize ethical and sustainable practices are often more expensive than their fast fashion counterparts. (Clothing items from Whimsy + Row, for example, currently range from $15 for a tank top to $280 for a jacket). Opting to purchase a slow fashion piece secondhand can make adding slow fashion pieces into your closet more accessible. 
Moria Deshpande is the co-founder of Sell/Trade Slow Fashion, an Instagram account that serves as a platform for people to sell pieces of slow fashion clothing from their own wardrobes. "I think that's how someone in college would afford a piece like this," says Deshpande of Atlanta. "They would look for it on a resale account and maybe forgo a few weekend trips to the mall. And then all of a sudden, if you're careful, you could have some really special things in your wardrobe that reflect your values." 
A team of six moderators at the platform have created a list of accepted clothing brands. Moderators look at whether a brand is talking about its manufacturing and labor practices, and whether those practices are ethical, Deshpande says. "We're looking for brands that are doing everything right, and those are the ones we try to champion and celebrate," Deshpande says. A few slow fashion brands that are frequently posted on the platform, Deshpande says, include Elizabeth Suzann, babaà knitwear, Jamie + The Jones, not PERFECT LINEN and JESSE KAMM. 
Once an item is posted to the account, Instagram users can comment that they want to purchase it. To reduce a sense of urgency and impulse buying, sellers use a random number generator to select their item's new owner after 24-hours. "People have time to consider 'Do I really want this?' They can think about it. They can remove their name," Deshpande says, "Because so many BST (buy, sell, trade) accounts are first comment wins, that just adds to impulse buying, which is really against what slow fashion stands for."
Moderators at Sell/Trade Slow Fashion think about their role in contributing to over-consumption of clothing, Deshpande says. "If people didn't know that they could just resell these things – if they thought they might be stuck with them – would they think twice or maybe not buy them? So we worry about our role in it as well, even though every time we question it, someone's like 'No no, thank goodness you're here. Because otherwise I couldn't afford,'" she says. 
Although items listed on Sell/Trade Slow Fashion are a fraction of their original price, they are often still expensive, Deshpande says. If it's not in your budget to shop slow fashion brands secondhand, it doesn't mean you can't be part of the slow fashion movement. Deshpande says you're participating in sustainable fashion when you wear the pieces you have and take care of them – even if they're from fast fashion brands. 
"Say you just flat out don't have the money [for slow fashion]? What do you do? Well then you buy what you can afford, and you take care of it," Deshpande says, "And you thrift. And you shop resale sites and vintage. You're not buying a new textile, you're buying something that's already been made and produced and giving it new life. And that is absolutely putting you in the middle of the slow fashion movement."