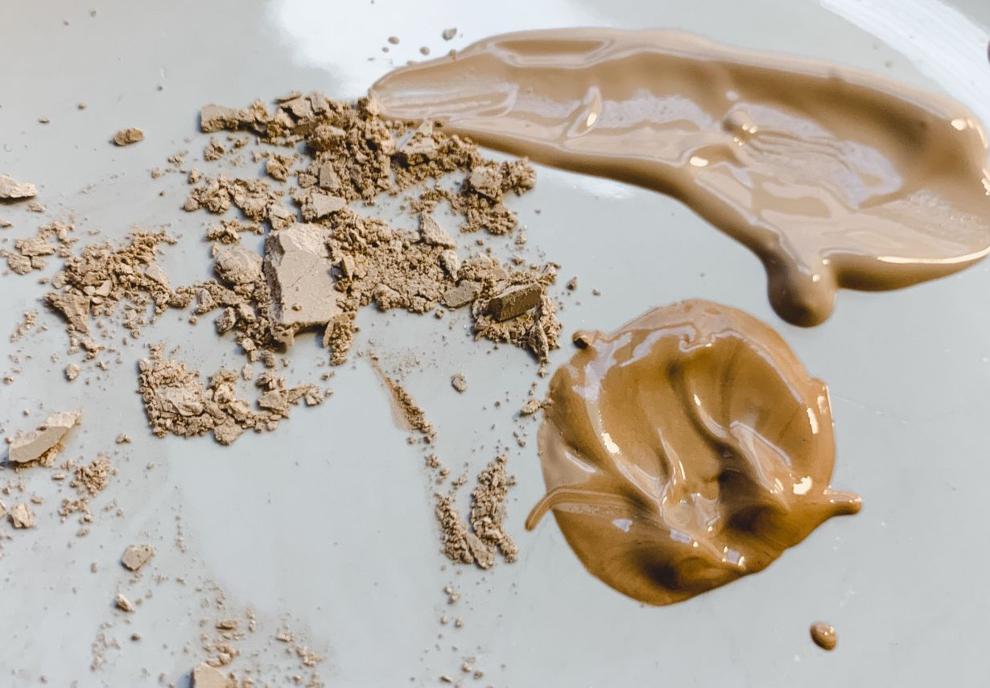 I am, by no means, a beauty guru. However, I still love to experiment when it comes to makeup. I enjoy trying out different mascaras, eyeshadows, eyeliners and everything in between. But one thing I cannot seem to wrap my mind around is the concept of foundation. Am I supposed to use a powder or liquid? What are the best brands to use? Below is a detailed dive into both powder and liquid foundation, and which is best for you. 
Powder foundation
Powder foundation, aside from having a drier texture, provides a much thicker coverage than liquid, makeup artist Lennie Billy says in an email with CHALK. Billy, whose work has appeared in Vogue, TIME, ESPN The Magazine and L'Officiel Lithuania, recommends people with oily and combo skin (equally dry and oily) try powder foundation because the dry texture leaves a dry finish.
When applied correctly, powder foundation can give a much more natural look compared to liquid, says Erin Dellasega, a makeup artist and University of Kansas senior from Pittsburg, Kansas. She recommends using a tinted moisturizer prior to applying the foundation to create a smooth look on the skin.
"This helps with comfortability and can moisturize the skin more throughout the day," says Dellasega, who's studying visual arts. "If you have fairly clear skin or just don't want much coverage, using powder can be perfect for a light, more matte look."
Liquid foundation
Liquid foundation is more versatile than powder, Billy says, because it ranges in finishes, textures and coverages.
"My favorite foundations are the liquid ones as they are more versatile, I can go from minimal to full coverage," Billy says. "Also I have the different finishes to lay with and you can use sponge, brushes, or even your hands for application."
Liquid tends to last longer than powder, and can provide more coverage, Dellasega says. "Which is great because it protects the skin better and it also won't dry the skin out like a powder," she says. Dellasega recommends liquid over powder because of its versatility, similar to Billy. 
However, one thing you can't forget with a liquid foundation is setting face powder, Dellasega says. "I always carry around a compact of powder in case I get oily throughout the day," Dellasega says. 
Conclusion
For people with zero to few breakouts who want a more natural look, powder foundation is the way to go. 
However, liquid foundation works for almost anyone, regardless of your breakouts. Liquid foundations with a more matte finish are ideal for combo and oily skin. Foundations with a dewy, glowy finish go best with dry and non-oily or dry skin, Billy says.
OK, so now what?
Billy says the key to finding the right foundation shade is knowing your skin's undertones, which can be warm, cool or olive. Usually foundation shades will say what tone they compliment.
"Foundation should become part of the skin and not look like a mask," Billy says. "You want people to have a hard time finding out whether you're using foundation or not."
Dellasega says it's important to know that the most expensive brand is not necessarily the key to having a great foundation. "There are tons of great drugstore foundations that apply really well and last just as long as the name-brand ones," Dellasega says. "However, it definitely takes a lot of trial and error to find the one that works best for you."
What brands should I try?
Powder
Liquid
-Brianna Wessling