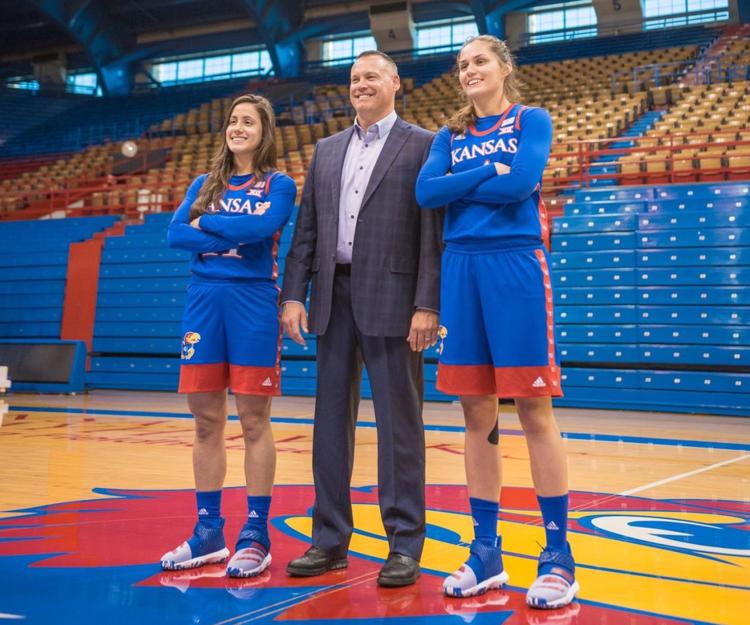 Just by watching them on the court, you wouldn't notice many similarities. Mariane De Carvalho (Nany), is a 6-foot-2 forward. She's quiet but strong in the few words she says and forceful in the moves she makes under the basket. Niccolly Ramalho (Nicci) is a 5-foot-5 guard. Her feet move as quick as her mouth. It's as if she's everywhere defensively.
In Allen Fieldhouse, her voice can always be heard shouting words of encouragement for her teammates.
Yet they're always moving in sync. Always aware of where the other is, not needing to speak to one another, as if they already know each other's thoughts.
Perhaps their powerful dynamic is due to the fact that they've spent the last five years inseparable, fighting an uphill battle to chase a dream. Or maybe it's because they share a common strong faith. Or, possibly, because they're both Brazilian.
Today, there are over 20,000 international student-athletes competing in the NCAA. About 250 of these athletes call Brazil home. Out of those 250 women's basketball players, 13 are competing at major universities this season.
And two of them are right here, in Lawrence, Kansas.
Nany and  Nicci met five years ago in Brazil, boarded a plane together and flew to Kansas to play basketball for a junior college, not knowing a single word of English. This May, they will both graduate with bachelor's degrees from the University of Kansas.
And they will be the first women's basketball players from Brazil to do so. This is the story of how they got to KU. 
Nany
I grew up in a family that loved basketball. My mom's dream was to be a basketball player but when she got pregnant, her dream changed. Her new dream was for my older brother, my older sister and I to be basketball players.
When I was 4 years old, my mom would take me to professional basketball games in my hometown. We would get there four hours before the game just to get in. I did not like it. I did not like basketball. But she did and so did my brother and sister.
I started playing at a club and I met this old guy who was really good at coaching. He told my mom that I was going to be very good at basketball, but I had some problems with defense that I needed to fix first. I was 7 years old.
So I kept going. My brother and sister would always tell me to keep going. When I was 10, I finally saw that I really loved basketball. I started playing with older girls and I saw how good I was playing with them.
We use to have this really old computer at my house. Every time I could use the computer, I would spend hours watching highlight videos of NBA players on YouTube, mostly Steve Nash. I would try to copy everything he did in the videos. I spent so much time watching him, I eventually knew every move he was going to make before he did it.
When I was 15, my hometown discontinued the local team. In Brazil, we don't have high school basketball, we have club basketball. I had to move two hours away to keep playing. Nine other girls moved too, and we all lived together with an older woman while going to school.
We played for a really good team. I spent two years playing there before that team went bankrupt and I had to move again to keep playing. This time, four hours away, in Sao Paulo.
I always thought I was going to stop playing basketball at 19 because in Brazil we don't have teams after that. We only have a few women's professional teams. I always thought I'd stop at 19 and then find a job or whatever.
But then I met Nicci. And Nicci introduced me to Jesus.
When I first met her, I thought she wasn't going to be my friend because I knew she was very religious and I didn't believe in God. But she was different. She actually wanted to know how I was doing, she wanted to hear about my story, she wanted to know more about me.
I wanted to know why she wanted to be my friend. I was curious to know who God was because of Nicci. I started going to church with her and having conversations together. Realizing God is love was a plot twist for me.
After that, my life changed and I felt that Jesus was telling me basketball was my purpose.
Nicci
I hated basketball.
Every time I knew we were going to play basketball in class, I would skip class. I could never get the ball in the basket because I was too short.
And I was terrible. I couldn't dribble at all, the only thing I could do was run and guard. But in our first school tournament, I somehow won MVP. Two years later I made the cut for a club team. The coach told me I wasn't very good but I could run, that's why I was picked.
I would show up early for practice and be the last one to leave. I asked the older girls on the team to help me and teach me stuff. After three months, I became a starter.
It was around this time that I committed my life to Jesus. And I started glorifying Jesus through basketball. Soon after, I met Nany.
I had always dreamed of going to the U.S. to play basketball and go to school. But when I turned 16, I chose instead to go to med school in Brazil after high school. Shortly after that, I tore my ACL.
I made my recovery and decided I was going to keep playing basketball and go to prep school at the same time. But the pressure of school was too much, so I quit and focused on basketball. Two months after I was healthy and playing again, I tore the ACL in my other knee.
Nany had come to play for my club team after my first surgery. We used to play against each other. I thought she was kind of crazy. But you know when you meet someone and you just know you're going to be really good friends? That was us.
When I tore my ACL the second time, Nany would come to the hospital at 5 a.m. just to stay with me before practice. She would just show up at my house all the time. The elevator guy in my building would just let her in. He wouldn't even call us anymore.
I decided I was going to go to the U.S. and I asked Nany if she wanted to go with me. And here we are.
'Eu te amo,' translated: I love you
Nany
My mom's dream for us was to play basketball but my dad's dream for us was to get an education. The only way I could do both was to go to the United States.
So I made a highlight tape and it was sent to junior colleges because I didn't know any English. A team in Kansas told us they wanted us both. I thought Kansas was going to be corn fields.
We traveled for 18 hours on a plane to get here. We didn't sleep for 26 hours. Our coach told us we would have practice two hours after we landed. We come from one of the biggest cities in the world. When we got to Highland Community College in Kansas City, we were shocked.
When we got to practice, I remember coach asking me to do a layup and I didn't know what he meant. I was lost.
We had one Brazilian teammate, but we didn't think she liked us so we were hesitant to ask her to translate. We found out later that she was intimidated by us too. Now we are really close friends.
Nicci
She helped us a lot during practice, she would translate things even when we didn't ask. Sometimes our team would be punished for something and we had no idea why we were running. We just knew we had to run for hours.
The start of juco was really overwhelming. Trying to get the visas and not knowing English was hard. They would send us a lot of paperwork and we had no idea what it was saying so we had to Google Translate everything. Our coaches would tell us when we needed to get the paperwork done but we had no idea what to do. We figured it out on our own.
But I wouldn't change it for anything. I met so many people there and they were so loving and supportive of us.
Nany
We would not have made it through junior college without each other. I didn't have money for anything and Nicci helped me a lot financially. And I would not appreciate KU like I do if I hadn't of gone to juco. It's a humbling experience.
Nicci
My freshman year we came to Lawrence to watch a game. My parents were with me and I remember telling my mom that I would never play for a team like this. I didn't think I was good enough. Our sophomore year, KU recruiters would come to watch Nany play and started paying attention to me too.
We came on a visit to Kansas together and I knew right away that I was going to come here.
I had more visits but I canceled them all. I knew God was telling me to go to KU. I verbally committed right away and while we were at dinner that night celebrating, Nany tells me that she committed to Creighton. I started crying because I thought she was going to come to Kansas with me.
Then she told me later that she was kidding and she had committed to Kansas already.
Nany
I just wanted to see what her reaction would be. But I'm thankful we both came to Kansas. I'm so thankful.
They didn't have a Brazilian flag in the tutor center when we came on our visit. And now there is one. Growing up, we didn't even have enough money to buy the shoes to play basketball. And now we get shoes every week. Just to play one game, we would travel 10 hours on a bus or in a van and now we're flying private.
Nicci
Kansas, what we have here, is a dream. I can't even explain it. Sometimes I wonder how I even got here. Me. Someone who couldn't even dribble the ball. I feel like it was yesterday that I couldn't dribble the ball and now I'm at one of the best schools in the U.S.
I don't want to give up basketball. I want to be a graduate assistant coach somewhere and get my graduate degree and become a recruiter. I speak three languages and I know how hard it is when you can't speak any English and you have to figure everything out by yourself, so I want to help other athletes come here.
In other countries they don't have what we have here. I want to help people to have the opportunity to play like I did, while getting an education. I want to help them have what I have right now.
Nany
My dream is to go back to Brazil and be a coach for young girls. I grew up in a rough neighborhood and none of my friends played sports, and now I see how different our paths are and how sports helped me and my siblings. I want to give young girls the opportunity to play and teach them English at the same time.
It'll be hard to separate after being together for the past five years. But it's just like family, even though you separate, they're still your family. She's always going to be my family.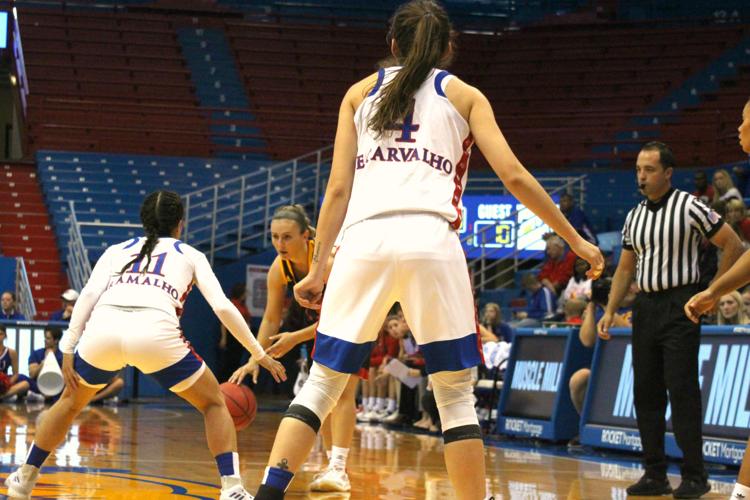 'Giz de rocha,' – that's rock chalk in Portuguese 
Nicci and Nany have shared their daily enthusiasm and gratitude, Brazilian traditions and faith with all their teammates. Several of their teammates join them for bible study and go to church now because of their invitation. Their teammates see how hard it is for the two to be thousands of miles away from home, missing their families, yet they still have a grateful attitude. And after tasting it, the team now understands the obsession with Brazilian food.
"It would be weird without them," says teammate Bailey Helgren, a center for the Jayhawks. "They have a positive impact on everyone around them. Nicci is someone who brightens everyone's day when she walks into a room. Nany makes everyone laugh and always has this positive, goofy energy about her."
"They had a tremendous impact on Austin Richardson [former teammate] by encouraging her in the decision she made to get baptized last year," says Kansas women's basketball head coach Brandon Schneider. "Their faith and how they approach their daily life have really impacted the players on our team but also the members on our coaching staff."
Watching the dynamic duo, both on and off the court, has also had an impact on Schneider, he says.
"They approach every day with gratitude for the opportunity to get an education and to play at the highest level of collegiate basketball," Schneider says.