Due to COVID-19, the University Dance Company is adjusting to an online performance format. However, this has not stopped the creativity of the choreographers.
Associate professor of theatre and dance James Moreno started dancing because of an unexpected encounter — a friend had a crush on a dance teacher, and he tagged along as support.
"I just fell in love with it," Moreno says. 
Moreno has been an associate professor at the University of Kansas for eight years after being a professional dancer for 25 years. Moreno taught at the University of Panama and the Panama National School of Dance, and obtained a doctorate in performance studies from Northwestern University. 
He teaches contemporary, technique and choreography classes at KU as well as other higher level study courses that relate to performance studies. 
"I love the students," Moreno says. "[They're] very hard working students." 
This semester, Moreno was also a choreographer in the University Dance Company's Fall Concert Series. 
The University Dance Company holds auditions to all students at KU at the beginning of each semester, then faculty members place the dancers with the choreographers they will be assigned to. 
The dance company normally rehearses for the majority of a semester and then has a concert to showcase their work to family and friends. Due to the coronavirus pandemic, the dance company is having a virtual concert series with three separate shows. Viewers can watch the performances through links on the KU Department of Theatre and Dance's website. 
The first concert of the series, titled "Resilience," took place on Oct. 9 and 10. The first performance showcased one piece by Moreno and another piece by recently retired associate professor of dance, Jerel Hilding. Both choreographers were originally supposed to present their pieces at the spring 2020 concert.
Moreno's piece is entitled "Nine Traquero Tales," and tells the story of traqueros in east Lawrence. A traquero is a Mexican or Mexican-American railroad worker that Moreno says thrived primarily from the turn of the century to the Great Flood of 1951. 
Moreno's inspiration for this piece came from his identity as a Mexican-American. He says his grandfather worked on the railroads and died when he was crushed by a train. Moreno says when he heard this story, he knew he wanted to connect the past to the immigration from Mexico to the United States today. 
Moreno says that normally all University Dance Company performances take place at the Lied Center of Kansas or the Crafton-Preyer Theater. Due to COVID-19, this year "Nine Traquero Tales" was presented as a screen dance, which Moreno describes as being filmed similar to a music video or film. 
Due to these unique circumstances, Moreno says he selected dancers from the audition with a different sense of theatricality, because this year the dancers had to combine their movements and facial expressions for a camera instead of a live audience.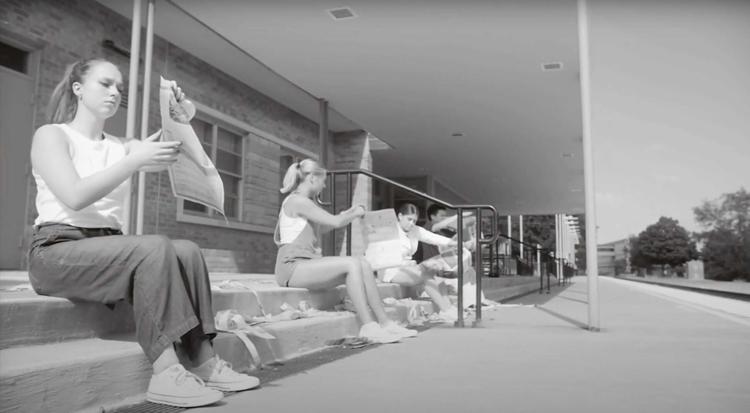 The five dancers selected to be in the piece rehearsed and filmed at the Santa Fe train station, which Moreno says was the heart of the traquero community in east Lawrence. 
Hilding's piece, entitled "Gitanas," was inspired by a trip he took to Granada, Spain, as a dancer in the Joffrey Ballet. One night after a performance, a group of dancers from the Joffrey Ballet were invited by audience members to the Sacromonte, or the Sacred Mountain, a place where the Roma settled.
The group began singing, dancing and playing instruments. They gestured to the Joffrey Ballet dancers to dance. They danced around a flamenco guitar. 
When choreographing "Gitanas," Hilding picked a lute song by Johann Sebastian Bach that reminded him of that flamenco guitar. 
"It was a really inspiring experience to have shared cultures," Hilding says on the piece's mixture of American and Spanish culture.
Hilding obtained a music history degree from the University of New Orleans. After dancing at a private studio for three years, he was a Joffrey Ballet company member for over 15 years. Hilding came to the University of Kansas in 1990 and officially retired as an associate professor July 1. 
He says he originally choreographed "Gitanas" 20 years ago but revived it for the University Dance Company. 
The second set of performances of the University Dance Company Fall Concert Series will be offered Oct. 30 and 31. The show will feature choreography by Michelle Heffner Hayes, Maya Tillman-Rayton and Patrick Suzeau.
Moreno, alongside Waeli Wang, will also have a piece featured in the third part of the concert series, premiering Dec. 3.