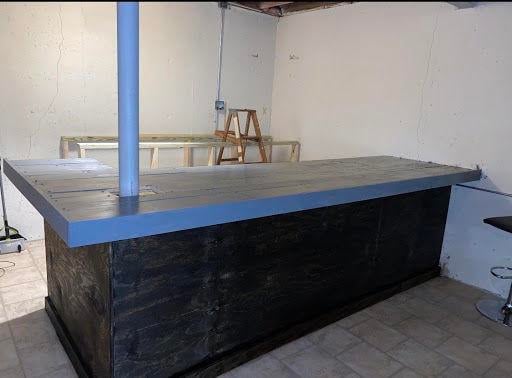 As a graduating senior it is hard to come to the realization that I won't be able to spend some final memories at Lawrence bars. That does not mean the fun must stop and neither does the drinking. Over the past seven days I have built a commercial sized bar in my basement with simple power-tools, wood and many trips to The Home Depot.
Charles Wooding is one of my neighbors here back home in Chicago. He is a project manager for an international construction company. He assisted me through FaceTime and several conversations from our backyards. Wooding said anyone can be a builder if they are precise and thorough. 
"As long as you have your exact measurements which lead to perfect cuts, then everything should fit together like a puzzle," Wooding said. 
That was the first step, measuring out where this bar would be. I decided on a ten-foot long by four-foot wide bar. These dimensions fit perfectly around a support beam in my basement. Wooding told me to measure out how far forward I wanted the bar top to come and how deep I wanted the cabinets behind it to be. At this point I thought things would be a lot easier than they were going. I had already used an entire roll of tape just to measure out where everything would go.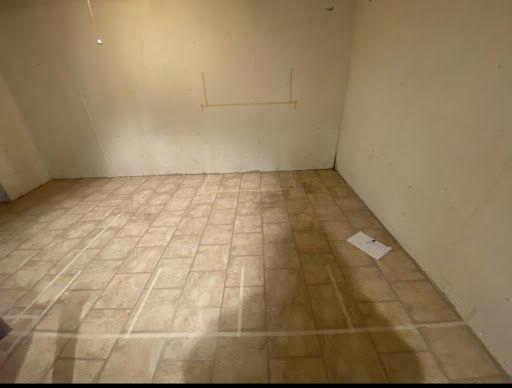 The next step of the process was to get all the materials. These are the tools I needed for the entire process: 
Drill
Circular saw
Wood screws
Screwdriver 
If you don't have these tools they can be rented from The Home Depot's website. 
After I had my tape down and tools ready to go it was time to get the wood for the bar. I decided to go with pine wood because most online sources said that pine is softer than other types of wood and easier to work with. This same source, Black and Decker, was my guide for the entire creation of the bar. These are the different types of wood I used for the entire bar:
4 sheets of ¾ inch plywood (4 by 8 ft)
12 bars of 2-by-4 by-10 foot (pine)
10 bars of 2-by-8-by-10 foot (pine)
2 sheets of ½ inch plywood (4 by 8 ft)
The building was the easiest part of the process. I started with a foundation that looked like an upside down "T." Then I added support beams every few feet on both sides of the foundation. The more wood I added the sturdier the bar became. Then came the top of the bar which consisted of both types of plywood stacked on top of each other, then adding a layer of 2-by-8s and 2-by-4s for design. 
The foundation was set and all I had to do was add the plywood to the front of the bar to make it look finished. After adding two screws every couple of feet to keep it sturdy and the bar was nearing completion, all that was left was paint and electricity.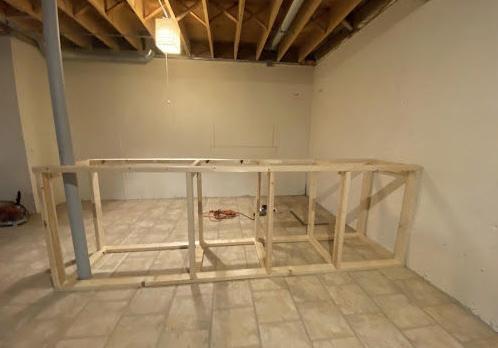 To paint the bar, I stained the top and the foundation two different colors. I went with a dark brown for the foundation so the nails would not be visible. I chose a metallic gray for the top just to give the area more light  because the foundation was so dark. I spoke with the professionals at True Value Hardware in Western Springs about the stain and lacquer. They said if I did not lacquer the top of the bar it could stain glasses and make the surface appear and feel rougher. I decided to take their advice and was pleased to see that the top turned out glossy and shiny just like a real bar. 
The final part of the bar creation was the electrical work. My father, Damir Sopic, is a commercial electrician and has worked on some of the largest buildings in Chicago, so using him as a resource was a definite advantage. He says that electrical work is very undervalued and looks easier than it is. "If a plumber messes up, they get sewage on their clothes, if an electrician messes up, they die," he jokes. 
For the electrical work I wanted to do, I needed to create a new power source and attach some lighting. I did not know that this would not just be plugging in an extension cord. 
My dad told me: "To create a power source you have to find where the rest of the power is coming from and pull new wire there. From there you need to take conduit (electrical pipes) and run the wires through there back to the new outlet and connect your AMP (three hole circle that looks like a face)."
After all those steps, I was proud of the product I completed in just one week. There will be no live graduation this spring and I won't get to celebrate with friends and family at the Bull. But there is no doubt I will be toasting to all my fellow graduates at my newly finished bar.