There are many clubs at KU that students can participate in, whether in politics, arts and culture, special interests, or a sports club. As the world seems to creep back into normalcy, people are more than ready to get back out there and socialize. As a KU student myself, I understand the feeling.
One day, I searched on the Rock Chalk Central website to see if there were any unique clubs available on campus. One of them caught my attention that I've never heard of before nor seen them advertised throughout the campus: K-Pop Dance Club Karisma.
"K-Pop is inspired by hip-hop, but mixed with contemporary and jazz movements," Lily Kenn says.
Kenn is a fifth-year senior at KU, majoring in East Asian and languages in cultural with an education minor. She is also a third-year president of the K-Pop Dance Club. Kenn says her main role in the club is to make sure things run smoothly, and communicate with other members about practices and potential sign-ups to participate in recitals.
"Someone teaches a dance routine using a K-Pop song for the group, two dances usually if we can fit it into two hours and we try to have fun together," Kenn says.
Kenn says the club is not meant for people who have experience with dance. The club welcomes anyone with experience or no experience, and auditions are not necessary.
"We try to make it clear in the beginning that this is for fun. I think it helps that I make mistakes. I'm not a professional dancer. I do my best to learn it," Kenn says.
Kenn says one member admitted they've never danced before, but noticed the club looked neat and interesting enough to join.
"I like all forms of dance, but K-Pop is my favorite. I can be as good or bad of a dancer. I do it to push myself, and it's very enjoyable," Josette Pinto says.
Pinto is a sophomore at KU, studying in three majors: business and linguistics, international business, and Korean. Pinto joined the club when she was a freshman and considers herself a consistent member. Pinto was interested in dancing before and wanted to find a dance club that would challenge her.
"It's a really great free space. There's no judgment at all. It's not one of those skilled based clubs. It pushes you to what you can do physically and get to meet new people, like-minded individuals, that like the same things you do," Pinto says.
They do a dance-off called, "Random Dance Play." They play clips of songs, and if you know the song, you get up and do a freestyle dance.
"You don't have to get up and dance, you can watch too. There's no obligations, which I think is nice for a club," Pinto says.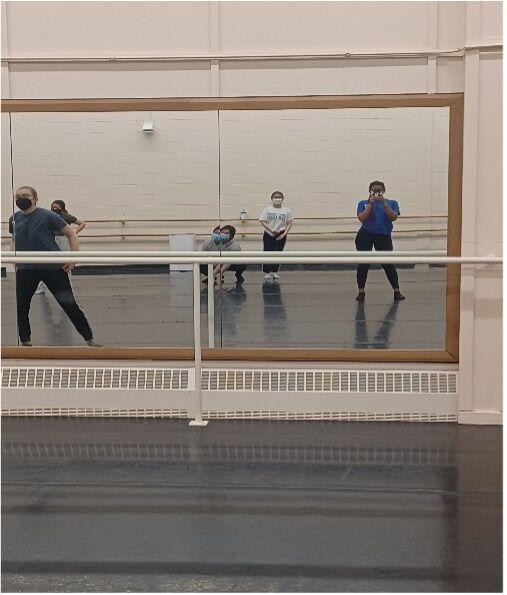 After I spoke with Kenn and Pinto, I decided to join them during one of their practices. We started the practice off with stretching. I extended my legs out (in a v-like position) and my legs burned as I stretched my muscles. It's been a long time since I stretched to that extent.
We then danced to two songs called, "Oh My God" by (g)i-dle and "Just Right" by GOT7. I remember my nerves began to unleash as Kenn showed us the dance moves. The moves consisted of a lot of arm and leg movements at a fast-paced rhythm. Kenn made us do the dance routine until most of us got comfortable with it. Once we got the dance routine, Kenn turned on the music and we danced again and again. Everyone was smiling and laughing, including myself.
I think what makes K-pop unique is that it brings a different style of dancing skills. For instance, moving your feet from one move to the next move, and moving your arms along to the beat of the music. In addition, this dance club does not take themselves seriously as a regular dance team that competes for titles. You can attend the club however you please, and let loose.
The club meets every Friday from 3-5 pm at the Robinson Gym.