On a dreary Sunday afternoon, I'm sitting in front of my mirror with a makeup brush and powder in hand. In approximately 30 minutes, I'll make my acting debut --virtually. Through my computer screen, I have to accurately channel a 30-year-old woman from Iowa who doesn't understand why people in the city eat lunch so late in the day. 
To say I was on edge is an understatement. My nerves were practically skyrocketing through my ceiling. I'm comfortable being behind the camera, a position I've been in for years, but now I'm in front of it. Even if it's through my webcam, it still counts. 
I take a deep breath and I join the video call. 
My debut was made possible by a student-run organization called Playdate KU. Students, both seasoned and new alike, perform scripts of contemporary plays for an online audience. Every Sunday, people join the Playdate KU server on the messaging platform Discord where groups can communicate via video calls and instant messaging.
The organization has humble beginnings says senior Jacob Downing, founder and current board member of Playdate KU. After participating in script reading circles in Kansas City, Downing wanted to share the experience with his fellow students. The performances were first hosted in a dorm room of Naismith Hall when Downing and his roommates were freshmen. 
"I don't think there were ever more than seven people at any of them," says Downing. "They were very informal. I tried putting up some posters a couple times but we weren't an official club and we didn't have a social media presence." 
The goofy atmosphere of those dorm room readings was beloved by Downing. His fondest memories include moments with fellow board member Trevor, who always breathed life into the scripts. He's the type of person who consistently sticks the landing to every joke he tells, said Downing. 
"There was something so nostalgic about being in the Naismith dorm with these kids, and something that is so special about that," said Brynna Darley, a board member for Playdate KU. "It was just friends and not a cast -- less than a cast."
Playdate KU is Downing's baby. Every performance is a triumph for him, his fellow board members and the organization. 
"I always wanted it to be bigger than it started out being," said Downing. 
Due to social distancing restrictions from the pandemic, the organization has learned to love a virtual setting. Despite that new obstacle, the group doesn't feel that anything has changed.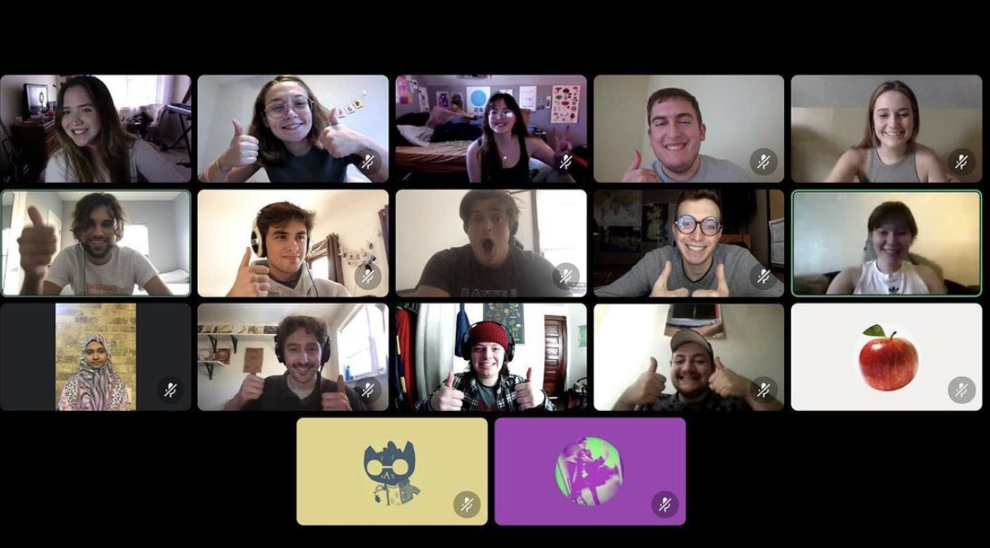 "I've always been a part of the theatrical world but I don't think I have ever been involved in it in this sort of deeper connection," Darley said. "I value the intellectual level with a group of like-minded or even contrary-minded people and evaluating a script. There is definitely a community aspect."
Darley and Downing met through Playdate KU when a friend of hers, Downing's girlfriend, encouraged her to join. 
"I was like 'Oh yay, I've finally found my little group of theater nerds on campus that I can go and share time with,'" Darley said. "There's nothing bad about sitting with a bunch of nerds and reading a script -- it can't hurt you." 
And she was right -- it can't and won't hurt you.
"It's kind of daunting at first, and then you do it, and it's loads and loads of fun," Darley said. "It's unpretentious, you can't embarrass yourself, and you learn so much about yourself in the same way that you would in live theater."
The performance began with a quick synopsis of the script and an introduction of the playwright. As people began talking, I realized that the organization is not reserved for KU students. One of the supporting actors was in Colorado, and a couple audience members were in places like New York and North Carolina. 
The video aspect of the call allowed everyone to see each other's faces while they perform. Technical difficulties aside, we put on a good show. 
"We had more audience members than we had readers," said Downing in reference to our performance. "I still kind of can't believe that."
All the cast members, myself included, had quick access to the full script of the play in a PDF that was provided shortly before the play began. As I read the lines, my part was creeping up. I might have snuck a few pages forward to mentally rehearse. After all, that was my first time seeing the script. 
Our script was Stage Kiss, a play about what happens when actors on stage kiss -- more importantly when that kiss becomes real. I played Laurie, the male lead's significant other turned ex. She made her appearance in the second act, and during the virtual, 10 minute intermission, I rehearsed my lines to best capture her amiable and aloof presence. 
Stage fright welled up in me when the second act began and Laurie's dialogue approached. I just kept telling myself to keep picturing everyone in their underwear. 
Suddenly, Laurie walked into her shared apartment with the male lead and I began to speak. As I recited the lines, I felt myself become connected to the character -- a feeling that was foreign to me. I have never acted before in my life but here I was, confident enough to yell and throw my arms around in front of my computer screen. My heart was racing the entire time. 
"Well, that is a dealbreaker. Goodbye," Laurie and I said, concluding my performance. 
The play continued without Laurie but I was still entranced. Stripping away all the technicalities of theater (lights, costumes, music, setting, etc.), a new atmosphere for performing is created. Nobody's performance outweighed any others, we were all just college students performing to our computer screens. 
Scattered and lagged applause from my speakers signaled the end of the play. I applauded, for my fellow cast-mates and for myself. Everyone began talking about the performance, praising each other, and laughing about the contents of the play. However, it was unanimous that we all had a good time. Plans were already being made for next Sunday.
"I feel like everything's been deepened because we are online," Darley said. "We could never have 30 people inside one person's apartment. The screen gets rid of all of that and still elevates the personal aspects."
Others must be feeling the impact of the virtual performance settings as well, as Darley said that more people keep coming and in bigger numbers. 
"Theater is gate-kept in a lot of ways which is odd because it's one of the most purely community oriented artistic mediums, and is very misunderstood," Downing said. "We explicitly state in the bio of our Instagram that anyone is welcome because that's the truth of it."
The organization is low stakes; a characteristic that the board members hope to maintain. After all, no one's getting a Tony for a Sunday afternoon Discord performance.
Downing wants to see Playdate KU's potential snowball -- growing into something exceptionally larger than it is now. The organization, myself included, is excited to see how far Playdate KU can go.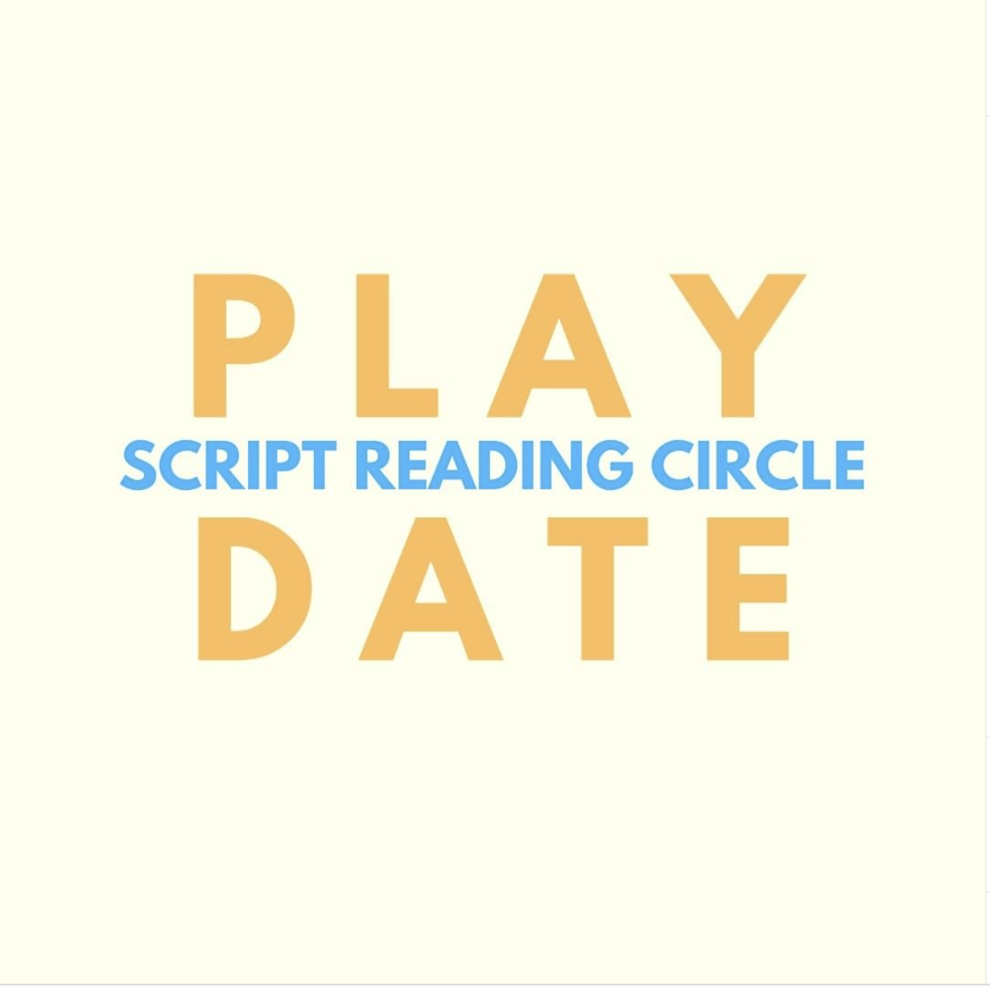 Information about upcoming plays and cast lists can be found on Playdate KU's Instagram, @playdateku. Every Sunday, a call for casting is posted on their Instagram story as well as a link to the Discord server. Anyone is welcome to participate.