Worldwide car culture is at an all-time high. The phrase "car club" can cover pretty much any organized group of car enthusiasts. Some, like the Corvette Club of Kansas City, focus on a specific make or model. Others, like the Lawrence All-British Car Club, focus on cars' nationalities. Some are local, regional or national. So, it should be no surprise that the University of Kansas has its fair share of car enthusiasts and owners. 
The KU Car Club is simply for those who president Patrick Philpott calls "casual enthusiasts." Owners and fans of cars as diverse as Hyundais, Subarus, BMWs, Chevrolets and Volkswagens bond over their love for all things automobile.
"If you just like cars, and you want to join, you're more than welcome," Philpott says. "The more, the merrier."
Philpott, a junior studying strategic communications who's originally from Ireland, founded the KU Car Club as a freshman in 2019. Missing the car culture around his home in Anna Maria, Florida, he felt the need for a car club at KU. 
Philpott's love for cars runs deep. In addition to his prized 2018 Audi A4, which has been modified with a lowered suspension, custom exhaust system and a carbon-fiber-trimmed engine bay, his family has a background with cars. Philpott's dad, Robbie Philpott, raced rally cars in Ireland and Great Britain for sponsors such as Ford, Subaru and Talbot. 
"I can remember [my father] sat me down in a bucket seat in a 600-horsepower rally car – fully caged, and everything. It was just something that I always grew up with," Philpott says. 
Philpott, along with his roommate, girlfriend and three other friends, met the minimum requirement of members to form an organization, but lacked a faculty sponsor. When one member heard that Chancellor Doug Girod was a car enthusiast, Philpott says that they reached out.
"I was ecstatic the day I found out that the chancellor wanted to be our faculty sponsor – I couldn't believe it," Philpott says. "I was like, 'Okay, we can't really get any higher than this.'"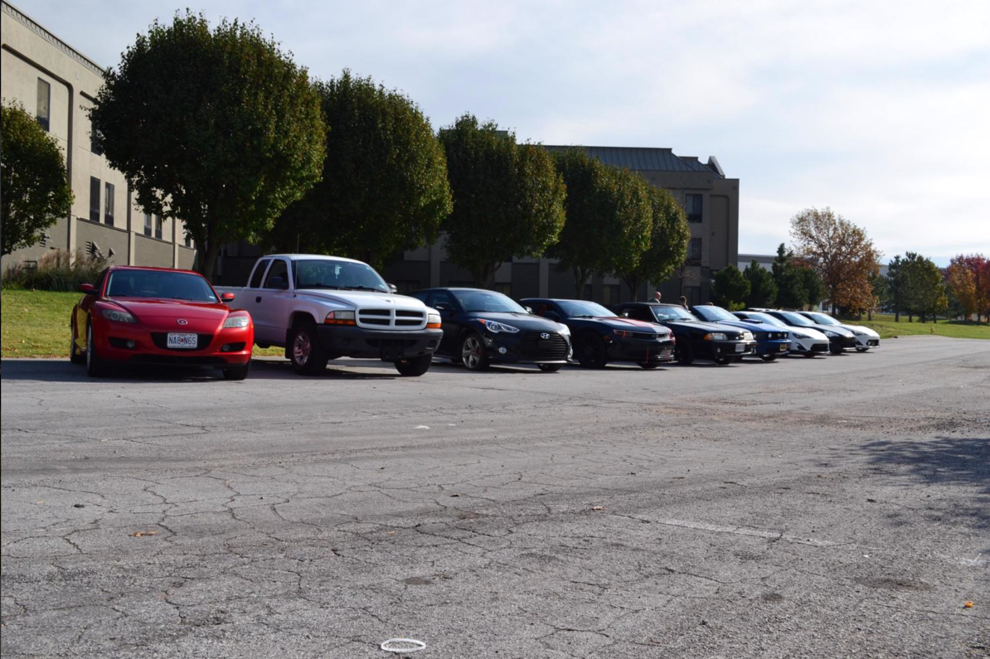 Camaraderie and mutual appreciation for cars are the bedrock of the KU Car Club. Philpott says that members will pick up students who don't have cars to take them to club events. Club events include "Cars and Coffee," car shows at local bakeries or coffee shops, leisurely drives around Lawrence, go-karting (which Philpott says is as competitive as Formula One racing), going to other car shows and hosting charity events.
Conlin Hutsell, a sophomore from Topeka majoring in business, appreciates the atmosphere and people of the club. He drives a 2004 Subaru WRX. 
"We might joke about each other's cars sometimes, but we never truly make people feel bad about what they drive," Hutsell said. "They're all really accepting people."
Alex Halsey, a sophomore from Lawrence studying communications, recently bought his dream car, a 1999 BMW 740i, with advice from a fellow KU Car Club member. He says that joining the club was one of the best decisions he's made in college. 
"The friendships I make with people there, they're super tight, because we can all relate to something," Halsey says. "It doesn't matter if you don't agree on politics… because we're all united by cars."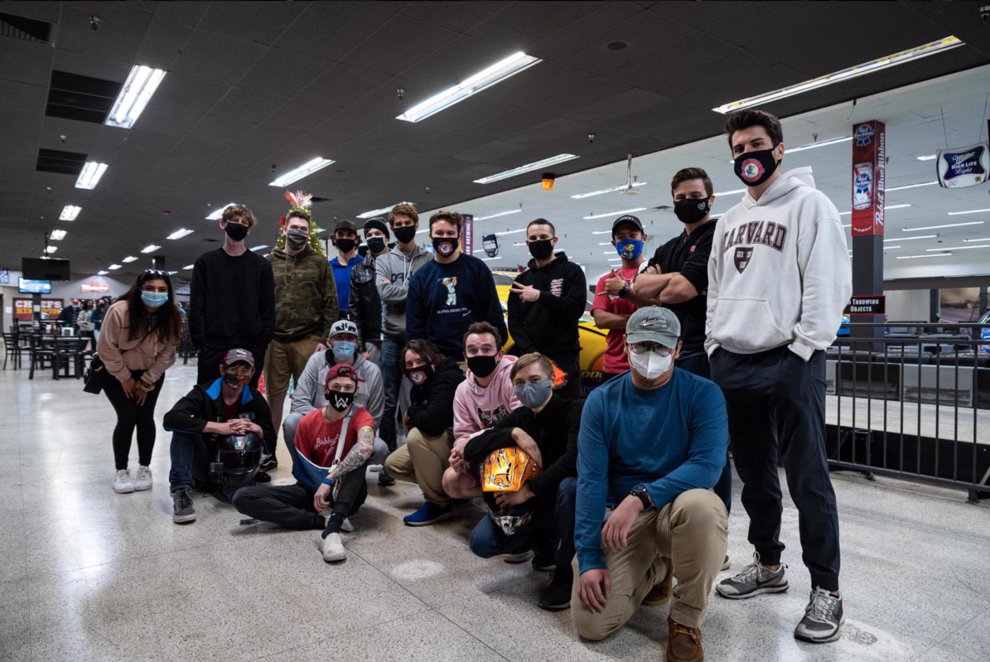 Philpott says that his goals are to make a lasting impression on the KU car enthusiast community and to positively represent car enthusiasts. Through club events, Philpott hopes to both give back to the community and change negative perceptions about car enthusiasts.
"We're trying to create a positive image for the car community, rather than thugs or outlaw guys who just want to street race," Philpott says.
One of the biggest events the club has hosted so far was a "Toys for Tots" event at Freddy's Frozen Custard & Steakburgers on 23rd Street. The event, which took place in December of 2019, resulted in the donation of 110 toys.
In April, the KU Car Club plans on hosting a charity event inside David Booth Kansas Memorial Stadium. Club members will be allowed to park on the south concrete section of the stadium under the scoreboard. The club is teaming up with KU Athletics and Campus Cupboard, a KU food pantry. The entry fee will be a donation to Campus Cupboard, which will make a list of items it needs most. Philpott says that this will be KU Car Club's biggest event yet.
The KU Car Club, currently 51 members strong, has given Philpott many friends, and his club has helped others find a community of their own. He remembers a note that a freshman gave him, thanking him for giving him a place that he can call home.