A black Fiat playing "God Bless the USA" by Lee Greenwood drove past Spooner Hall. Onlookers with their dogs watched as "Untitled (Flag 2)" by Josephine Meckseper was taken down by KU on Thursday afternoon. Afterwards, a graduate student with a sign reading "A flag flown correctly. Finally!" appeared to protest the art's removal.
"I think we all have a right to free speech," Joe Hams, the gradute student supporting the installation, said. "Universities are places for individuals, for students to come learn, share their ideas."
"Untitled (Flag 2)" was part of the "Pledges of Allegiance" exhibition that has been featured at 13 locations across the country and has been on display in front of Spooner Hall since last November. This particular piece of the collection has been on display since July 5. 
However, unlike other flags in the exhibition, this work by Meckseper showed the American flag with a black and white sock and black patches symbolizing the United States divided in two. 
"Over the course of the day, the conversation around this display has generated public safety concerns for our campus community," Chancellor Douglas Girod said in a statement to the campus community. "While we want to foster difficult dialogue, we cannot allow that dialogue to put our people or property in harm's way."
Backlash came from across the state, including pressure from Kansas Governor Jeff Colyer's office, to remove the flag. 
"I have communicated with KU Chancellor Douglas Girod and Board of Regents President Blake Flanders to express my disappointment that a taxpayer funded institution would allow such a display of our sacred flag, and I demand that it be taken down immediately," Colyer said in a statement.
#ksleg #ksgov pic.twitter.com/FciqIg06Is

— Governor Jeff Colyer (@GovJeffColyer) July 11, 2018
Other gubernatorial candidates also weighed in on the flag: 
It's outrageous that you would see a public university displaying a desecrated flag. The fact that they call it art does not make it any less of a desecration of our flag. I call upon the university to take down that flag right away. https://t.co/sCFzSHEzI1 #ksleg #TeamKobach

— Kris W. Kobach (@KrisKobach1787) July 11, 2018
Steve Watkins, a Republican running for Kansas' second congressional seat told the Lawrence Journal World that the flag had been "defaced." The chair of KU's College Republicans called the art "extremely distasteful."
Even with the harsh criticism for the art — which was privately funded and sponsored by The Commons and The Spencer Museum of Art — some students believe that taking down the flag was allowing the governor to "strong arm" the University and silence the artist's free speech.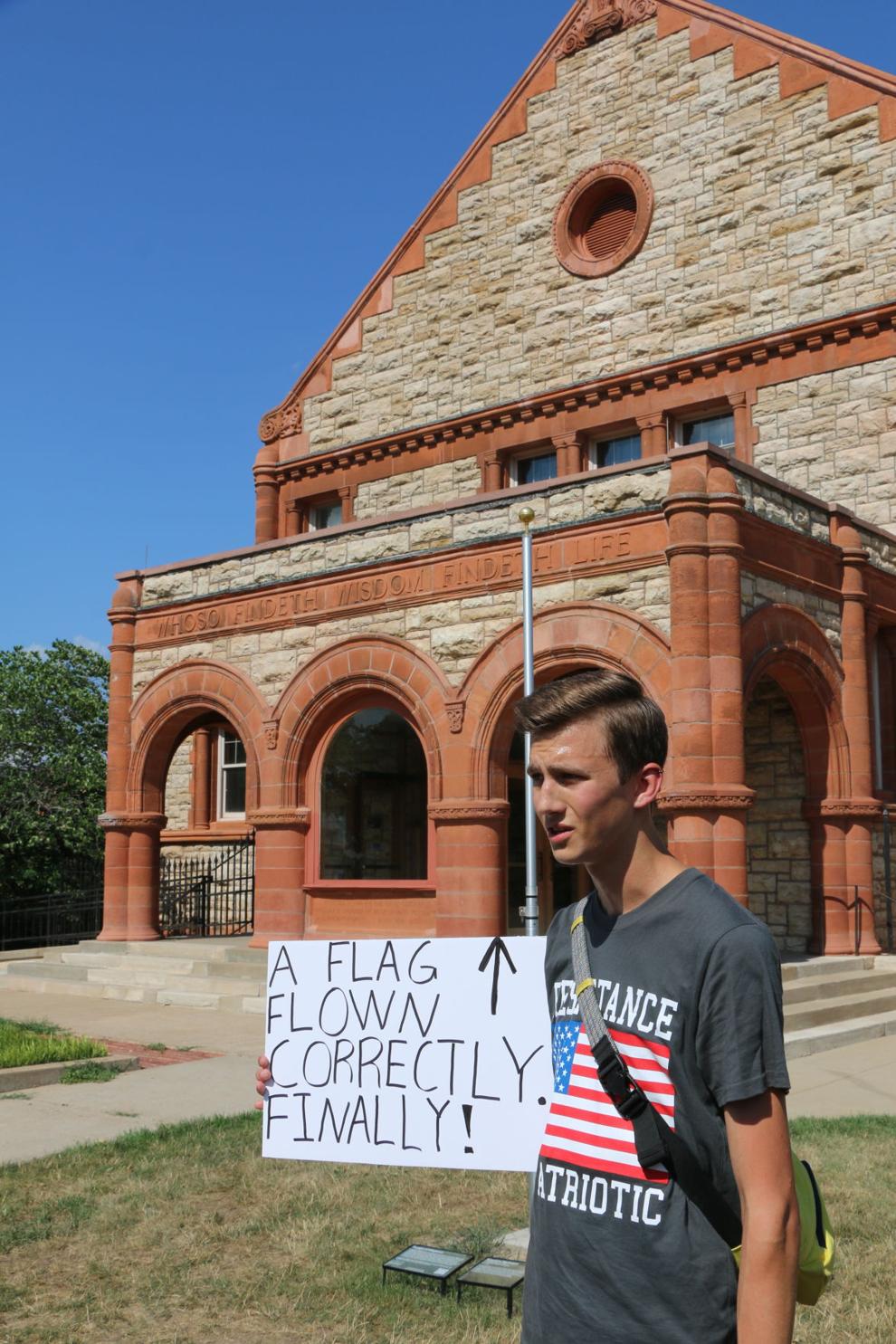 Hams said that this isn't the first time that he's felt like someone's free speech was targeted on a college campus.
He finished his undergraduate studies at the University of Nebraska-Lincoln where a graduate teaching assistant in the English department was reassigned after video surfaced of her calling a student a "neo-facist."
The school also received pressure to act after multiple conservatives online and on social media posted about the incident.
"They targeted her because they didn't like the message she was sharing," Hams said. "They accused her of bullying an undergraduate student and she's had a really hard time since then."
Hams also said that Nebraskan Governor Pete Ricketts similarly stepped in to address the incident at UNL to incite change.
"The exact same thing happened at UNL," Hams said. "It wasn't a big deal until the governor, Pete Ricketts, and a bunch of other powerful Republican politicians stuck their nose into the university's business and started strong arming people."
Hams said that he will continue to support the art for the rest of the evening or as long as he can.
"It's a perfect example of a divided country, a divided state and now a divided campus," Hams said.
Chancellor Girod said that the exhibit will be relocated to the Spencer Museum of Art.