Susan Tabor spends her time assisting the same program she has been a listener of since she was a student at the University over 40 years ago: Audio-Reader.
Audio-Reader is a service that provides both readings and information to those who are blind, visually impaired or print disabled. 24 hours a day, the network reads newspapers, books and magazines to individuals who need it.
Tabor, who lives in Lawrence, is currently an administrative assistant at Audio-Reader, and she has been working for the network since 2003. However, Tabor, born blind, has been listening to the program for longer than she has been working for it.
"I remember some of the early days," Tabor said. "I remember when the Watergate tapes were published in book form, Audio-Reader had people reading all around the clock to get it read, so that [Audio-Reader listeners] could have it at about the same time."
Tabor began working at Audio-Reader as a volunteer, with most of her work involving proofing braille material. But Tabor began to get more involved when she served on the Audio-Reader Development Committee. After working as a volunteer, Tabor became the assistant coordinator of volunteers before arriving to her current position, administrative assistant.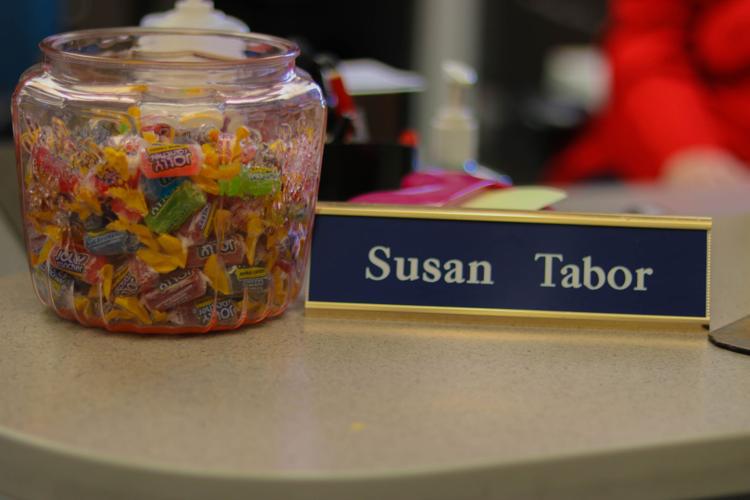 As an administrative assistant, Tabor said she forwards phone calls and emails to whoever needs the information. Tabor is able to read emails sent to her with a text-to-speech software installed on her computer, which reads the text on the page into her headphones. She said she also gives feedback to the volunteer readers on their broadcasts.
"[Tabor] offers a different perspective that an organization like ours needs," Lori Kesinger, the outreach coordinator at Audio-Reader, said. "We tend to go, 'Well this is what we think needs to get done,' and it's great to have someone that can give first-person experience to some of the situations."
Tabor said she was born without sight after a two-month premature birth. Her father was a student at the University at the time, so she was born at Lawrence Memorial Hospital.
"I was supposed to be born after my dad's finals, but was born in the middle of them instead," Tabor said.
Tabor's family lived in Lawrence for the first three years of her life before moving to California for about a year, only to return to Kansas and live in Wichita. Tabor said she was the first blind student to graduate from the Wichita public schools.
"I always tell people that that's where I learned to B.S., because I always had to pretend like I knew what I was doing because my books were always late," Tabor said.
After graduation, Tabor went on to pursue her bachelor's and master's degree in social welfare at the University of Kansas. She used her degrees to work as a benefits advocate for Independence Inc., the local center for independent living, for about six years.
Tabor lives with her husband and cats, who she said she makes sure to feed every day before going to work at the Audio-Reader Network.
Tabor said she is currently very active with her community at the St. John the Evangelist Catholic Church. She is the chair of the Social Justice Committee, reads passages from the Bible in braille, and sings in the church choir.
"I coordinate a ministry to people who live in the parish who are elderly or disabled," Tabor said. "That and the social justice stuff probably keeps me busiest."
Tabor constantly works to make the world brighter, whether it is helping Audio-Reader in every way she can, or spreading her faith to those in need.
— Edited by Ashley Hocking