The University of Kansas is looking to spend nearly $200 million on a second Integrated Sciences Building, three years after a gamble on international student enrollment resulted in a university-wide $20 million budget cut to make up for the construction of the Central District, which included the first Integrated Science Building.
KU submitted the proposal for the new building, called ISB 2, in its capital improvements request to the Kansas Board of Regents (KBOR) during its monthly meeting April 16. The estimated total cost of the project is $198,276,000 and payment would begin in fiscal year 2023, according to the document submitted to KBOR.
Funding for the project would span from fiscal year 2023 to fiscal year 2026 and would be paid for with university funds, student fees, private gifts and federal funds, according to the capital improvements request. KU spokesperson Erinn Barcomb-Peterson said in an email that the building would be funded by a combination of sources, "which means taking advantage of federal funds and private gifts, in addition to university funds and student fees."
The request comes as KU is facing a budget shortfall of $47.6 million in the current fiscal year due to the coronavirus pandemic. In February, KU projected a $74.6 million shortfall for the upcoming fiscal year. It also comes as KU administrators are weighing an option to terminate tenured faculty, a temporary cost-saving KBOR policy implemented in February. 
KU was the only state regent's university out of six that did not immediately reject the tenure-terminating policy. Instead, Provost Barbara Bichelmeyer requested an extension from KBOR to July 1 to make a decision on if and how KU will utilize the policy to save money.
Barcomb-Peterson did not respond to questions regarding the budget shortfalls the university is facing in accordance with the $200 million capital improvements request.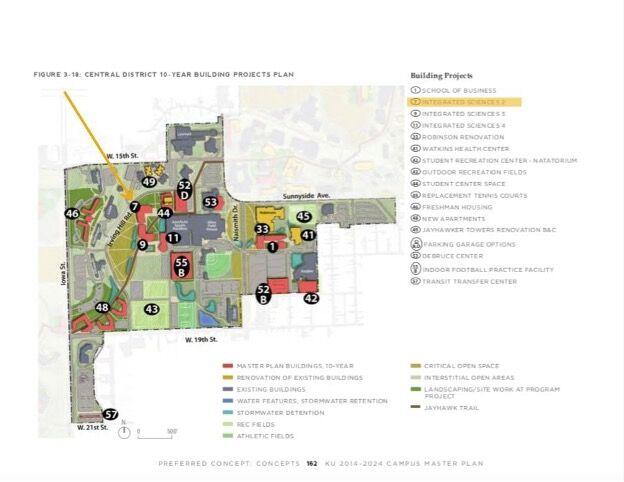 It is too early in the process for an exact breakdown of the funds, Barcomb-Peterson said. Multiple interview requests with KU's new Chief Financial Officer Jeff DeWitt about the financial plan for ISB 2 were declined.
Representatives from KU did not speak during the KBOR meeting in which the capital improvements request was introduced.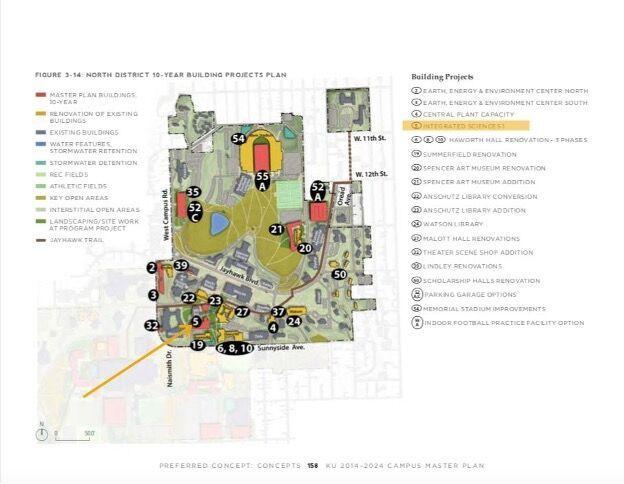 ISB 2 is part of KU's campus master plan — a 10-year program of potential projects that "focus on creating sustainable land use patterns as well as academic research communities that will enhance student success and life on campus," according to the plan. It spans from 2014-2024 and has included projects such as the construction of Capitol Federal Hall and the demolition of McCollum Residence Hall. 
The current ISB, now named Gray-Little Hall and was also included in the campus master plan, was part of the larger construction of KU's Central District. It included plans for the Burge Union, Downs Residence Hall and the Stouffer Place Apartments. 
KU relied on international student enrollment doubling from 2,283 in 2014 to offset the costs of construction of the Central District, according to the Kansan's previous reports. The university hired an outside contractor to recruit more international students, who would be expected to pay between $40,000 and $45,000 in tuition and fees.
After international student enrollment dropped by about 4% from 2014 to 2017, former Interim Provost Carl Lejuez announced an emergency budget cut of $20 million for fiscal year 2019.
Barcomb-Peterson said the $20 million budget cut in 2018 occurred due to multiple reasons.
"As we have said repeatedly, the budget reductions we undertook in 2018 stemmed from a need to recalibrate our budget for multiple reasons, among them a decade-long trend of declining state funding, long-term commitments that exceeded revenue and outdated institutional budgeting practices," Barcomb-Peterson said in the email.
In 2015, Moody's Investors Service, which rates credits of institutions, changed its outlook on KU from "stable" to "negative" because KU had made "optimistic revenue growth targets, partly from a large increase in international enrollment," the Kansan reported.
The new building would house biological science teaching and research labs, an enclosed space to raise and observe living animals and plants and other associated core labs, Barcomb-Peterson said. A third and fourth ISB are also included in the Campus Master Plan, but KU only submitted a capital improvements request for ISB 2.
The campus master plan shows ISB 2 situated on Irving Hill Road in the Central District, west of the Burge Union. However, the plan was created in 2014 and initially designed Gray-Little Hall to be built in KU's North District, east of Murphy Hall and north of Summerfield Hall. Barcomb-Peterson said it "may be linked" to Gray-Little Hall and the Central District parking garage. 
KU's Director of Facilities Planning and Development Mark Reiske did not respond to an interview request regarding the building plans of ISB 2 in time for publication.
KU is also gearing up to remodel the Adams Alumni Center, a $30 million project paid for by private funds that would add a 50,000 square foot addition for a new "Jayhawk Welcome Center." Faculty members were angry and frustrated at the news, said Faculty Senate President Lua Yuille in a written report to University Senate on March 25. Yuille previously told the Kansan that "the chancellor should have stepped in and stopped this."
Construction of ISB 2 will be contingent on approval from KBOR of the capital improvements request. Barcomb-Peterson said a construction timeline is unknown because it is too early in the process.
KBOR will reconvene May 19 to vote on KU's capital improvements request, which also includes a request for funds to reconstruct Sunnyside Avenue and Naismith Drive.