The Graduate Teaching Assistant Coalition, the only unionized group of workers at the University of Kansas, was formed as a result of poor working conditions for graduate teaching assistants.
In its nearly 30 years as a union, GTAC has had continuous disagreements with KU — some leading to standstills in negotiations and charges filed against KU — over adequate pay and treatment of GTAs. 
GTAs at KU first unionized in the 1990s after a legal battle with administrators.
In October 1994, the Kansas Public Employees Relations Board, a board that handles unfair labor practice complaints against public employers, ruled that GTAs were considered state employees and were therefore allowed to unionize, after administrators at the time said GTAs were primarily students in training for a career.
The plan to unionize came after KU faced budget problems and figured out it could hire six GTAs for the price of one professor, the Lawrence Journal-World reported at the time. It was this and a drive to improve conditions for GTAs that inspired the effort to unionize nearly 1,000 KU GTAs and create the Graduate Teaching Assistant Coalition. 
"When the union was formed, workers then experienced exactly the same abuse that workers are experiencing now, but they didn't have any vehicle to address that," said GTAC negotiations chair Patrick Gauding.
As of fall 2019, there were 1,167 GTAs employed at KU, according to KU's Analytics and Institutional Research. Currently, there are around 200 dues-paying members of GTAC at KU, GTAC Grievance Chair Hannah Bailey said.
Since its rocky formation, the union has faced difficulties with KU administrators. In 1998 after a bill was introduced to the Kansas Legislature that would disqualify GTAs at Kansas Board of Regents schools as public employees, GTAC asked KU to speak out against it. 
Then-Provost David Shulenburger did not oppose the bill, claiming that supporting GTA employee status would go against KU's previous position on GTAs. Shulenburger was one of the biggest opponents of GTAC's formation in 1994. 
Contract negotiations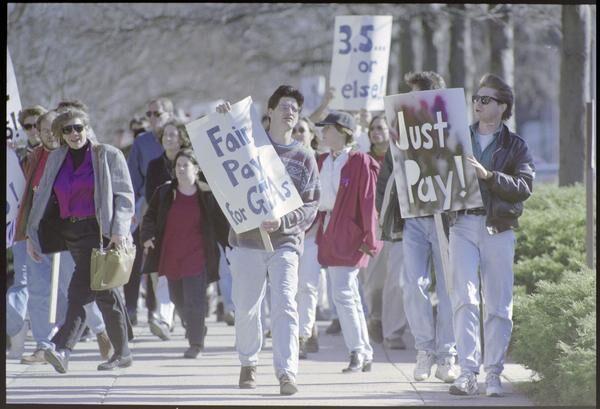 Once GTAC's three-year memorandum of agreement with KU, which was approved in 1997, ended, it submitted a new contract proposal in September 2000. The contract asked for a base salary of $14,000 for GTAs.
KU administrators responded six months later with a counter proposal of $7,000. In response, GTAs rallied on Wescoe Beach, protesting the lack of minimum pay for graduate students.
GTAC and KU spent months negotiating the terms of the contract. In December 2001, GTAs asked for a minimum pay of $11,000, increasing by $1,000 in each year of teaching. KU countered with $7,000, $7,700 and $8,400. 
The negotiations concluded in August 2002, nearly two years after the initial proposals were made. KU agreed to a minimum salary of $8,000 for the first year of the contract, followed by $9,000 and $10,000 in the following two years.
Every three years, GTAC returned to KU administrators with new conditions for contract negotiations. Some of the conditions included more salary increases and a lift of the 10-semester teaching restriction for GTAs. 
Often times contract negotiations lasted for months. In 2006, almost a year after GTAC proposed its third contract, negotiations halted when administrators did not agree to repeal the 10-semester teaching limit and wouldn't allow the union to speak at GTA orientation sessions.
"It's unfortunate that they chose to focus on these non-economic issues when the average GTA would like to see the salary increases," former KU spokesperson Lynn Bretz told the Lawrence Journal-World in April 2006.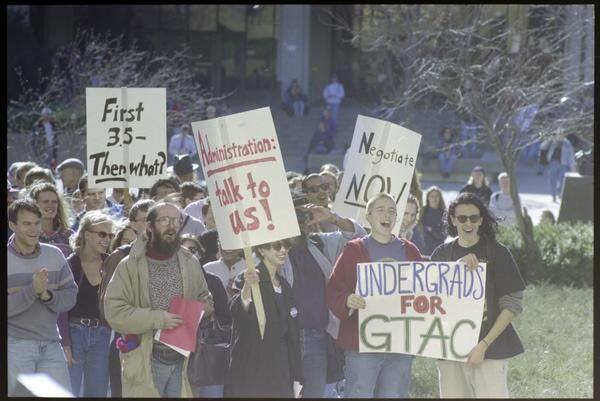 Negotiators for the union said they were working to advocate for GTAs, and even the minimum salary increase proposal of $11,000 was not enough for them. After months of standstill in negotiations and protests pouring into the following school year, negotiations picked back up with a neutral mediator to aid in discussions.
'Ebbs and flows'
Before 2014, contract negotiations between GTAC and KU were scheduled to happen every three years. Some years, the negotiations didn't happen because some active union leaders had graduated by the time new negotiations were supposed to begin.
"The union first formed in the 90s, but we've had some years where we've been defunct," Bailey said. "Some people would come and some people would leave, things would fall by the wayside, and so there's been some ebbs and flows in our history."
GTAC's contract remained unchanged from 2010 until May 2014. Union members and administrators agreed to a minimum wage increase of $1,000, guaranteeing at least $14,000 for GTAs for the 2014-2015 school year. They also agreed to adjust the terms of the contract, making negotiations every two years to allow for more continuity among union members.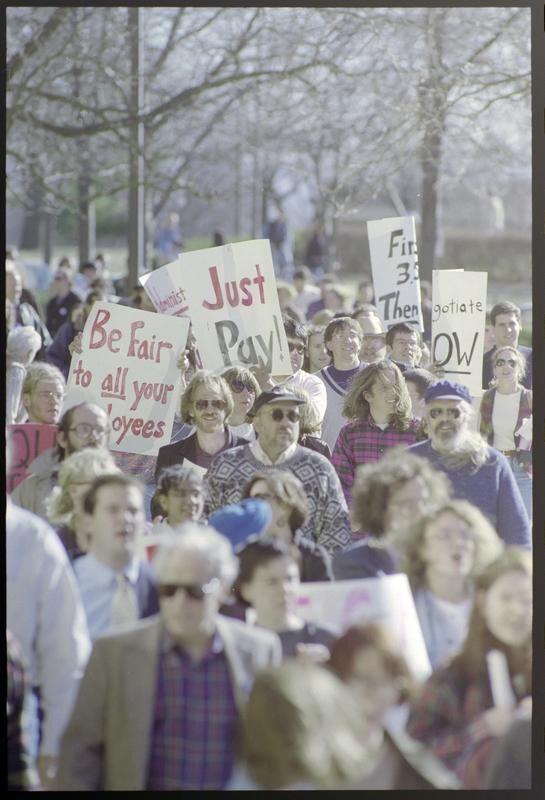 GTAC has negotiated its contract every two years since 2014. In 2018, negotiations resulted in a minimum salary increase to $16,250, despite KU facing a $20 million budget cut. 
"It's always in our interest to try to increase our pay to make closer to a living wage," Bailey said. 
KU and GTAC are currently in contract negotiations. The union formally submitted a letter of intent to open negotiations to KU administrators in early March requesting to begin negotiations in April, but agreed to push to allow administrators time to assess the coronavirus pandemic at KU. 
Disputes with KU
GTAC has filed several complaints against KU to the Kansas Public Employee Relations Board.
In 2018, GTAC filed a complaint to PERB, a state board that handles unfair labor practice complaints, against the KU Department of Applied Behavioral Sciences and the KU Department of Curriculum and Instruction, alleging that in response to the complaints the departments engaged in coercive and intimidating factors and threatened job layoffs as a result of the complaints.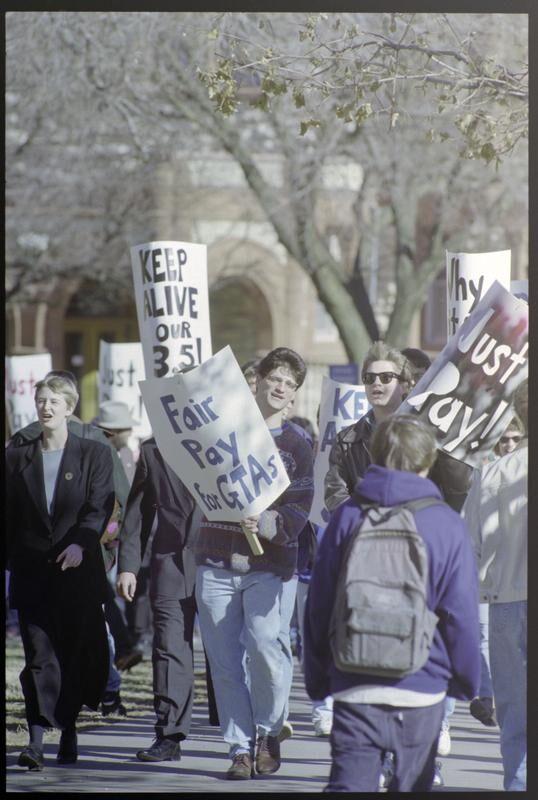 Also in 2018, GTAC filed a complaint to PERB alleging that KU administrators violated the grievance procedure in their contract, a procedure designed to allow GTAs to bring up dissatisfaction in the workplace to their employers. 
In July, GTAC filed four complaints against KU. The union alleged that KU administrators ordered GTAs to work without pay, denied the organization its right to file grievances, refused to communicate with the organization to resolve grievances and excluded appointed representatives from meetings regarding how KU was to hold classes during the pandemic.
Members of the union said the "escalation of hostilities" from KU administration led the union to file the charges, and already strained relationships with KU were broken entirely. Jill Hummels, director of external affairs in the provost's office, declined to comment on the charges at the time because it is not KU's practice to comment on such proceedings while they are underway.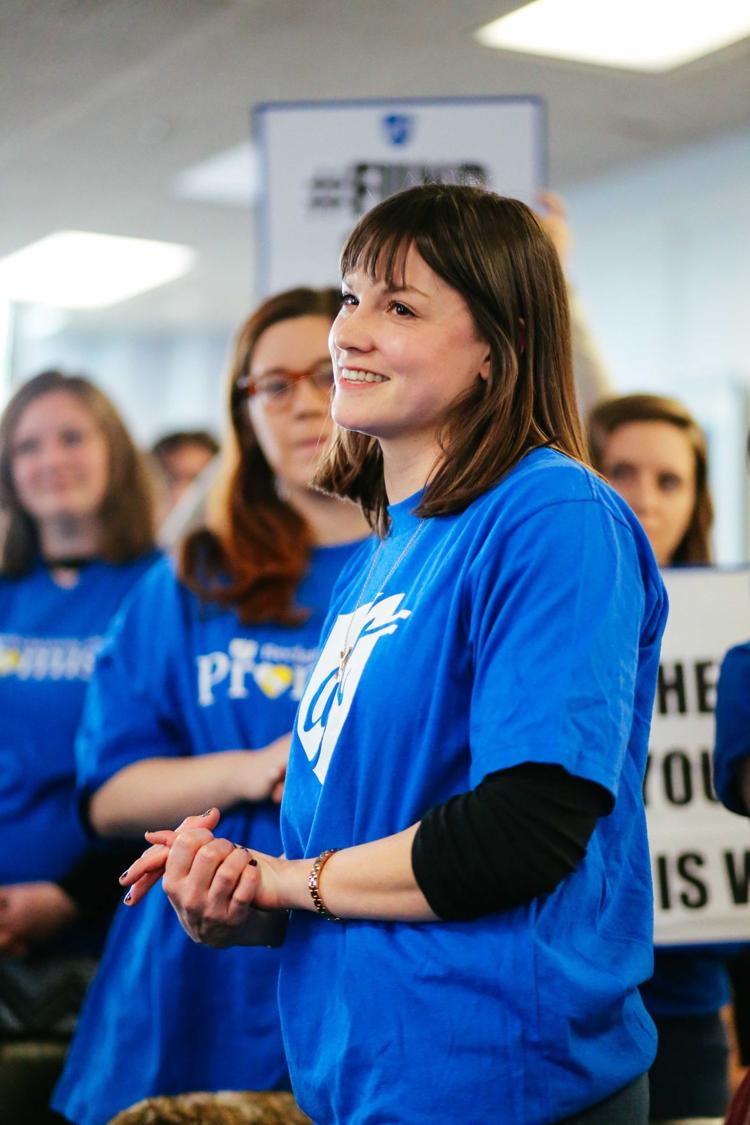 Tensions only heightened when GTAC showed support for graduate and undergraduate students who planned to participate in a Labor Day strike calling for KU to close campus due to rising coronavirus cases. In an email to GTAs, GTAC said it supported undergraduates who were "shouldering the burden entrusted to [Chancellor Douglas Girod and Provost Barbara Bichelmeyer]", and would provide legal defense for GTAs who faced discipline for participating.
KU Director of Employee Relations Julie Thornton said GTAC was implicitly endorsing an "illegal sick-out" and violating the union's MOA by doing so.
It is not GTAC's intention to be in conflict with KU, Bailey said.
"It's always our hope to work to get things done for GTAs," she said. "We want to work with administrators to make our work environments more equitable."
Contract negotiations for 2020 are now underway. In the initial letter of intent to KU, President Neill Kennedy and Gauding listed eight articles in the current MOA they wished to open, two sections they wished to add, and two new article proposals.