Hours before the Kansas primary election, roughly a dozen University of Kansas students were surprised to learn Douglas County District Attorney Charles Branson blocked them from his re-election campaign's Twitter account. 
Branson also blocked KU Student Body President Apramay Mishra and Haskell Indian Nations University Student Government Association President William Wilkinson. 
Both student government leaders said they haven't interacted with Branson in-person or online before. They only liked a tweet from KU Young Democrats that linked to an editorial from The Kansas City Star. That editorial criticized how Branson handled prosecuting sexual assault during his tenure. 
"It is unbelievable to me that one of my elected officials would block any chance to interact with their constituents," said Mishra, who is also a lifelong Lawrence resident.
Branson has been district attorney since 2004. He ran unopposed until this election season. In today's primary election, he faces two primary challengers — defense attorney Cooper Overstreet and KU professor and prosecutor Suzanne Valdez.
Branson did not respond to a request for comment by time of publication.
The First Amendment protects individuals from being banned by government officials' accounts over a disagreement in views. Judges have upheld that ruling in other district courts across the United States. 
The most notable case happened in July 2019, when Twitter users sued President Donald Trump from blocking their personal accounts. A judge ruled Trump's actions were unconstitutional.
But strictly personal accounts and officials' campaign accounts are in more of a gray area, experts said. While Branson is the incumbent candidate, the account is not that of his district attorney's office. 
"Legally, it's either government or it's not," said Frank LoMonte, director of the Brechner Center for Freedom of Information.
But LoMonte added that a public official blocking others for no clear reason still might not be the best idea.
"It's just a judgement call," he said. "It's a matter of, 'Is it a good idea to run your account that way?'"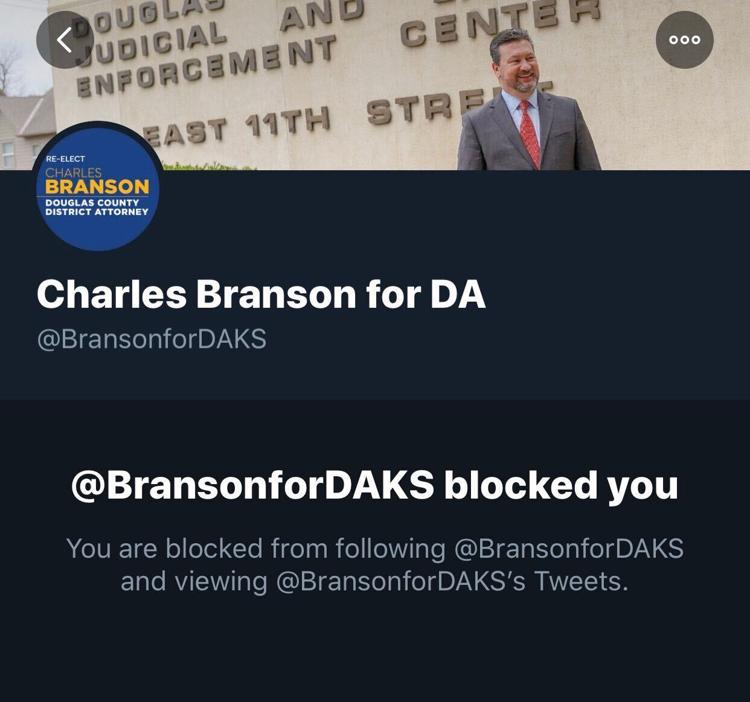 Max Kautsch, a First Amendment attorney in Lawrence, said the appropriateness of a social media block depends on circumstances. For example, he said, such a move might be seen as reasonable if a follower is making comments considered potentially threatening or harassing to the candidate or others in the campaign.
But generally speaking, Kautsch said, a candidate for public office blocking individuals simply because they disagree with him or her is unreasonable.
"The main thing is, if it's a social media page that's officially the candidate's page, it's an infringement of the First Amendment rights of the commenter's to just get blocked for their point of view," Kautsch said.  
Most of the KU Young Democrats executive board was blocked by Branson's Twitter account, club members learned Monday. 
"We were shocked that an incumbent who represents us would block us, because that just seems absurd and in a sense, cowardly," said Nick Hinman, the executive director for KU Young Democrats. "That's not the sort of representation that I expect." 
Wilkinson, the student government association president at Haskell, said he has never met Branson or contacted him, other than "knowing that I got blocked by him."
"It's definitely surprising that he blocked student leaders in Lawrence — with me and Mr. Mishra — and other student groups that are talking about his actions," Wilkinson said. "It's shocking that a public servant would do that."
Primary election polls are open in Lawrence and Douglas County until 7 p.m.