Members of the Delta chapter of Alpha Kappa Alpha sorority at the University of Kansas celebrated when their sorority sister Kamala Harris was elected vice president in the 2020 election. 
Before her political career, Harris was a member of AKA at Howard University, where she received her undergraduate degree. AKA was the nation's first Black sorority, founded in 1908.
In 1915, the Delta Chapter of AKA was established at KU. This chapter is one of the oldest among all AKA chapters in the U.S. and is the oldest Black Greek letter organization at KU.
"I was astounded [when Harris got elected]," the Delta Chapter's National Pan-Hellenic Council liaison Destiny Ragland said. "It was really awesome to hear not only a Black woman was elected, but to know she is a member of our sorority is a really big deal."
When president-elect Joe Biden and Harris secured enough electoral votes to win the presidency on Nov. 7, Harris made history in many different ways. As vice president, Harris will not only be the first woman, but the first Black and South Asian American in that position after being the only Black woman in the U.S. Senate during her time.  
KU's AKA Vice President Makyia Flowers-Tolliver said the election of Harris is an important beacon of representation.
"It's good for younger girls to know something like this is possible for them," Flowers said. "Not only is Kamala Harris a woman, but she's also a woman of African descent; so it's a really big step for everyone."
AKA Membership Intake Chair JaRen Dailey said she feels Harris's election gives a voice to women of color at a much higher level.
In his victory speech, Biden recognized the record turnout of Black voters securing his win.
"Black women have been the backbone of the Democratic Party," Ragland said. "It's nice to get that recognition years and years later."
Flowers and Ragland said they hope having Harris as the vice president will cause people to take Black women more seriously in professional settings. While Dailey, Flowers and Ragland all have their own political views, they all display Alpha Kappa Alpha sorority's passion of serving their community — just like Harris.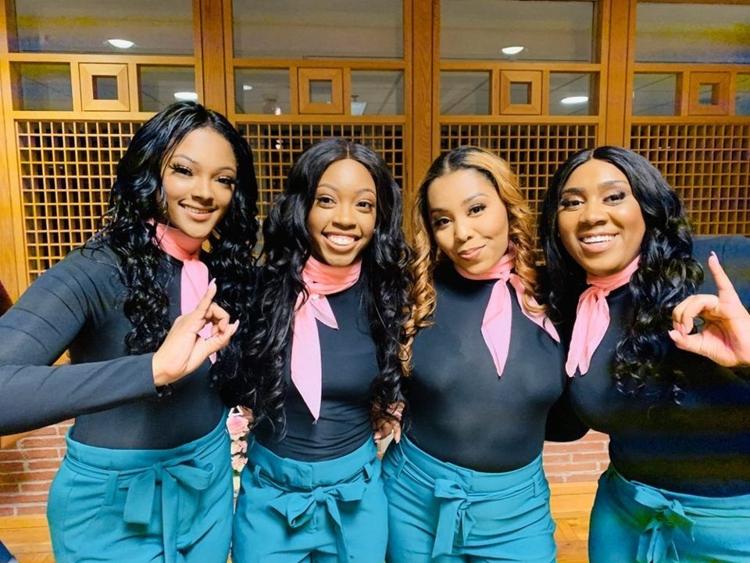 "AKA teaches you how to be a go-getter," Dailey said. "In order to have a position in this organization, you have to work really hard. I feel like [Harris] will take that with her in her vice presidency."
AKA has long been a sorority that produces successful Black women like Maya Angelou and Alicia Keys. Many U.S. politicians and world leaders have also been a part of AKA, including multiple U.S. representatives and the first female president of Liberia, Ellen Johnson Sirleaf. Actress Etta Moten Barnett was also a member of the Delta chapter at KU.
"I feel like AKA works really hard to build us up as leaders," Dailey said. "Outside of [Harris] being in AKA, I feel that she stands for what Black women need."
Ragland said Harris' election is just the first step in representation.
"In order to make change, you have to be the root of it," Ragland said. "If we don't have people who look like us, we don't have people that think like us."
The representation Harris provides to all women, Flowers said, starts a conversation emphasizing that women belong in places where crucial decisions are made.
"Seeing a woman of color up there speaking articulately and politely and debunking all the stereotypes we fight against every day is definitely a really good thing," Flowers said. "I hope [her election] will allow people to take us more seriously and want us in these spaces."