While he was a student at the University of Kansas, Jonah Stiel spent 10 hours almost every week in James Blakemore's lab investigating how to store renewable energy for future use.
Stiel, a chemistry major from Topeka, says one of the most valuable parts of his research was interacting with Blakemore, an associate chemistry professor. Blakemore gave him a better understanding of what it means to be a professor and work in academia, Stiel says.
"The role that Dr. Blakemore played is just irreplaceable," said Stiel, who graduated in May. "There is no one in our research enterprise who knew half as much as he did. Everyone really relied on him and he did his best to share and distribute his knowledge with the rest of us."
Stiel — a Beckman Scholar, Astronaut Scholar and Barry M. Goldwater Scholar — paid specific attention to the number of courses taught by professors versus graduate teaching assistants when initially selecting which university to study at, he says.
But recent data published in the University of Kansas Chapter of the American Association of University Professors' spring newsletter shows that the number of experts like Blakemore for students at the University to learn from is decreasing.
From 1968-1980, the number of assistant, associate, full and distinguished professors without administrative appointments at the University steadily increased and then slightly fluctuated from 1980-2009, according to the data.
2009, however, marked the beginning of the most significant and steady decrease in faculty numbers counted by KUAAUP, according to a spreadsheet containing the original calculations emailed to the Kansan by Aerospace Engineering Professor and Kansas AAUP Committee A Co-Chair Ronald Barrett-Gonzalez.
From 2009-2021, the number of assistant, associate and full and distinguished professors without administrative appointments at the University decreased by 34.1% from 1,015 professors in 2009 to 669 professors in 2021, according to Barrett-Gonzalez's spreadsheet.
Last year, the faculty numbers were at their lowest since 1968, when there were 706 professors from each corresponding category according to the graph and spreadsheet.
"It's extremely concerning," Stiel said. "I know that budgets are always tight in public universities, but really, at the end of the day, these professors are the whole reason why we're all here. We're all here to learn from them and in the case of chemistry and many other research disciplines, do research with them."
"As an alumnus, I'm pretty upset about this"
Behind KUAAUP's data is a concerned professor.
Barrett-Gonzalez, a data analyst himself, compiled the data and counted the numbers displayed in KUAAUP's graph. He says he spent approximately four months on and off using data parsing to count the number of professors on the University's payroll and the number listed within Academe, a publication stored in the archives of Anschutz Library.
"I'm incrementally more invested in KU than your average [person] because it's also my alma mater," Barrett-Gonzalez said. "And I've seen it run into the ground for the past decade, and it doesn't sit well with me and most other faculty members."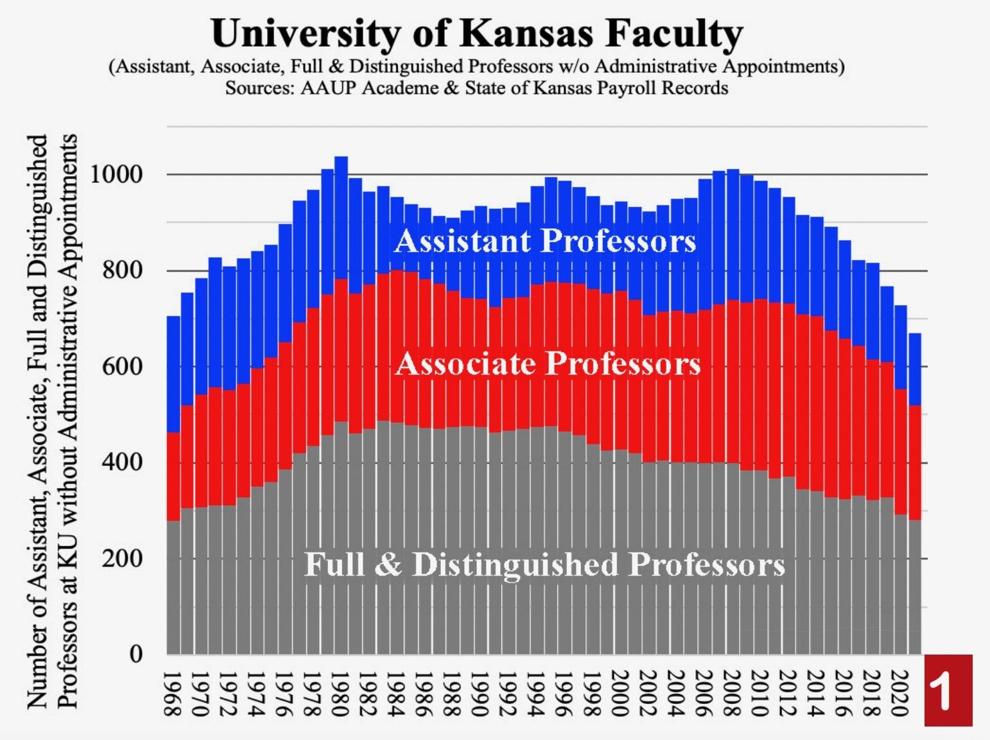 Among his findings for 2009-2021 — the biggest steady drop in professors, Barrett-Gonzalez counted — were the following, per corresponding rank, according to his spreadsheet:
The number of assistant professors without administrative appointments decreased by 42.7%, from 260 professors in 2009 to 149 professors in 2021.

The number of associate professors without administrative appointments decreased by 32.3%, from 353 professors in 2009 to 239 professors in 2021.

The number of full and distinguished professors without administrative appointments decreased by 30.1%, from 402 professors in 2009 to 281 professors in 2021.
The faculty counted in KUAAUP's data are not the only faculty members employed at the University. In addition to assistant, associate and full and distinguished professors, the University also employs lecturers, teaching assistant professors, professors of the practice and more.
But the positions that KUAAUP counted are tenure-track positions, which English Professor and KUAAUP Chapter President Joe Harrington says contribute directly to the reputation of the University.
"It's important that we keep those faculty numbers up, not only for the reasons that [Barrett-Gonzalez] induced, but also just to maintain that profile, which has to do with not only attracting good students, but also grant money, for instance, and other promising faculty," Harrington said. "And keeping them – we've lost a lot of faculty members."
AAUP stretches further than just the University. Founded in 1915 to serve as "the primary defender of academic freedom in American higher education," AAUP is a nonprofit, national organization that strives to advance academic freedom and shared governance, according to its mission statement.
AAUP has chapters internationally and throughout the United States, according to its website. Barrett-Gonzalez and Harrington lead AAUP — which Barrett-Gonzalez says approximately 48 professors are a part of — alongside KUAAUP Vice President and Irving S. Johnson Distinguished Professor of Molecular Biology Berl Oakley.
Barrett-Gonzalez says that the decreased number of faculty members are one of the reasons he — along with other professors at the University — are considering the option of forming a union.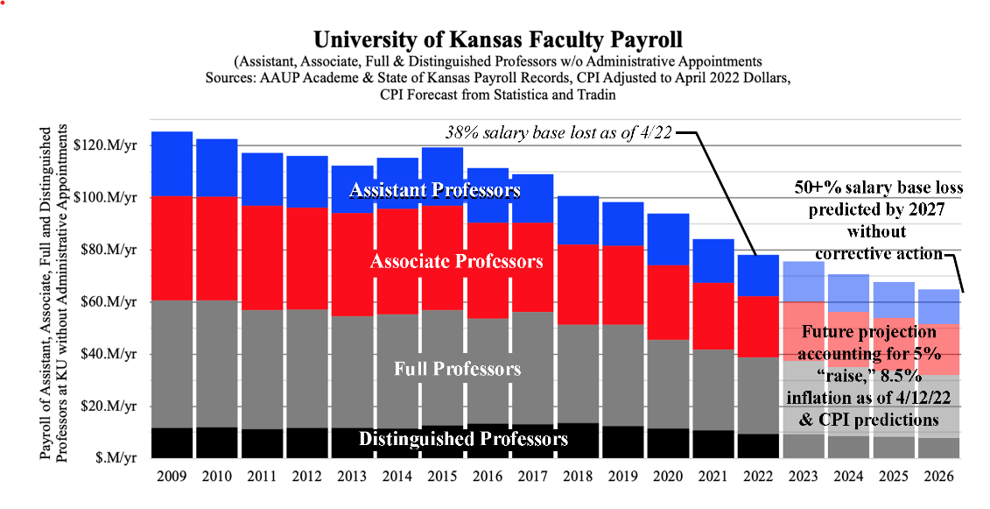 "The push for the past several years has been to increase our number of students that we push through, but not necessarily quality," Barrett-Gonzalez said. "As an alumnus, I'm very concerned because when you do not pay attention to the quality of your programs, then you cheapen the degrees, and that doesn't do anybody any good. As an alumnus, I'm pretty upset about this."
Kansas is a right-to-work state, which means that a Kansas employer can fire a worker for any nondiscriminatory and/or non-retaliatory reason, according to the Kansas Department of Labor.
"It would not be what it is without her guidance"
2021 is the most recent year for which the State of Kansas has released public payroll data.
As of July 13, the University has hired 34 tenure-track assistant professors, six tenured associate professors and seven tenured full professors for the 2022-23 academic year, according to an email sent to the Kansan from University spokeswoman Erinn Barcomb-Peterson.
Similarly to Stiel, some students believe faculty ranks contribute to a strong academic experience.
Emily Counsil, an English major with an emphasis in rhetoric from Neodesha, Kansas who graduated in May, said that faculty ranks are essential to her due to her life position as a scholar, researcher and student preparing for graduate school.
Counsil says this is partly due to her memorable experience working with English Professor Mary Jo Reiff, who mentored Counsil as she wrote and defended a thesis on the rhetoric of TikTok to receive departmental honors.
"[Reiff] is a very big deal in the field of rhetoric and composition," Counsil said. "And to have her be my research thesis advisor is just — I can't even put words to it to describe the honor it was for her to allow me to work with her and just how she impacted my life. And the thesis, it would not be what it was without her guidance and her knowledge of the field."
Other students, however, do not place as much value on faculty ranks. Emma Lionette, a sophomore journalism major from Holmdel, New Jersey, said one of the classes that she feels she learned the most from was taught by a lecturer.
"[Faculty's ranking] doesn't really matter because they've been working there for so long that they know they don't even need to get that certain amount of degree because kids will still go to the class and show up and still trust them like anyone else would," Lionette said. "I mean, yeah, it makes a lot of sense for like probably doctors, but for journalism, for example, I don't think it's necessary."
Barcomb-Peterson said the University has also hired 11 full-time lecturers for the 2022-23 academic year.
For other students, like Brandon Nguyen, a sophomore chemistry major from Liberal, Kansas, preferences for ranked faculty members differ depending on the course.
"I think I enjoyed probably honors classes a lot more, but that might have been because the professor is there in a smaller class," Nguyen said. "I think for lab, GTAs are fine because it is a one-on-one situation, and you can ask lots of questions and get help readily."
In addition to 11 full-time non-tenure lecturers, the University has also hired 25 non-tenure track faculty members for the upcoming school year as of July 13, including three non-tenure assistant professors of the practice, eight associate professors of the practice, two full professors of the practice, 11 assistant teaching professors and one associate teaching professor, according to Barcomb-Peterson's email.
"We are simply not hiring a replacement"
KUAAUP members say administrators blame state budget cuts for decreasing number of ranked faculty members, writing in their spring newsletter, "Administrators blame state budget cuts, while conveniently glossing over the real causes. How severe will the long-term damage be?"
The University, however, says that it has not laid off any tenured or tenure-track faculty members and points instead to the need for strategic hiring after losing a faculty member to attrition.
"In other words, when a faculty member retires or leaves the university, we are not simply rehiring a replacement," Barcomb-Peterson said in the email sent to the Kansan. "As we have discussed with the Board of Regents, governance and academic units across the university, KU is hiring faculty in areas of both need and strategic interest."
At this point, Barcomb-Peterson said the University is implementing and planning to implement multiple measures to retain and recruit top researchers.
For example, through its Lawrence campus strategic plan known as Jayhawks Rising for Fiscal Year 2022, the University plans to create and implement a faculty retention plan that values initiating themed, targeted hiring in areas of "strategic research focus," as well as using an Academic Analytics award plan to identify and recognize top researchers.
In general, metrics used to determine top researchers include their faculty rank, the number of times their work is cited in scholarly publications, external awards, their reputation and more.
In addition, Barcomb-Peterson said that to examine where faculty is needed, the University is incorporating a return-on-investment model, which layers faculty members against a map of students' courses and degree requirements to determine where faculty is needed, according to the minutes from a Fall 2021 faculty senate meeting in which Provost and Executive Vice Chancellor Barbara Bichelmeyer spoke.
Barcomb-Peterson also pointed to a policy from the College of Liberal Arts and Sciences, where she says a dean consults with CLAS staff to determine hiring priorities and where a search will be authorized.
Despite these measures, however, Barrett-Gonzalez said faculty members are still leaving. And in his own department, Barrett-Gonzalez said he saw a leading expert in aerospace engineering leave, too.
"We took those records [in the newsletter] all the way back to the 1960s — all that data," Barrett-Gonzalez said. "It's like, 'Yep, it's going off a cliff.' It's so bad that how we maintain accreditation with the Higher Learning Commission, I don't know. How we maintain our [American Association of Universities] accreditation, I don't know. All I can think is that AAU doesn't actually know these numbers."
Although opinions differ for all students, Stiel, who plans to go into academia, said the experience and knowledge of professors have been evident in his courses.
Stiel says he has taken classes both with GTAs and with ranked professors – both experiences were different, and the former was not always bad, he says.
"Of course not a lot of [the GTAs] have knowledge similar to the professors, but some of them know enough to be able to teach the class proficiently, especially the ones that have taught the same class multiple times," Stiel said.
However, at the same time, Stiel said ranked professors bring knowledge unparalleled to the other instructors he has had, and they are important for the University.
"I understand the interest from an institutional perspective of wanting to limit these high-paid positions that are draining up the budget, but without them, there's no point of having a budget at all — there's no point in having KU," Stiel said.