During a third day of protesting in downtown Lawrence, police attempted to forcefully move peaceful demonstrators out of the street to allow traffic to access the road Monday afternoon. 
Demonstrators have been occupying the 1100 block of Massachusetts Street since Saturday after a letter comparing the Black Lives Matter movement to a "lynch mob" and a poster depicting the lynching of George Floyd was found in South Park Saturday morning.
Since Saturday night, a block of Massachusetts Street has been closed to traffic to accommodate demonstrators that have been protesting day and night. Some protesters have even set up tents.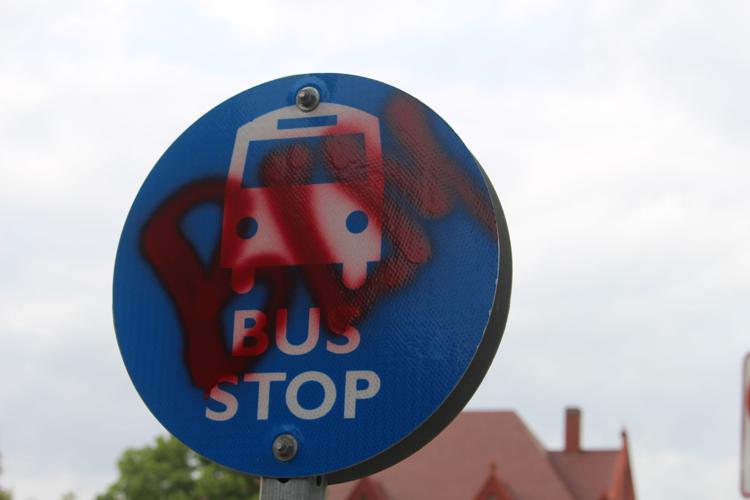 On Monday afternoon, Lawrence police officers and Douglas County Sheriff's officers tried moving protesters from the street. They had zip ties in their hands for potential arrests, video shows. Police picked up some demonstrators who were sitting on the ground.
"Law enforcement's goal was to ensure commerce and safety, reinstate public access to civil service buildings, while still allowing the demonstrators to assemble," the Lawrence Police Department said in a statement regarding the incident.
Officers moved demonstrators out of the street, along with trash cans and other barricades set up on either side of the protest. Officers stood in lines on either side of the street as cars were allowed back down the block, video from a Lawrence Journal-World reporter shows.
However, shortly after officers moved, the demonstrators called for the street to be blocked again.
The Lawrence Police Department & Douglas County Sheriff's Office forcefully removes protestors near 11th and Massachusetts Street. 6/29/20 pic.twitter.com/omlmA3EL3v

— Chance Parker (@TheChanceParker) June 30, 2020
Before police officers reopened the street, a vehicle drove through a barricade at the protest.
"We are aware of and are currently investigating an incident involving a vehicle driving through the assembly on Massachusetts Street just before 4 p.m.," the statement said. "We are not aware of any injuries sustained during today's incident."
Six individuals were arrested for actively refusing K.S.A 8-1503 — a statute which requires obedience to lawful order of police — according to LPD's statement.
Jayhawks For Bernie tweeted a link to a bail fund which was started to financially support those who were arrested during the protests.  
.@LawrenceKS_PD has arrested 5+ people today in a non-violent protest.Donate to this fund for the legal fees of those protestors: https://t.co/9nbPtugk8w

— Jayhawks for Bernie (@Jayhawks4Bernie) June 29, 2020
Student Body Vice President Grant Daily, who shared his support for demonstrators on Twitter, said the protests are about much more than just a single instance in Lawrence.
"We're calling for reform for the police department in Lawrence," Daily told the Kansan. "We're also calling for reform of the entire justice system." 
We're just gonna act like Lawrence is okay? Get your mask, grab some water, and head to Mass street pic.twitter.com/gzBtyaPGUK

— Grant (@Grant_Daily_) June 29, 2020
City of Lawrence crew members installed safer and sturdier barriers around the protesters, according to a press release from the city on Tuesday. The Lawrence police chief closed the roadway between the east and west sides of South Park until at least Wednesday, the release said.
Demonstrators painted "Free Rontarus #BLM" on the street during the protests. Rontarus Washington has been in police custody at the Douglas County Jail since 2014 after he was charged with first degree murder.
Washington's four-week-long trial in Oct. 2019 ended with a hung jury, and a retrial is set to start Aug. 17.